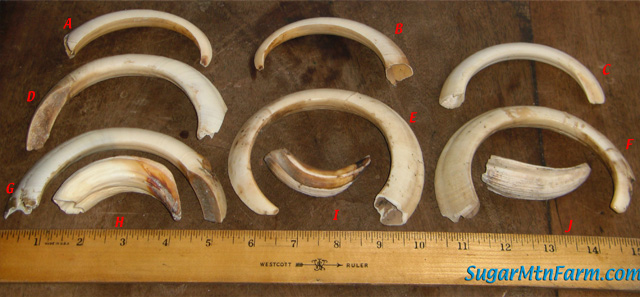 Front of some of Large Named Tusks
(Click to zoom – Press Esc to exit Zoom)
No, not the great
album
or the most excellent
song
by
Fleetwood Mac
. What we're talking here are real ivory
tusks
– the kind that pigs grow and used for fighting and digging. Real tusks from real pastured pigs including our really big boars like
Big'Un
and
Spot
who both died naturally on our farm as well as various pigs that have gone to market such as the younger boars
Basa
and
Longson
. Tusks from pigs that died naturally on the farm are so noted below.
Each tusk is individual, unique and comes with a photo of the pig. The large mature boar and sow tusks are rare since most farms cut or break off the tusks and do not keep mature pigs for many years so the tusks never get a chance to get very large. For the budget conscious there are smaller tusks from younger boars, gilts and sows as well as the incisor tusks. All are genuine pastured pig teeth.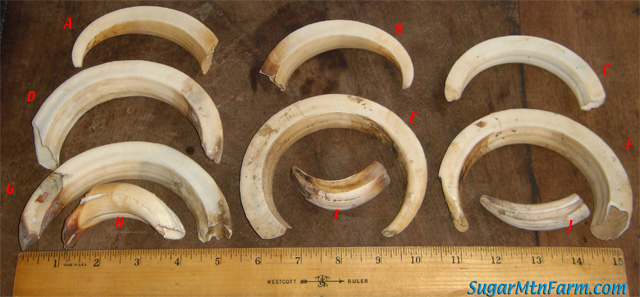 Back of same Large Named Tusks
(Click to zoom – Press Esc to exit Zoom)
Large Named Tusks:
The named big tusks shown above and designated by the letters are priced as per the table below which gives the tusk letter identification, price, type of tusk (U=upper or L=lower jaw), pig sex (B=Boar or S=Sow) and name, approximate outside of arc length and plus notes about natural death or not. Additional smaller tusks are available as noted below. These are similar but from younger pigs and thus smaller than the scarce prime tusks. Lower Jaw tusks are the longer curving tusks. Upper jaw tusks are shorter and thicker opposition tusks. Boars sharpen their long lower tusks against the upper tusks.
| | | | | | | |
| --- | --- | --- | --- | --- | --- | --- |
| Letter | Price | Type | Sex | Name | Arc | Notes |
| A | $100 | L | S? | Anna? | 5.75″ | Slaughter |
| B | $100 | L | S? | Anna? | 6″ | Slaughter |
| C | $150 | L | B | Longson | 6.25″ | Slaughter |
| D | $455 | L | B | Spot | 8.5″ | Natural |
| E–Sold | $500 | L | B | Big'Un | 11.5″ | Natural |
| F | $475 | L | B | Big'Un | 10.5″ | Natural |
| G | $455 | L | B | Spot | 8.25″ | Natural |
| H | $250 | U | B | Spot | 4.5″ | Natural |
| I | $250 | U | B | Big'Un | 3.5″ | Natural |
| J | $250 | U | B | Big'Un | 3″ | Natural |
| K–Sold | $250 | U | B | Spot | 10″ | Natural |
L=Lower jaw tusk, U=Upper jaw tusk, S=Sow, B=Boar. I am not 100% sure of the origins of tusks A and B – I strongly suspect that these tusks came from Anna, one of our large mature sows but perhaps they are from Petra. In any case, they are very fine tusks but due to the uncertainty the price is lower. Measures are approximate. K not shown. Note that virtually all tusks have some small cracks and breaks, especially at the base – these are natural objects and heavily used by their original owners. Notes: Slaughter means the tusks were retrieved after slaughter. Natural means the tusks were retrieved from a pig who died of natural causes in our pastures.
Updated 2013-03-14
Smaller Tusks: Similar to mature boar and sow tusks above but much smaller and not as much arc as mature pigs as well as not being from a specific named pig. Tusk you receive will probably not be one pictures. The pictures are to give you an idea of what the smaller tusks look like. If you want a specific tusk then order from the named tusks.
Miscellaneous Large Lower Tusks: Typically from younger to middle aged sows so not as large as the above named tusks but still of good size.
Lower: $50
Upper: $15

Miscellaneous Small Upper

Miscellaneous Small Lower
Miscellaneous Small Lower Tusks:
These are from smaller boars and young sows or gilts.
Lower: $30
Upper: $10
Miscellaneous Cracked or Broken Seconds
Seconds:
Cracked or broken – Nobody is perfect, some are less perfect than others in the words of some pig. Great for experimenting and such.
Lower: $10 for three pack
Upper: $10 for five pack
Incisor Teeth – Great for pairing with tusks or alone on bead necklaces.
Incisors: $10 for ten pack
Pig Skulls – Beautiful bones. Cleaned and ready for your wall or desk. Will have tusks if noted, otherwise tusks and some or all other teeth may be missing. Teeth often come out during the cleaning process.
Skull with tusks and lower jaw:
Small: $300
Medium: $500
Large: $1,000
Skull – no lower jaw:
Small: $50
Medium: $75
Large: $100
Half Skull – no lower jaw:
Small: $20
Medium: $30
Large: $40
Shipping per package to USA and Canada insured: $10
For outside the USA please email us with your destination for a shipping quote.
Subject to availability – very limited number of big tusks. Other than those pictured, actual tusks will vary. These are real tusks, grown on real pigs so they are not consistent. I do not offer lab tests, burning, etching or grinding of tusk. Tusks are sold as is with basic cleaning as shown. Click on the photos to see higher resolution and more detail.