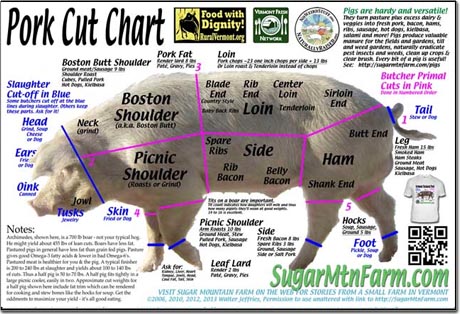 Click the image for a larger graphic with readable text.
You may download the pork cut poster on the
Literature
page for free for your own personal non-commercial use. Please do not alter the image or remove my web link. Enjoy!
Printed Pork Cut Chart posters are available in approximately the following sizes by inches:
$15 8×11 Letter
$25 11×17 Small
$35 18×24 Medium
$50 24×36 Large
$75 36″x48″ Super
Note: Prices and sizes as of December 2016. Sizes, prices and shipping costs are subject to change. Inflation is. I try to keep this updated but we're not in the business of posters so when stock runs out I have to find out what it will cost to print again. To check the latest costs just drop me an email.
---
Shipping: $10 per order in continental USA. Shipping outside the USA is available at an additional cost, typically about $20 to $30. Shipping can cover ordering of other things too such as T-shirts, calendars, tusks, knuckle dice etc.
To order send a note for what you would like plus shipping with the address we should mail it to either by paying via PayPal to my email address walterj@sugarmtnfarm.com or by check to the address below:
Sugar Mountain Farm, LLC
252 Riddle Pond Road
West Topsham, VT 05086
You might also be interested in Cole Ward's DVD's of how to cut meat. Cole is the butcher we apprenticed with. Cole's two DVD set is $30 plus $5 shipping.
We also have Pork Cut Chart T-shirts available.
Artwork is subject to change without notice but will be similar to what is shown.