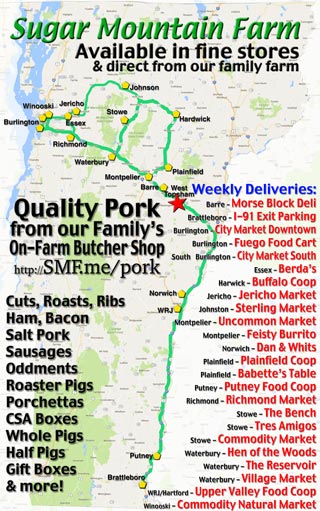 Weekly Delivery Route
(Click For Big Picture)
This is the Quick Order Form – for full descriptions of options and other details see the
Pork Page
.
I am not currently taking reserves for cut meat. With the pandemic and everything I am taking this year to do upgrades on the butcher shop and farm. I have a lot of smoked bacon, smoked hams, smoked ham steaks, smoked trotters, smoked hocks and smoked jowel (similar to bacon).
Pickup is available at the farm or on our weekly delivery route around Vermont up and down I-89 & I-91 and now that we are USDA inspection and USDA labels we can ship outside of Vermont. 40 lbs of meat in a box (50 lbs with insulation and box) is a good economical shipping size. Shipping a whole pig takes four to five boxes at about $50 to $150 per box plus about $25 each for the special insulated boxes so figure about $500 or so for shipping on top of the cost of the pig. If you would like shipping, email me your zip code with what you're thinking to buy and I can give you a more precise quote. Smaller orders can be shipped too but the cost is a little higher per pound which is why for shipped orders I recommend at least 20 lbs per shipment and preferably 40 lbs in a box.
Samplers & CSAs – Roasters – Porchetta – Custom Pigs
For small orders or to try our pork visit the many fine stores and restaurants that carry our products – see delivery route at right. We do not have a farmstand at our farm so it is not possible to browse the available cuts here at the farm. All sales are by pre-order. No drop by sales as we're simply not setup for that.
Quick Order Form
Sampler & CSA Boxes:
Ode to Oddments = Farmer's pick of soup bones, fat, trotters, etc.
Farmer's Basket = Farmer's pick of delicious cuts, ground & sausage.
High-on-the-Hog = Farmer's pick of loin, chops, roasts, sausage, etc.
Pick-of-the-Pig = Your pick of cuts & sausage, up to 1 tenderloin plus your choice of a pint of delicious Vermont maple syrup or a second tenderloin.
Please note any preferences in the Comments field when ordering. e.g., "Love Hot Italian sausage!" or "Want lots of soup bones." We try to follow your preferences where possible on the Farmer's Picks.
For more about boxes and options see the Pork Page.
For Pick-of-the-Pig we'll contact you to get your list of choice cuts.
Turn any sampler box into a CSA of 12 boxes and save 20% when you prepay for a year! Free delivery on our route for CSAs. Timing on CSAs is very flexible to fit your needs. Your picks for Pick-of-the-Pig CSAs can change with each box of your subscription – try everything and if you love it, do it again!
---
Roaster Pigs: $100 deposit. $215 minimum.
Small roasters that you can do in your home oven, medium roasters for China boxes, big roasters for the spit. All are possible at Sugar Mountain Farm!
Oven/Suckling = 10-50 lbs $6/lb
Medium = 51-80 lbs $5/lb
Large = 81-120 lbs $4/lb
Extra Large = 121+ lbs $5/lb
Quick order form charges just the $100 non-refundable deposit.
Add $65 fee for USDA slaughter to all prices.
Final amount due at pickup based on hanging weight.
For example: a 31 lb roaster x $6/lb + $65 costs $251.
Butterflying and head off is available for an additional $25 each – just note it in the comments box and pay when you pickup your pig. Weights are based on head-on. Desired weight is a goal we shoot for but actual weight will almost certainly be different.
Up to 35 lbs can cook in a typical home oven.
Figure about 1/2 lb per serving account for bones and trim. Mostly deboned roaster pigs are also available as the
Easy Carve Porchetta Pigs
in sizes of 30 lbs and up.
Big pigs require long cook times and are hard to handle. I recommend two smaller pigs instead.
For roaster pigs enter the desired event date in the order form. It typically takes three weeks to get into the schedule so plan accordingly.
For more about roaster pigs see the
Roaster Page
.
For the ultimate roaster pig try an Easy Carve Porchetta Pig which is a roaster pig where we've removed the bones that get in the way of carving at the table.
Let me know if you have any questions. You can reach me by email at walterj@SugarMtnFarm.com or by phone typically around noon to 1pm or 6pm to 7pm except Thursdays and Fridays which is when I do butchering.
---
Porchetta Rolls & Pigs:
Porchetta is an elegant, delicious traditional Italian pork roast. We do the hard work of deboning, aging, spicing and tying the pig so it is all ready to cook in your home oven.
The roll form is boneless made from loin and belly spiced, tied, aged and ready to cook in your home oven.
For the Easy Carve Pig we remove most of the pig's bones leaving just the front trotter and head bones for presentation. We stuff the pig with meat, sew it tight and tie it for roasting in typical home ovens. Because the pig is nearly bone-less it is easy to carve at the table.
Both roll and pig porchettas are a fabulous show piece for events and dinner parties!
Easy cooking directions from our family's own kitchen are on the label.
Figure on about 1/4 lb per serving. I recommend buying larger than smaller because the left overs are fabulous for lunches and traditional Italian style sandwiches.
For porchetta enter the desired event date in the order form. It typically takes two weeks to make up a roll porchetta and three weeks if it is a pig porchetta so plan accordingly.
Custom weights, lengths and spicing can be accommodated. For example we can do a longer Porchetta Easy Carve Pig if you want to do it on a spit or have a larger oven and we can eliminate certain spices such as black or red pepper if you prefer for a modest $25 charge.
---
Custom Cut Pigs:
We can custom cut a pig to your specifications. Like extra thick chops? Chine-off? Bone-in roasts? Pork neck? Liver and heart? Bones cut for soup? We can cut all of the legal pig to portions that fit your needs.
Quarter Pig = 43 lbs for $360 or about $8.24/lb + custom options
Half Pig = 87 lbs for $580 or about $6.64/lb + custom options
Whole Pig = 175 lbs for $950 or about $5.43/lb + custom options Best Deal!
The quick order form does a $100 deposit for custom cut pigs. The rest is due at delivery. The final price depends on final pig weight and options you choose such as sausage, smoking, etc. Full details and pricing of the various options are on the cut sheet.
For more information about the cuts of pork see the article
What Good is a Pig: Cuts of Pork Nose to Tail
which features my world famous
Pork Cut Chart
. As always, ask if you have questions.
If ordering a quarter or half pig we recommend splitting a whole pig with friends or family to get the best deal and the lowest price.
Traditionally over the past two decades we've sourced pigs from our genetic lines which we've developed since 2003: Yorkshire, Berkshire, Large Black, Tamworth in addition to our primary cross lines such as Mainline and Blackieline. See the Pig Page for details. We also buy pigs from other farms when needed. You can select one of the Sugar Mountain Farm (SMF) lines at an additional cost if you would like. Picking genetics, sex, etc may delay orders in some cases. Otherwise its farmer's pick at no surcharge.
---
Let me know if you have any questions. You can reach me by email at walterj@SugarMtnFarm.com or by phone typically around noon to 1pm or 6pm to 7pm except Thursdays and Fridays which is when I do butchering. After 7pm is family time and no phone calls. Email always works.