I am not currently taking reserves for cut meat. With the pandemic and everything I am taking this year to do upgrades on the butcher shop and farm. I have a lot of smoked bacon, smoked hams, smoked ham steaks, smoked trotters, smoked hocks and smoked jowel (similar to bacon).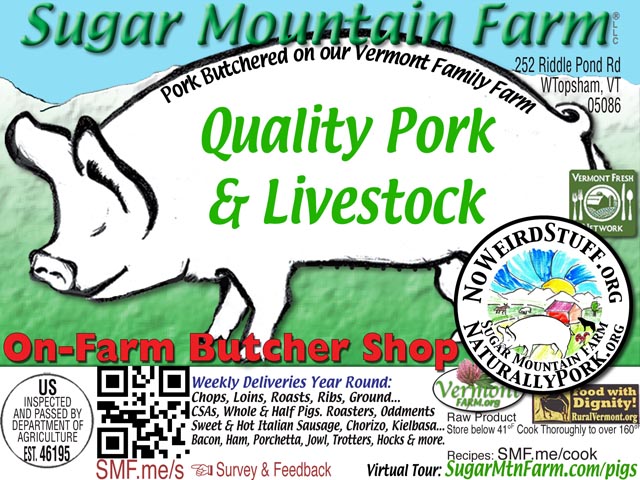 Look for the Sugar Mountain Farm label
Ask for Sugar Mountain Farm Pastured Pork, hot dogs, sausage and kielbasa at local
stores
&
restaurants
. You can get our high quality locally produced Naturally Grown pastured pork cooked by some of the finest chefs at these locations and buy individual cuts at fine area stores who carry Sugar Mountain Farm pastured pork.
In addition to purchasing through local stores and restaurants you can buy our wholesome all natural pastured pork directly. See the Product menu above, the In-the-Freezer page for what is in the freezer and check out our Order Form and Cut Sheet for a list of cuts the we do standard on the Literature Page for pricing and details. Pickup is available at the farm gate for large orders as well as delivery along our regular weekly route. For small orders we recommend buying at local stores that carry our products in order to save gas.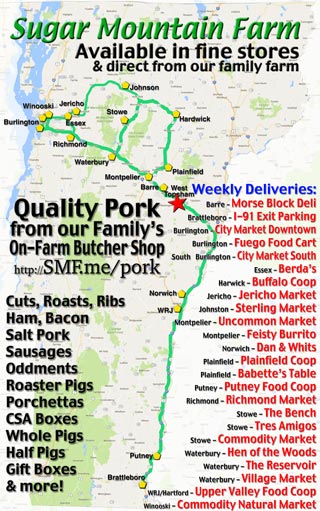 (Click For Big Picture)
We deliver weekly to the following counties in Vermont:
Caledonia
Chittenden
Washington
Orange
Windsor
Windham
The delivery route in Vermont shown in pink on the map is where deliveries are available for both pigs, piglets and pork. Deliveries of pork are available in NH along the Connecticut River Valley such as Hanover and Lebanon. Delivery is not available in Massachusetts due to business license requirements in that state but we can meet you off of I-91's Exit-1 Brattleboro, VT and near the junction of I-89 and I-91 in White River Junction, VT.
Member:
Vermont Fresh Network,
Northeast Organic Farming Association of Vermont (NOFA-VT)
Rural Vermont
The Vermont Grass Farmers' Association,
Vital Communities
PasturedPork.org,
and a NoWeirdStuff.org farm.
Vermont Dept of Ag Wholesale & Retail Licenses
USDA Inspected slaughter & processing