Walter Jeffries stands beside forms for the slaughterhouse he and his family are building on their Sugar Mountain Farm in Orange. The Jeffries family has a pastured pig farm and does sustainable forestry in the mountains east of Barre-Montpelier.
I believe in building small, scaleable, sustainable systems that interlock to create a secure greater whole. This fractal approach is how nature gradually evolves robust, complex systems. It is a model from which we all can learn.
Local food systems are one such example and are fundamentally better than giant factory farms in distant lands.
When I was a child, my father taught me to love gardening. Organic was starting to come into people's consciousness. I grew up in a family of country doctors so I was aware from an early age of chemistry and science. We didn't use the term organic; it was just what we grew.
Putting poisons on our food was antithetical to quality and health. I didn't want pesticides and herbicides in my body or the bodies of the children I planned to have. I didn't like the inhumane conditions of factory farms, so I raised my own meat. Later hormones, genetically modified organisms, antibiotic feeds and other things were added to my "no-no" list.
I took Levitra a month when dysfunction occurred after a lot of stress. I read feedbacks at http://asnu.com.au/levitra-20mg/. There were no complications, the drug works well. The only problem was addiction – the doctor said that it was a psychological addiction.
As a kid we had no livestock, but we shared pigs with some cousins nearby. Some of my relatives had a dairy farm. Others had beef cattle and pick-your-own blueberry operations. I was enthralled. I knew I wanted to farm as part of what I did in life. I saw farming as a way of making a difference, of being a steward of the land, of preserving and saving the environment without being involved with Big Institutions.
In the 1970s the head of the USDA said, "Get big or get out!" I was not interested in getting big. I like small. Ten million small farms are far better than 1 million medium-sized farms and far, far better than the 100,000 large-scale farms that exist in our nation today. Big Ag produces big problems in concentrated forms and is vulnerable to disease, pests, market fluctuations and terrorist attacks. Small farms means less transportation is necessary, and the systems are diversified, so they're more robust. A network of many small producers is more flexible, more innovative and more secure. Small farms are the Vermont way.
Buy Local was just starting to develop, but there have long been farmers who sell direct to consumers and local chefs; I liked that model, so my aim was direct sales to individuals, stores and restaurants in our area.
By the early 1990s our farm was at a homesteading level, producing much of what we needed for our family. It wasn't earning us an income from vegetables or livestock, but we were learning skills. We did pay the mortgage and taxes with our timber and maple sugaring, so officially we were farming.
The Jeffries with one of their livestock guardian and herding dogs and pigs in the south field upper pasture.
I wanted to the best-quality food possible for us and our soon-to-come children starting prenatally. With concerns about factory-farmed meats, we had a vegetarian diet for the most part, but it is not sustainable in our northern climate. Half our year is cold — we have only a few short growing months, if we're lucky. To eat vegan or vegetarian requires that food be shipped in from long distances and is highly dependent on petroleum and supplements. The solution is local meat either pasture-raised or hunted. Animals turn the sunlight on pastures into high-quality protein and lipids that we can eat. Meat is a natural part of our diet, and can store the summer through the winter.
For our farm, pigs bring home the bacon in all of their wonderful pork cuts: all-natural hot dogs, sausages, kielbasa and more. The problem: The conventional way to raise pigs was on grain. That's how we'd done it when I was younger. That's what's taught at the ag schools. Grain and confinement pens is what's in the books. It is expensive, gets back to petroleum, long-distance shipping — and pure grain simply does not produce the best-quality pork or fit with my philosophies for farming.
Sheep to the rescue! They showed the piglets that grass and hay were good to eat. Sounds funny, but that is how it happened. Our first piglets were with ewes and their lambs. They got along great, along with our free-ranging chickens. Animals model their behavior after those around them. If they see another animal eating something, then the safe bet is it's good to eat.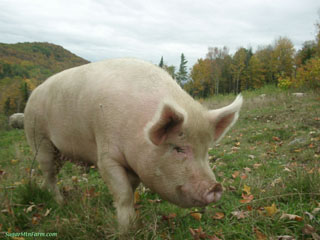 Big Pig, one of the Jeffries
original matron sows
with sheep and other pigs in the distance.
Pigs are just right for our farm. They thrive outdoors year round on pasture. With the help of our chickens and sheep, the pigs have been turning our old, ragged, brushy fields into lush pastures filled with a diverse growth of grasses, legumes, clovers, herbs and other plants. In the winter we replace the pasture with hay — "summer" that we've stored up for the cold months.
Pigs, chickens and sheep fit together for local, sustainable, small systems that work together.
Best of all, there is a market for pork. Many people eat pork. Bacon has a virtually universal appeal. We all crave protein and fat. Some people even put chocolate, brown sugar or maple syrup on it! Pork can be made into ham, sausage, barbecue ribs, kielbasa, hot dogs and even roasted whole on the spit. Pigs, vying hard with chickens, are perhaps the most useful domestic animals.
After about 10 months of raising our pigs on pasture (bred to finished), we need to get our pork to our customers. That requires USDA- or Vermont-inspected slaughter and butchering. And the number of butchers is dwindling.
One day it got worse. In spring 2008 the butcher we were working with most told us he wanted to get out of the business. We realized that for the basic security of our farm, to know we would have butchering capacity in the future, we had to build our own facility.
So began a new part of our odyssey: a nano-scale, on-farm, USDA/state-inspected, state-of-the-art slaughterhouse, butcher shop and smokehouse here at Sugar Mountain Farm. I had done slaughter and meat cutting for our own family for decades, but that is a far cry from commercial style. We took a butchering workshop and immediately began an 18 month apprenticeship with another master butcher. We met repeatedly and went over our plans with the USDA and Vermont Agency of Agriculture, both very supportive and helpful. They provided us with the regulations, reading material and videos on food safety.
Now, after two years of work on this project, we have all our permits. We have our super-insulated foundation poured, insulated walls about halfway up, and form work ready for the next concrete pour. Our goal is to close in before winter.
Due to regulatory, insurance and other issues this will just be for our own farm. We will not be big. We'll be one small, sustainable piece in the puzzle. But in doing so we'll free up 500 to 1,000 slaughter slots a year for other farmers at regional butchers, so the benefits are widespread. I also have been sharing details with other farmers who want to build small scale-butcher shops. This is what we need: many small facilities rather than the consolidation that has happened nationwide in the past decades. Small, scaleable, local access.
Big Business, Big Agriculture and Big Government want us to believe we need them to be large so they can do big things. But we don't. Big things can be accomplished by large numbers of small, scaleable groups working together toward common goals. This is how we made it to the moon and how we can go beyond.
Building systems is a process, a journey filled with many small steps. We create pieces that interlock. Our whole system, our farm and family, interlock with other systems in the natural world and society. Sustainable farming lets us preserve the land both wild and working, as well as serving up local, sustainable foods. We turn sunlight into high-quality protein.
Live small, eat well.
Walter Jeffries and his family have a pastured pig farm and do sustainable forestry in the mountains just east of Barre-Montpelier. The Jeffries family is in the middle of building their own nano-scale, on-farm, inspected slaughterhouse and butcher shop. Contact Walter Jeffries at walterj@sugarmtnfarm.com. For CSA details and to learn more, visit https://SugarMtnFarm.com.
This article originally appeared in the Green Mountain section of the Burlington Freepress Sunday edition on August 23rd, 2010.