Sugar Mountain Farm has been in the news time to time. The photo at left shows my daughter Hope's smiling face as she is holding up a copy of the Barre, Vermont Times Argus newspaper which had a front page news article about our farm that featured a photograph of her with the pigs. Here are more links to articles about us and our farm from newspapers, magazines, radio, TV, podcasts, web sites and other media around the world…
April 1st, 2020 – Burlington Freepress did a piece about Vermont farms, including Sugar Mountain Farm, and how they were being affected by the coronavirus (COVID-19).

July 2019 – Stockman's Grass Farmer published an article about Sugar Mountain Farm's on-farm butcher shop written by Becky Gillette.
December 2018 – Acres Magazine featured Sugar Mountain Farm's Pastured Pork in the article Bringing Home the Bacon – Keys to Raising Pastured Pork sub-titled Sweet Meat at Sugar Mountain Farm by Tamara Scully "Walter Jeffries and his family have built their 1,000-acre, primarily wooded farm on pastured pig production. It remains an ongoing adventure as they seek to improve breeding and genetics, capture more market share and improve animal welfare."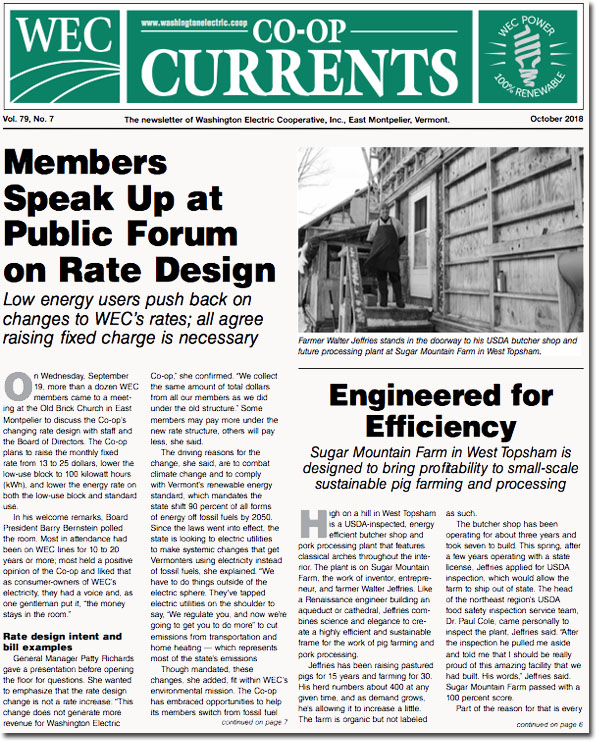 November 2018 – Washington Electric Coop's newsletter Currents featured Sugar Mountain Farm's high efficiency passive building design and engineering of the Butcher Shop in the article "Engineered for Efficiency – Sugar Mountain Farm in West Topsham is designed to bring pro tability to small-scale sustainable pig farming and processing"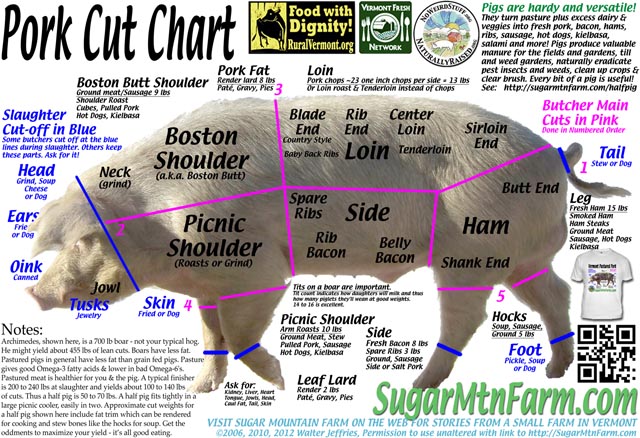 January 31st 2018 – Acres Station in North Carolina used our Pork Cut Chart in a class about pork cuts. The Pork Cut Chart is something I made up more than a decade ago for my own edification and have improved gradually over the years. It has been featured in the media around the world including in places as far away as Japan in a TV show and the UK on a BBC show as well as hanging in many stores, restaurants and farm stands. The pig featured on the chart is our first boar, Archimedes, back when he was small at only about 700 lbs. He topped out at about twice that by age eight.
January 26th 2018 – National Public Radio's host Krissy Clark on Market Place's Uncertain Hour Season 2, Episode 7: Law and Odor featured Walter Jeffries of Sugar Mountain Farm as an 'expert' on the sexual odor of pig carcasses, e.g. Boar Taint. The show is also available as an iTunes podcast. Start at minute 7, second 23 for the start of the pig smell discussion which then jumps to minute 10, second 10 up to about minute 19. Favorite phrase of the day: Malum prohibitum or silly laws.
November 26th 2017 – My spiders sometimes bring back interesting bits from the web like this from Bulgaria… "Царството на пасищните прасета! Изключително сме благодарни на Walter Jeffries, гуруто на пасищното отглеждани прасета. Още от 90-те години той отглежда пасящи прасета в планините на щата Върмонт без фураж, медикаменти или каквито и да е познати на днешният фермер "ускорители на растежа" и успява и до ден днешен да постига удивителни резултати. Малко споделени кадри от планините на Амброзия." Fortunately there are Babblefish.
August 11th 2017 – Walter was nominated for as a delegate to the National Pork Board meeting in Kansas City, MO from February 28-March 2, 2018. Unfortunately, Walter (moi) is not a traveling man so he had to decline.
July 19th 2017 – Meat and Poultry Magazine wrote an article featuring Sugar Mountain Farm in "Grass Fed Bacon from Vermont" about our new homemade bacon.
June 28th 2017 – Vermont Fresh Network has a wonderful article about us in "Sugar Mountain Farm's Whole Hog Philosophy" about our on-farm butcher shop.
April 2017 – Tamara Scully of Farming Magazine wrote an article "Scaling Up: the quest for sustainability without confinement featuring Sugar Mountain Farm.
March 3rd 2017 – Walter got interviewed on NBC News about the accident at the local West Topsham post office.
April 27th 2016 – Carl Blake writes in the Glass Ceiling of Pastured Pork regarding the barriers to livestock processing: "[T]he only real good solution is to have the farmer own the processing plant. I hate it more than anything that another company dictates or controls my destiny. I've driven hundreds of miles one way to get my pigs processed because processors thought they had me over a barrel. I'm just mean enough and hard headed enough I won't let them beat me. There are some bright spots Walter Jefferies, built his own plant on his property. I tried and couldn't get it done no matter how hard I tried. But Walter actually did it piece by piece and didn't let anyone or anything stand in his way. That is an American Baddass right there."
October 30th 2015 – Judy Simpson with cameraman Lance of WCAX-TV reported on the opening of our new butcher shop West Topsham Farm Builds New Facility to Process Locally Raised Pork.
October 24th 2015 – Jeb Wallace-Brodeur wrote about our new butcher shop in the local Times Argus newspaper Prime pork at Sugar Mountain Farm.
October 7th 2015 – Hannah Egan wrote an article "DIY Chop Shop: Sugar Mountain Farm Adds on-Site Butchering" in the Seven Days Newspaper about the journey to the opening of our new on-farm butcher shop.
May 26th 2015 – Adam Bailey of Clark College in Vancouver, Washington wrote about the Sugar Mountain Farm blog using the WordPress blog software platform in an Interview With Walter Jeffries.
May 2015 – Sugar Mountain Farm was cited in a scientific paper "Clustering and Principal Component Analyses of Constraints in Smallholding Pig Keeping Systems in Manokwari, Indonesia" (Animal Production 12 (3):199-206) by DA Iyai, D Woran and I Sumpe from the Department of Animal Production, Faculty of Animal Sciences, Fisheries and Marine Sciences The State University of Papua, Manokwari, West Papua, Post Code 98314, Indonesia.
April 2015 – Andrew French wrote an article about how we and two other pastured pig farmers in very different climates raise our animals on a diet of 80% pasture plus other good foods in his article The Practical Permaculture Pig in the April issue of Acres 2015 USA magazine.
April 2015 – The book Oil Belly, Flat Belly: Lose Belly Fat Fast with Healthy Oils from Your Kitchen cited Sugar Mountain Farm's blog.
February 2015 – Sugar Mountain Farm is in the Dictionary under the discussion of castration. An odd accolade but interesting. The mention how we breed, feed and manage to prevent boar taint without castration.
January 20th 2015 – Sam Brasch in Modern Farmer quoted our research on boar taint in his article Is the GMO Debate Aimed at Pig Testicles?. Note that I am against patents on life forms and those related to genetic engineering. Mother Nature gave us these gifts, she holds all the prior art and no individual nor any corporation should own a patent on life nor restrict the use of life.
December 1st 2014 – Chatham University cites Sugar Mountain Farm work in "Pastured Pork: A Snapshot of the Industry and Where to go from Here" masters thesis by Casey Rogers.
November 5th, 2014 – Sugar Mountain Farm was cited as a source for the Maine Organic Farmers and Gardeners Association fact sheet Organic Pigs by Diane Schivera, MOFGA Organic Livestock Specialist.
October 6th 2014 – On Pasture magazine had an article about boar taint citing the research at Sugar Mountain Farm in the article "A Tale of Two Testes: The Boar Taint That Ain't" by Josh Vaillancourt.
July 23rd 2014 – Sugar Mountain Farm pasture raised pork hot dogs were featured and shown on WCAX-TV by chef Doug Paine of Hotel Vermont.
May 3rd, 2014 – BuzzFeed listed Sugar Mountain Farm in their article on "36 Packaged Meats That Are Actually Natural And Good For You."
February 27th, 2014 – Walter and pigs appeared on the cover of the Journal of Agriculture, Food Systems, and Community Development (JAFSCD) Volume 4, Issue 2 / Winter 2013–2014. From the journal description of the cover photo: Walter Jeffries lectures his pigs in 2014 on economic systems at Sugar Mountain Farm in the mountains of Vermont, where his family raises pastured pork they deliver locally. While feigning attention, the pigs were just there for the free lunch.
December 23rd, 2013 – A Washington Post newspaper Antibiotics on farms: Can curbing their use also curb resistant infections in humans? cited Sugar Mountain Farm as an example of how farmers can raise livestock naturally without routine use of antibiotics.
December 11th, 2013 – BeforeItsNews.com had an article using Walter's internationally famous pork cut chart.
September 10th, 2013 – Lauren Griswold wrote about Sugar Mountain Farm in her article "Über-Pastured Pork" for the fall issue of Vermont's Local Banquet magazine.
June 13th, 2013 – Tamar Haspel at the Huffington Post wrote an article GM vs non-GM feeds and organ abnormalities in pigs that referenced Sugar Mountain Farm.
June 12th, 2013 – Molly Hart of CNN Television wrote an article about "Wheying Greek Yogurts Environmental Impact" with quotes and information from Walter Jeffries of Sugar Mountain Farm who feeds whey to their 200 to 400 pigs. This was also picked up by CBS News WTVR and other stations.
May 23rd, 2013 – Walter's photo of state capital in the Addison Eagle newspaper on an article.
May 29th, 2013 – In the VTDigger article "New Slaughtering Rules are a Way Forward from Vermont's Black Market in Meat" by Kate Robinson she talks about newly passed Vermont on-farm slaughter regulations and mentions Sugar Mountain Farm.
May 24th, 2013 – Kimi Harris at Mother Nature Network wrote an article titled "Could pigs be the solution to whey waste?" discussing how pigs at Sugar Mountain Farm eat pasture and whey in regards to finding a solution of what to do with the 'waste' whey produced from making yogurt.
May 23rd, 2013 – Walter's Photo of Montpelier was printed in the Green Mountain Outlook on an article about the legislature.
May 9th, 2013 – Walter's photo of Montpelier was printed a Chinese article about Vermont.
April 7th, 2013 – Melissa Pasanen wrote in "Vermont farmers, food processors, see increase in support and momentum" for the Burlington Freepress about the progress on our on-farm USDA inspected slaughterhouse, butcher shop and charcuterie curing spaces.
April 2nd, 2013 – Sugar Mountain Farm was cited as a source for the Maine Organic Farmers and Gardeners Association article The Basics of Raising Pigs by Diane Schivera.
March 28th, 2013 – Sugar Mountain Farm pastured pigs were featured as the natural alternative in the report on "Intensive Pig Farming in the United States" and as a reference in said report.
March 18th, 2013 – The Jeffries's family's on-farm butcher shop project at Sugar Mountain Farm was discussed in the article More Businesses Turn to Crowd-Funding to Raise Cash in the Times Argus newspaper out of Barre, Vermont.
March 14th, 2013 – Sugar Mountain Farm popped up in Mother Jones article by Tom Philpott.
March 6th, 2013 – Chris Stelzer of Agricultural Insights interviewed Walter Jeffries of Sugar Mountain Farm in the podcast Episode 033 – Raising Pastured Pork.
March 5th, 2013 – Walter advised a certain not to be named ex-President of the United States of America and a not to be named international aid organization regarding agricultural issues of how nano-scale meat processing facilities might be implemented in a small rural nation using low cost techniques.
January 18th, 2013 – A Turkish Central News agency article maked a link between how we constructed our cottage and the International Atomic Energy Agency (IAEA) investigation of Iranian nuclear weapons capability. I think this counts as the strangest use of one of my photos, yet…
January 14th, 2013 – Sugar Mountain Farm appeared on Billy Joe's Food Farm about what to do with dead livestock – compost them!
January 2013 – Photos by Walter Jeffries appeared in the book Encyclopedia Human Interest.
December 24st, 2012 – Third installment of the Washington Post series from Starving Off the Land wrote Pig to Table Project: 'I wanted nothing . . . to go wrong'" about slaughtering and butchering her three pigs and mentioned her Pig Consultant at Sugar Mountain Farm.
November 14th, 2012 – Tamar Haspel who writes for the Washington Post wrote an article for her blog Starving Off The Land about our farm and Big Project in "Other People's Pigs."
October 28th, 2012 Issue – Featured on ClustrMaps as a featured user.
October 18thth, 2012 – Ben Waterman discussed the guide to community financing which Walter wrote part of plus a visit Sugar Mountain Farm in Across The Fence on UVM-TV and WCAX.
October/November 2012 Issue – Mother Earth News Magazine discusses our butcher shop project in "Local Meat Processing: More Humane, Less Expensive Options".
September 30th, 2012 – Rebecca Thistlethwaite in Honest Meat wrote about The Invisible Butchers mentioning our on-farm butcher shop project here at Sugar Mountain Farm.
September 22nd, 2012 – University of New Hampshire Alumni Magazine mentioned Holly's involvement with Sugar Mountain Farm.
August 30th, 2012 – Hand Picked Nation writer Craig McCord discusses the Sugar Mountain Farm on-farm USDA inspected meat processing facility project, a.k.a. the butcher shop.
August 2nd, 2012 – Tamar Haspel writer of the Starving Off the Land series in the Washington Post referred to Sugar Mountain Farm's article about How to Weigh a Pig with a String.
July 17th, 2012 – In the Washington Post Tamar Haspel referenced Sugar Mountain Farm and quoted Walter Jeffries in her article "Pig to Table Project: Off to a happy start" regarding summer pigs.
July 11the, 2012 – Sustainable Reef used photo of Walter's coral in article.
July 3rd, 2012 – University of Vermont TV Across the Fence featured a program on Sugar Mountain Farm and our journey to on-farm processing.
June 4th, 2012 – National Public Radio (NPR) in the program The Salt discussed Small-Scale Slaughterhouses Aim To Put The 'Local' Back In Local Meat by reporter Beth Hoffman mentioned Sugar Mountain Farm's on-farm Butcher Shop and several other small scale meat processing solutions. The story was rebroadcast on North Country Public Radio (NCPR), Charlotte's Public Radio (WFAE), American University Radio (WAMU), California Lutheran University (KCLU), Sustainability On The Air (WMUB & WVXU), Milwalkee Public Radio (WUWM), OPBNews, Huston Public Radio (KUHF), New York City Public Radio (WNYC), Boston Public Radio (WBUR), New Hampshire Public Radio (NHPR), Capitol Public Radio (KXJZ), Minnesota Public Radio (WMPR) and New Orleans Public Radio (WWNO).
May 23rd, 2012 – American Public Radio (APR) and Voice of America (VOA) covered Sugar Mountain Farm's successful Kickstarting the Butcher Shop fund raising project in their report Internet Fundraising Helps Farmers Flourish by Nina Keck.
May 18th, 2012 – WPTZ reporter Jill Glavan and videographer Ollie visited Sugar Mountain Farm to see the spring pigs, do a followup on the Kickstarter project and check out the progress on the butcher shop since their last visit. The report appeared on WPTZ-TV on the 21st.
May 17th, 2012 – University of Vermont's Across the Fence producer and videographer Keith Silva visited Sugar Mountain Farm to check out our pigs on spring pastures, discuss the Kickstarter project and check out the progress on the butcher shop.
May 14th, 2012 – Mother Earth News magazine publishes Walter Jeffries' article What Good is a Pig.
May 7th, 2012 – Kristen Michaelis of Food Renegade wrote an article A New Way to Finance Farms? featuring Sugar Mountain Farm and the journey to fund construction of our on-farm USDA inspect meat processing facility.
May 6th, 2012 – The Sunday Valley News Business & Money section covered the successful 100% funding of Kickstarting the Butcher Shop at Sugar Mountain Farm.
May 5th, 2012 – Sugar Mountain Farm was featured under the title "Piggy Bank" in the Saturday, Talk of the Town section of the Times Argus newspaper.
May 4th, 2012 – TV station WCAX's Judy Simpson talked about our on-farm butcher shop's successful funding on Kickstarter in her news story "VT Farm Gets a Boost by Crowdsourcing".
May 3rd, 2012 – Jill of Real Food Forager interviewed Walter Jeffries of Sugar Mountain Farm about the family's homesteading and how it led to the development of their sustainable farm that pays the mortgage in Home on the Range: Featuring Sugar Mountain Farm.
May 2nd, 2012 – David Gumpert of The Complete Patient wrote about our successful funding project in Kickstarter Offers Enterprising Farmers Something They've Never Had: A Straightforward Way To Raise Money For New Projects.
May 1st, 2012 – Forbes Magazine journalist Beth Hoffman wrote about our on-farm butcher shop being "an industry game changer" in Local Meat Butchering Goes Nano.
April 25th, 2012 – Sugar Mountain Farm's Kickstarting the Butcher Shop project was featured on Vermont Public Radio's on Vermont Edition with Nina Keck at 12:35 pm. It was repeated at 7:35 pm. On the web as text at VPR.
April 24th, 2012 – Kathryn Flagg of Seven Days newspaper has been writing a series of articles about local meat processing here in Vermont. In Meat Repeat: Another Vermont Farmer Looks to DIY Butchering she discusses the adventure our family has been through to bring on-farm butchering to Sugar Mountain.
April 23rd, 2012 – Columnist David Brooks of the Nashua Telegraph wrote a featured column Pig Farm Turns to Web for Financing about our farm's Kickstarting the Butcher Shop.
April 17th, 2012 – DartBeat, the Dartmouth College blog, wrote about Sugar Mountain Farm and pastured pigs.
April 15th, 2012 – Journalist Maggie Cassidy of the Valley News wrote a feature article on the front page of the Sunday Business Section Kickstarting the Slaughterhouse with photos by Sarah Priestap.
April 14th, 2012 – Sugar Mountain Farm's Walter Jeffries was the featured guest on Food Chain Radio, a national program about food by host Michael Olson on the program "To Buy a Fat Hog": "Farm animals have been taken off the farm and confined in industrial facilities controlled by a few large corporations. Given this control of the nation's food chain, we ask… Will we be allowed to eat the neighbor's food? Topics include how animal agriculture became concentrated in the hands of a few; why those few are threatened by the family farm; and whether we will be allowed to eat Sugar Mountain Farm's pasture fed, free-roaming, farm-processed foods."
April 12th, 2012 – Sugar Mountain Farm's Kickstarting the Butcher Shop was featured on HomeGrown.org.
April 9th, 2012 – Sugar Mountain Farm's Walter and Hope Jeffries appeared in the Times Argus newspaper in the feature article Family of farmers 'kickstart' new butcher shop by Daniel Staple with photos by Jeb Wallace-Brodeur.
April 9th, 2012 – Rutland Herald newspaper article about our farm and Kickstarter project.
April 6th, 2012 – Walter Jeffries is a co-author of and photographer for the University of Vermont publication "Guide to Financing the Community Supported Farm: Ways for Farms to Acquire Capital Within Communities" which was funded in part through a SARS grant.
April 4th, 2012 – Farming Magazine wrote about about our farm, butcher shop and Kickstarter project.
April 2nd, 2012 – WCAX Reporter Judy Simpson visited Sugar Mountain Farm and report West Topsham Pig Farmer Expands Online on the Six O'clock evening news discussing our Kickstarter project.
April 1st, 2012 – Sugar Mountain's Kickstarter project was covered on Nature's Harmony DreamCast on Farm Dreams web site.
March 30th, 2012 – Coverage of Sugar Mountain Farm at the Weston A. Price Foundation.
March 29th, 2012 – Sugar Mountain Farm's Kickstarter project was discussed in the Burlington Freepress newspaper.
March 29th, 2012 – Discussion in Grudge Enforcement at The Complete Patient by David Gumpert.
March 20th, 2012 – Elliot Wise of Ethical Plate at University of Iowa on debunking the myth that confinement pigs are parasite free.
March 15th, 2012 – UNH Magazine mentioned our farming activities in the Spring 2012 edition.
March 7th, 2012 – Sugar Mountain Farm meat label cited as "the best business card [the presenter] had ever seen" at seminar on marketing by Regional Food Systems Workshops in Vanderhoof, British Columbia, Canada.
April 4th, 2012 – Sugar Mountain Farm, Walter Jeffries and Kickstarter came up for discussion at The Complete Patient.
December 23rd, 2011 – Passing on the Cookie Tradition by Walter Jeffries appeared in the Burlington Freepress newspaper's Food under the Savore section where we shared one of our traditional family cookie recipes and talked about passing on the traditions of cooking.
December 12th, 2011 – Q2Amedia, working with Six Red Marbles, based in Massachusetts, USA, used some of Walter's photos in an educational reading program for Heinemann – a publisher of educational resources for children and teachers. Book title: 'Lock Horn'. Printed in All Languages in 1 million copies for the first run.
October 28th, 2011 – Sugar Mountain Farm bacon was featured on the WCAX cooking show Butternut Squash Soup with Chef Michael.
October 3rd, 2011 – Beth Hoffman on Hacking the Food System: New "Technology" in Agriculture in Food & Technology Connection.
October 2st, 2011 – Sugar Mountain Farm's Lemon Meringue Cupids recipe appeared on Food Renegade.
September 23rd, 2011 – Sugar Mountain Farm hot dogs for Sunday brunch at the Chubby Muffin in Burlington as featured in Mellisa Pasanen's Burlington Freepress article A local burger a day in the Burlington area.
September 14st, 2011 – Alice Levitt write an article Sugar Mountain High in Seven Days newspaper.
August 16st, 2011 – AnimalWise.org article on self recognition used one of Walter's photos of Kita.
May 1st, 2011 – Sugar Mountain Farm was featured as case study in the book The Complete Guide to Raising Pigs by Carlotta Cooper published by Atlantic Publishing.
April 1st, 2011 – The Open Source Ecology has chosen our on-farm slaughterhouse and butcher shop for inclusion in their project to promote low cost, sustainable, alternative technologies as an Open Source Butcher Shop.
March 11th, 2011 – Vermont Life Magazine has an article titled "The Trouble With Butchers" which features an interview with Sugar Mountain Farm's Walter Jeffries as well as a photo of him and one of his littler pigs – one still able to be picked up and held.
March 1th, 2011 – Mentioned on the Gourmet Butcher. Check out master butcher Cole Ward's DVD series of instructional videos for meat cutting. We apprenticed with Cole for 18 months to learn the art and craft of traditional commercial meat cutting. He is a joy to work with.
February 1st, 2011 – Rural Delivery of Country Magazines has an article from Sugar Mountain Farm. Not available online, yet. Link to come…
Styczeń (January) 23rd, 2011 – Polish Permakultura Workshop article "Jak przygotować pastwisko dla świń" which featured Sugar Mountain Farm. I link this here out of interest to see how someone so far away is doing something so similar. Incentive to learn to read Polish. Or see the English rough translation "How to prepare pasture for pigs?".
January 1st, 2011 – Sugar Mountain Farm can be found in Wikipedia.
December 20th, 2010 – Sugar Mountain Farm was picked as one of the Top 100 agricultural blogs by the SR Education Group.
December 1st, 2010 – Sugar Mountain Farm was featured in the Onion Skin, the newsletter of the Onion River / City Market Coop in Burlington, Vermont.
November 1st, 2010 – New England Business Journals article "West Topsham pig farmer plans small-scale slaughterhouse" by James Askew.
October 31st, 2010 – eHow Concrete Bottle Wall how-to article.
October 5th, 2010 – Farming – The Journal of Northeast Agriculture Putting Pigs to Work article by Diane Wells about using pigs to renovate pasture featuring Sugar Mountain Farm.
September 10th, 2010 – Burlington Freepress Savore Section: "Sugar Mountain Farm works to get all it can from pastured pigs"
August 22nd, 2010 – Burlington Freepress Sunday Green Mountain Section: I Believe…
August 18th, 2010 – WPTZ-TV Reporter Jill Glavan visited to interview us about our Big Project and reported it in her story "Solving the Slaughterhouse Problem" which is also on her video blog and YouTube.
August 12th, 2010 – The Bridge Weekly ran a story Slaughterhouse and butcher shop being constructed at Sugar Mountain Farm in West Topsham about the butcher shop our family is building at our farm.
August 5th, 2010 – University of California, Mendocino/Lake Livestock & Range Topics Pen Ultimate Niche Meat Marketing
August 3rd, 2010 – WCAX-TV Vt. farm to build own slaughterhouse.
May 5th, 2010 – Nature's Harmony "A tribute to those Who Inspire".
April 28rd, 2010 – 7 Days Newspaper Pig Parade of pork from Sugar Mountain Farm pig at Chef's Table in Montpelier.
April 23rd, 2010 – 7 Days Newspaper New England Culinary Students (NECI) make Snout-to-Tail Benefit Dinner from Sugar Mountain Farm pig.
February 1st, 2010 – Sugar Mountain Farm tomatillos photo appears in Heritage Farming book by Gary Paul Nabha from the Western National Parks Association.
January 29th, 2010 – The Frederik Meijer Gardens & Sculpture Park featured one of my flower photos in their 2008 Christmas and Holiday Traditions Around the World exhibition. The theme was focusing on natural elements and had Christmas amaryllis flowers. The designer, Glenda Kraemer, had seen my flower photos here on our farm blog and wrote me asking about using them. Very cool! See photos of the banners here here.
January 2010 – Farm Show Magazine Sugar Mountain On-Farm Slaughterhouse in the Farm Show Magazine January 2010 issue.
November 2009 – Midwest Bird and Animal Breeders Association published some of my writings.
October 26th 2009 – The book Waste: Uncovering the Global Food Scandal cited Sugar Mountain Farm's blog.
August 31st 2009 – Chowhound cited Sugar Mountain Farm about how much space is needed to store a pig.
July 1st, 2009 – The Daily Bite Hog Heaven Professor James E. McWilliams vs Sugar Mountain Farm facing the facts. The professor fails again.
April 30th, 2009 – FOX44-TV Pig Farmers Combat Misunderstanding about H1N1 virus.
April 17th, 2009 – The Campbell Centre for the Study of Animal Welfare at
the University of Guelph in Canada used the photo of Archimedes grinning in one of their publications about tusk cutting issues.
March 15th, 2009 – The Canadian government use my photo of Bradford's Frozen Falls to illustrate their book on dam safety.
February 14th, 2009 – Indigenous Language Student Support of the Ludmilla Northern Territory in Australia used several photos and articles from my blog in their publications for teaching English.
December 31st, 2008 – Ten Links That Will Keep You Reading and Eating All Year Long" from Epicurious.com article by Ethan Book.
November 26th, 2008 – Romanian television used photo of Big Pig from Sugar Mountain Farm to illustrate one of their news articles about butcher's being indoctrinated to learn new techniques so the Romanian government could joint the European Union.
October 30th, 2008 – WCAX-TV Cooking up Sugar Mountain Farm bacon with Chef Michael Kloeti of Michael's on the Hill restaurant in Waterbury, VT.
October 28th, 2008 – Walter's photo "sun laced clouds" used by therapist Ginger White in a project for children.
October 25th, 2008 – Walter's photo of Tomatillos used by a book on heritage farming for Western National Parks Association of the United States of America.
August 5th, 2008 – Wired Locavore urbanites engage in 'cow pooling' by Bruce Sterling.
July 25th, 2008 – NECN-TV Boston Pig Farming Hits New Highs in Vermont
July 22nd, 2008 – New York Times A Locally Grown Diet With Fuss but No Muss by Kim Severson.
June 14th, 2008 – Times Argus Local Food Growers Deserve Our Praise
June 3rd, 2008 – Times Argus Eating Weeds by Lisa Harris.
April 28th, 2008 – Walter's photo "Old Chair Overlooking Mists" used on Bill Yazujian's band's album cover.
March 19th, 2008 – Seven Days Newspaper This Little Piggie Stayed Home.
March 11th, 2008 – Backwoods Home Magazine named Walter Jeffries of Sugar Mountain Farm one of the people who are Ten Real Inspirations.
March 11th, 2008 – The Times Argus newspaper wrote about Walter Jeffries of Sugar Mountain Farm in their feature article Vermont's chefs get fresh… with the Vermont Fresh Network.
March 2008 – Gallio Awards Hot Dogs.
December 18th, 2007 – Dan Owens of the Center for Rural Affairs wrote "As is fairly obvious, there's been a lot of anger here over this farm bill fiasco. And that's cool, and I'm sure we'll have more to express. But we can't always be angry, even if we try. Yesterday I was going through the old RSS reader, which was a little backed up, and the anger just dissipated instantly. Why, you may ask? I'll tell you. Because Walter Jeffries has the cutest damn pigs in the whole world. Even for us jaded, cynical observers, it is impossible to remain angry while looking at pictures of these pigs. So if you're in need of a quick happiness fix, let me tell you what. Head over to the Sugar Mountain Farm Blog and take a look at these pigs. It's like taking the cure. All your problems will be solved, and you'll learn something too."
November 14th, 2007 – Seven Days Newspaper Crop Circles about the USDA's proposed and defeated onerous National Animal Identification System (NAIS).
October 21st, 2007 – Walter's photograph of porcupine quills used on the premier album cover of the German band "Muddy Porcupines".
July 28th, 2007 – Portrait of the Greeno Twins used on the album cover for The Smile Album of the Folks/Blues Club in Southampton, England.
May 30th, 2007 – BBC Whistle Blower television program about Supermarkets used my Pork Cut Chart at about minute 3:30.
April 13th, 2006 – Rodale Institute feature article Export-fueled national animal ID program raises many farmer objections with photo by Walter Jeffries of Big Pig from Sugar Mountain Farm and one of our cartoons.
January 2006 – My blog was picked as ClustrMaps User of the Month.
October 18th, 2005 – Interview with Walter Jeffries of Sugar Mountain Farm by Kathleen Weldon at the Seasonal Cook.
I have had a number of articles published in Liv'n the Vermont Way.
Our Pork Cut Chart has appeared on a BBC television documentary, photos from our farm have appeared on Japanese science television shows. Over the years other photos and video footage have appeared in books, posters and banners of various non-profits, rock bands, art shows, US government publications, the Canadian government and media from other publishers.
Check out these Letters of Recommendation and see what our customers say about us.
June 1st, 1992 – And in a blast from the past Inc. Magazine wrote about Walter Jeffries and his zany doings in their feature article A New Twist on Old Peanuts which discussed the use of old peanuts from shipping were used to insulate homes as a way of repurposing waste materials to save energy. Like the following, not very related to pigs, pork or sheep but rather our old farm house and an innovative approach to recycled insulation.
February 1989 – Walter Jeffries developed touch-tone and voice activated fax and phone service systems that operated with menus and tree structures to guide users through tech support solutions to desktop publishing and Transfer Toner systems which delivered solutions by print, fax or email and audio recommendations as well as connecting users to customer service and technical support representatives.
August 1988 – Walter Jeffries started Flash Magazine about desktop publishing which started as a quarterly newsletter to support Transfer Toner users worldwide. The magazine grew to be a bi-monthly full-color glossy publication with a circulation of 112,000 as well as distribution through newsstands nationwide and in Canada.
July 1987 – Walter Jeffries invented the first iron-on laser printer Transfer Toners for putting computer images onto fabrics, metals, wood, leather and ceramics using dye sublimation particles embedded in plastic and wax resins. Progress continued through 1995 refining the technology for more applications, materials and printers with worldwide sales through his companies International Transfer Toner Technologies, Inc for R&D, BlackLightning, Inc for manufacturing and sales with marketing through BlackLightning Publishing, Inc.
January 1986 – Walter Jeffries wrote software point of sale systems, employee management, time clocks, inventory management and process control at various high end New York City butcher shops. The irony is that 30 years later we have our own on-farm USDA butcher shop. The circle is complete.
1970's – A blast from the distant past about an early AI genetics evolution program I created a looong time ago which is mentioned on Wiki. I'm very surprised anyone remembers or even knows about the Savanna Simulator I wrote which predated the commercial software like Creatures:
"The program was significant as it was one of the first commercial titles to code alife organisms from the genetic level upwards using a sophisticated biochemistry and neural network brains. This meant that the Norns and their DNA could develop and "evolve" in increasingly diverse ways, unpredicted by the makers. By breeding certain Norns with others, some traits could be passed on to following generations. Most interestingly, the Norns turned out to behave similarly to living creatures. This was seen as an important insight into how real world organisms may function and evolve. Earlier alife programs had worked by giving their organisms a limited set of commands and parameters, and seeing whether the way the subjects behaved was realistic. While this is the first commercial program it is to be noted that other non-commercial programs had done this since the late 1970s such as the Savanna Simulator by Walter Vose Jeffries which ran on an Z-80 based Exidy Sorcerer microcomputer and presented the creatures moving on a graphical grid. The genetics in Creatures are somewhat different from human genetics; they are haploid. There is no concept of dominant gene and recessive gene, much less recombination between loci. Nevertheless, the complexity of the simulated biochemistry meant that Norn behavior was highly unpredictable. Among the fans of Creatures were the Oxford zoologist Richard Dawkins, who called it a "quantum leap in the development of artificial life", and author Douglas Adams.
Note that in this context, AI means Artificial Intelligence rather than Artificial Insemination. You can AI pigs but it is the latter not the former. Amazingly closely related to and combining those two topics together is that also in the late 1970's I wrote a genetic simulation for fruit flies because our high school was too poor to have science classes using real fruit flies – imagine that. My simulator modeled the genetics of Drosophila melanogaster, allowing the student to setup free breeding populations or breed specific individuals and observe the results in simulated environments. This also ran on the Exidy Sorcerer. Very avant garde for its time.