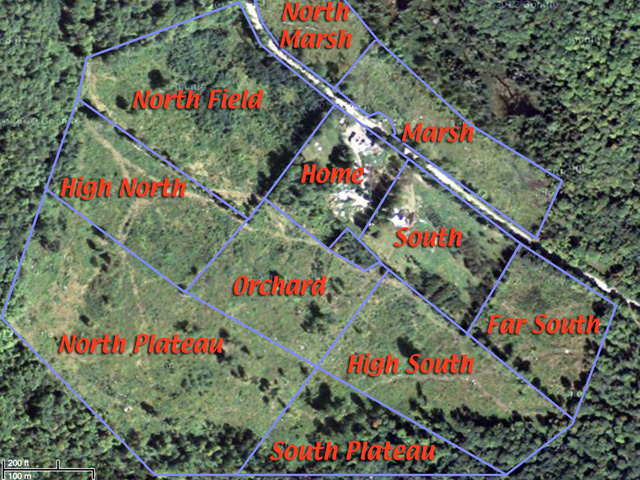 Our farm is an approximately 70 acre section in the middle of our valley consisting mainly of open fields with some shade trees and forest margins which the animals enjoy on hot summer days. We have about 900 acres of forest that we sustainably work in addition to our farming.
We began farming doing forestry and maple syrup back in the 1980's and then raising animals to provide meat for our own family back in the very early 1990's as well as vegetables and fruit from our land. Our desire grew out of concerns about hormones, antibiotics, pesticides, herbicides and humane handling issues related to factory farmed meat. We wanted to provide healthy food for our growing children and the best time to start that was prenatally. This was long before the government and Big Ag co-opted the word organic. For us, organic is not a marketing phrase but rather a way. A Tao. This is how we raise our food to feed our family. NoWeirdStuff
Our farm expanded gradually from the homesteading level to a family farm over the subsequent decades. During that time we explored rabbits, ducks, meat chickens, laying hens, sheep and pigs. We discovered that we're really good at raising pastured pigs. We had a market in pastured pork that would earn us a livable wage and pay the mortgage. Pigs also grow fast (250 lbs in ~6 months), have short gestation cycles (~4 months) and more offspring per litter (>8 vs 1 or 2 for sheep). Pigs also have shorter generations at about 10 to 12 months. In the end, our pastured pigs bring home the bacon. They co-graze along side our sheep, chickens, ducks and geese. Together the animals and plants make for a diversified, sustainable permaculture farm that enhance our soils, habitat and lives. The whole menagerie is watched over and managed by our livestock guardian herding dogs.
So where can you get our pork you ask?!? You can purchase directly by the whole or half pig and we deliver to local stores, restaurants and individuals year round on a regular weekly delivery route. See the Retail section for details of our route and stores that carry our products. Check out the CSA for information on purchasing pork directly. We also sell roaster pigs for events and piglets for people who want to raise their own.
See these pages for more overhead arial photos of our farm:
2009
2007
1963
"I write to thank you for the tremendous inspiration and help that you continue to provide to me and many others in the sustainable family farming kinship. Your Sugar Mountain Farm Blog with its explicit descriptions, pictures and graphics of how and why you manage the farm using deliberate sustainable strategies and techniques has been a treasure of information for me as I prepare to expand my operation from seasonal pastured hogs to year round pastured hogs."
-Todd Turner, Humble Haven Farm, Fort Loudon, PA
We don't do agritourism, classes, seminars or tours but you can visit our farm online through these pages and when you come to pickup your meat at the farm you can see the pigs from the driveway. Check out this video we made for our Kickstarter project for an eight minute virtual tour:

Member:
Vermont Fresh Network,
Rural Vermont
Northeast Organic Farming Association of Vermont (NOFA-VT)
The Vermont Grass Farmers' Association,
Vital Communities
PasturedPork.org,
NaturallyRaised.org,
and a NoWeirdStuff.org farm.
Vermont Dept of Ag Wholesale & Retail Licenses
USDA Inspected slaughter & processing