Butcher Shop at Sugar Mountain Snowed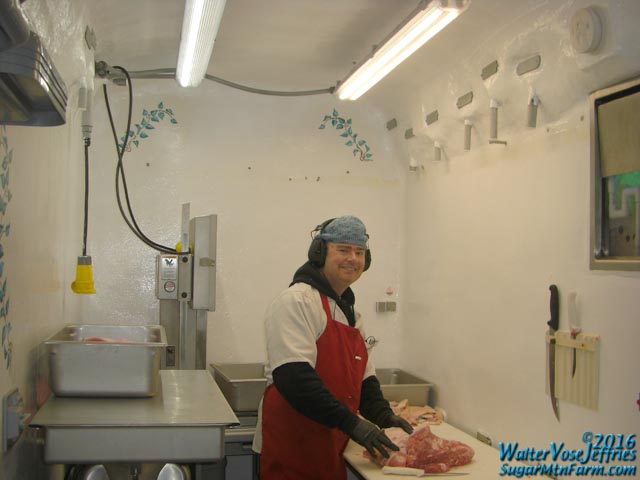 Walter Butchering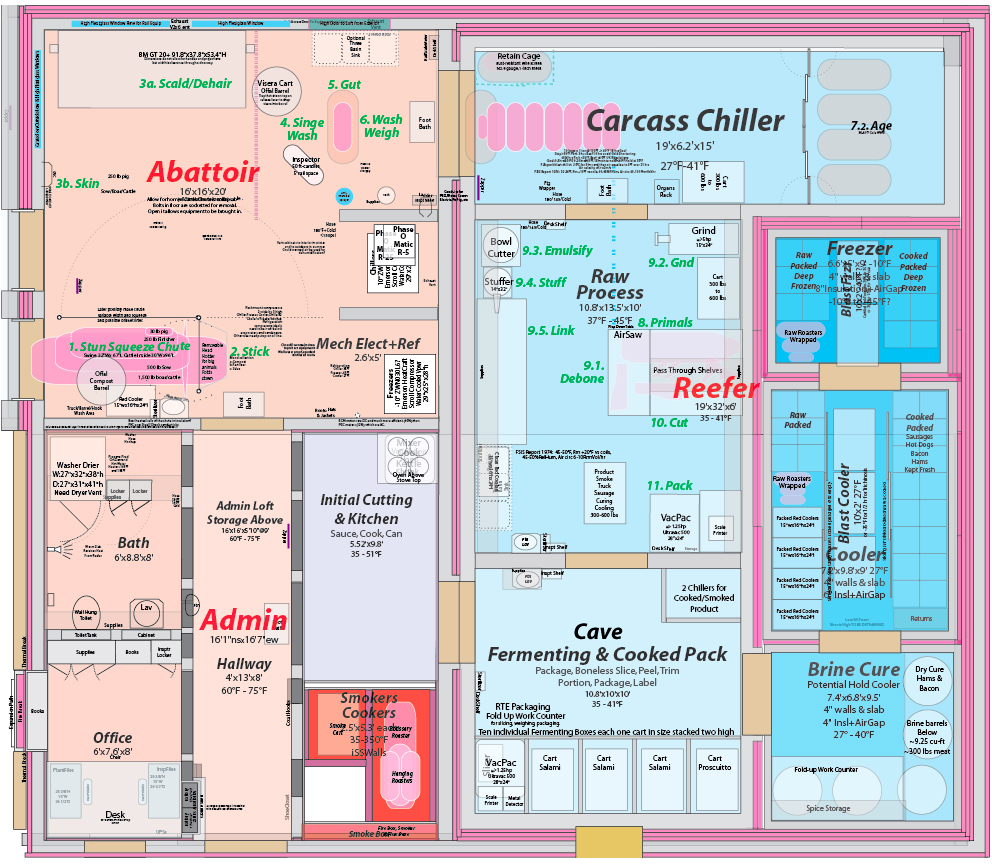 Layout – Click for the Big View
Sugar Mountain Farm Butcher Label
Custom Order Special Cuts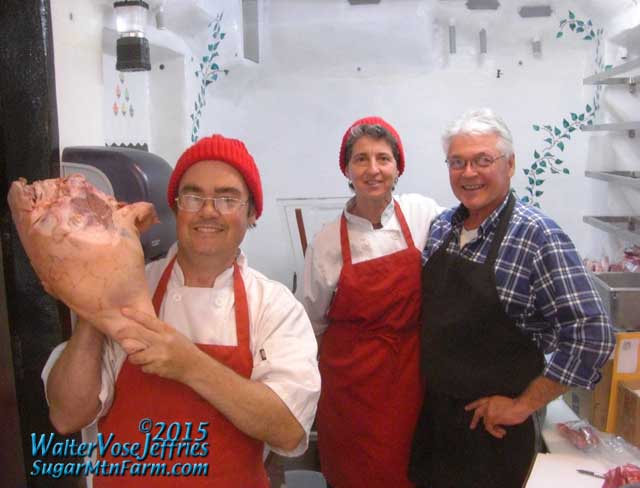 With Master Butcher Cole Ward
Ben with Porchetta
Sugar Mtn Farm USDA Label
Note!
We only process for our farm. If you have pigs you want butchered, see the USDA list of butcher shop.
Our family built our own USDA/State inspected on-farm slaughterhouse and butcher shop – an amazing journey of a family designed, built, owned and operated on-farm modern meat processing facility with an old world feel:
2008-04-21 Butcher announces retirement
2008-04-28 We met with State
2008-08-17 Began 18 month Butcher Apprenticeship
2009-03 USDA HACCP Training
2009-06 Permits completed!
2009-07 Hay shed down
2009-08 Underground electric
2009-09 Super-insulated foundation
2009-10 Wall forms up
2009-11-15 First Announcement
2010-08-03 Project update
2010-11-05 Walls topped
2011-08-07 Reefer slab plumbed
2011-11-11 Reefer Ceilings Poured
2012-07-30 Admin, Reefer, FCB
2012-10-10 High Ring Pour & Abattoir Loft
2012-12-04 Top Ring and Ceilings Poured
2012-12-15 Super Insulated
2013-01-18 Ben's Butcher Shop Model Tour
2013-06-18 Freezer-Cooler-Brine Poured
2013-07-04 Inspector's Office & Bathroom divider wall with plumbing and in-wall toilet tank.
2013-10-01 Granite door sills installed.
2013-12-26 Toilet Tank Hung & Interior Partitions.
2014-02-06 Equipment Choices for iCutter.
2014-03-25 Arches & Ceilings
2014-05-07 Final Concrete Pour to butcher – Hall Floor
2014-06-04 Equipment arriving!
2014-06-16 Equipment Installation & Testing
2014-06-20 Hall of Mirrors
2014-07-05 Inspector's Visit
2014-07-29 Washer & Drier In Place
2014-08-01 Equipment In Mock Butcher Shop
2014-08-02 Polyurea
2014-08-19 Last Equipment for Cutting Meat & Sausage!
2014-09-21 Admin Walls Polyurea
2014-10-06 Stainless Steel in iCutter
2014-12-04 Admin Photo Ready
2015-01-19 Electric
2015-04-09 Ventilation
2015-04-25 Inspector's Office
2015-05-04 Bathroom Plumbing
2015-05-12 Application to Butcher!
2015-05-15 Retail License
2015-05-23 Wholesale License
2015-06-08 Plumbing Done
2015-06-19 Water Test Passed!
2015-06-20 Septic Connected
2015-07-05 Hatches Sealed
2015-07-17 Construction Completed!
2015-09-01 HACCP – Final License Application
2015-09-10 Dry Runs Done
2015-09-11 Wet Run #1 – First Pork Cut
2015-09-15 Wet Run #2 – 2nd Pork Cut
2015-09-30 Food Safety meeting final HACCP Plan Details
2015-10-09 Vermont Inspected Licensed to Cut!
2015-10-15 Butcher Shop Open!
2015-11-29 Sausage making start up
2016-04-05 Breakfast Maple Sausage
2016-03-16 Initial Validation Period of HACCP Plan
2016-04-14 Food Safety Assessment Review completed and passed by Vermont Meat Inspection Service, Vermont Agency of Agriculture, Food and Markets!
2017-03-15 Corn Pork for St Patty's Day
2017-03-31 USDA initial visit to butcher shop.
2017-07-19 Submitting USDA Inspection Application
2017-07-24 USDA Application Submitted
2017-08-08 Call from the USDA
2018-03-15 USDA Walk Through
2018-05-01 USDA Grant of Inspection!!!
2018-05-03 First day under USDA inspection – Dual Jurisdiction
2018-05-10 Second day under USDA inspection – Dual Jurisdiction
2018-05-17 First full day (99%) under USDA inspection
In Progress… USDA label & formulation approval, Sugar Free Bacon
Next hurdle: Some sausage, bacon and other labels awaiting FSIS/USDA approval (they're >5 weeks behind right now), minimum of 90 days for USDA level HACCP validation and verification process plus food safety assessment review prior to final federal acceptance of HACCP Plan, SSOPs, SOPs, GMPs… Additional refrigeration of iCutter.
Butcher Shop Posts All posts
Taruhan Piala Dunia 2022 di Sbobet Online
Sbobet adalah situs perjudian berbasis internet teratas. Dalam hitungan menit, Anda dapat menyetor uang dan mulai bermain. Metode pembayaran SBOBET menerima semua bank transfer dan uang elektronik seperti DANA, OVO, GOPAY, dan juga menawarkan beberapa metode pembayaran lainnya. Langkah pertama untuk mendaftar untuk membuka akun sbobet baru adalah mendaftar. Setelah itu, pilih game favorit Anda sebelum melanjutkan ke tahap berikutnya.
Kemampuan untuk bergabung dengan kasino hidup di Indonesia setelah mendaftar ke Akun Sbobet. Anda dapat memainkan turnamen slot serta permainan, berdasarkan pedoman situs yang memungkinkan. Apa pun yang Anda lakukan, baik di rumah atau di jalan, Anda dapat bermain dalam permainan Sbobet dari mana pun Anda berada. Hampir tak terkalahkan betapa mudahnya menikmati permainan dari kenyamanan rumah Anda.
Situs Sbobet Resmi memiliki antarmuka yang intuitif.
Platform ini memungkinkan Anda untuk menempatkan taruhan dalam bentuk apa pun serta pertandingan dan acara streaming langsung.
Pembayaran cepat SBOBET dan opsi cash-out yang menguntungkan menjadikannya salah satu situs taruhan online paling populer.
Selain itu, selain menawarkan banyak pilihan acara olahraga,
Sbobet juga memiliki taruhan langsung.
Permainan dapat dimainkan sambil menghasilkan uang.
SBOBET juga menawarkan salah satu situs web perjudian online terbaik. Ini dilengkapi dengan perangkat lunak enkripsi terbaru, yang memastikan bahwa informasi pribadi Anda dilindungi dari penjahat dunia maya. Juga, SBOBET Indonesia memperhatikan lisensi untuk game dan memegang lisensi Isle of Man dan Filipina. SBOBET adalah situs game yang aman dan mempromosikan perjudian yang bertanggung jawab. Sbobet sebagai kasino online yang mempromosikan judi online yang resmi dan terpercaya adalah alternatif yang sempurna.
Selain menawarkan berbagai macam pasar, SBOBET menawarkan sistem dukungan pelanggan yang komprehensif. Situs web ini mudah dinavigasi dan menyediakan beberapa opsi pembayaran yang mencakup kartu kredit serta transfer ke bank.
Situs SBOBET Casino menawarkan aplikasi mobile dan platform layanan pelanggan yang luas.
Ada beberapa keuntungan untuk membuka rekening di Sbobet. Anda dapat bertaruh pada berbagai acara olahraga. Alamat resmi situs judi bola online:
Situs SBOBET memiliki antarmuka yang intuitif. Ini memungkinkan Anda untuk memilih dari ratusan permainan serta banyak opsi taruhan. Akun Skype tersedia secara gratis, dan Anda dapat mendanainya sebanyak yang diperlukan. Anda juga dapat membuat akun Skype jika Anda ingin menggunakannya untuk berkomunikasi dengan penasihat teknis ahli. Anda juga dapat menghubungi operator obrolan langsung menggunakan fungsi obrolan langsung situs web. Anda juga dapat menggunakan fitur live chat untuk menjangkau perwakilan layanan pelanggan.
Manfaat lain dari Sbobet adalah kemampuan untuk bertaruh online. Sbobet sangat ramah kepada pemain dan menyediakan berbagai pilihan perjudian. Antarmuka cukup mudah bagi pemain baru untuk memahami. Ada bonus dari taruhan dua puluh dolar. Nilai ini meningkat ketika Anda bertaruh lebih banyak. Anda dapat menghasilkan uang di situs kapan saja Anda mau. Anda bahkan tidak perlu meninggalkan rumah Anda. Ada banyak manfaat untuk situs perjudian sbobet.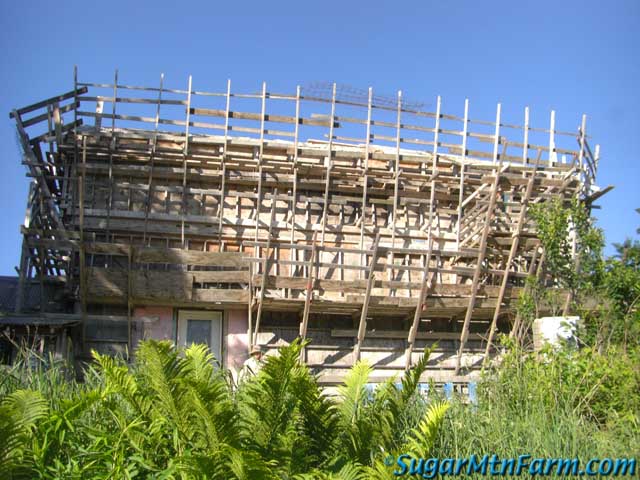 Since banks were not lending and government grants were not available we bootstrapped the construction from our savings, farm's cash flow, sale of assets like our dump truck, selling CSA Pre-Buys where customers get free processing in exchange for buying early, Kickstarter and generous loans from several area business, customers and other individuals. The butcher shop was truly a home grown success.
We divided our big project into phases. First building the shells of the building and then finishing off our on-farm butcher shop where we do raw processing, e.g., the cutting of the carcasses into chops, roasts, ribs and other portions. Next we added sausage making which is an additional regulatory step and involves new skills. Next we plan to finish off the walk-in coolers, the brine room and cave so that we can start smoking bacon, hams and other cuts. We'll move meat cutting (a.k.a. butchery or raw processing) into the three times larger final cutting room which will have space for making our hot dogs. In about five years we plan to add on-farm slaughter section to bring the process entirely on-farm. Each phase helps to pay for the next phase, breaking the project up into manageable chunks that we can fund and handle in a step-by-step manner.
---
What does the Butcher Shop mean?
For the pigs the butcher shop means that eventually they will spend their entire lives on our farm and not have to be trucked the long distance to a remote slaughterhouse. This will mean there is no bad day for a pig at Sugar Mountain Farm once we complete the slaughter room in about another five years.
For our customers the butcher shop means quality, local, low food miles, faster turn around, more varieties of products and cuts that they can't obtain elsewhere.
For us the butcher shop means lower costs of processing, higher yield per pig, selling more of the pig, more opportunities to do value-added products and security for our family in knowing we will have processing available in the ten to twelve months it takes to get a pig from breeding to plate.
For other local farmers our butcher shop means more available processing slots at other area butchers and a open sourced demonstration of how a family can bootstrap their own USDA/State inspected meat processing facility.
Note!
We only process for our farm. If you have pigs you want butchered, see the USDA list of butcher shop.
Related Links:
---
Due to regulatory, insurance and biosecurity complexities we do not offer processing for other farms. After we have the facility completely finished and everything running smoothly for several years we'll be able to consider at doing livestock for other farms. We sometimes buy in pigs from other farms to raise and butcher but do not offer custom processing at this time. If we do eventually offer custom processing to other farms we would start with processing for people who buy weaner pigs from us.
For commercial or custom processing of your livestock we highly recommend Adams Farm Slaughter[1,2] in Athol, Mass. They do a wonderful job with humane slaughter, meat cutting, linked sausage making and smoking. We have been very pleased with their work for years and I highly recommend them. You can reach them at their website. I would suggest scheduling with them by June since the fall season is very busy.
For on-farm butchering I highly recommend master butcher Cole Ward who can come to your place and cut your meat for you. He is the gentleman that our family apprenticed with for 18 months to learn the art of butchering pigs. Cole does meat cutting workshops, something we do not do, and he has a series of DVDs and books that will teach you how to cut your own meat as well as giving great history and insight into the realm of American butchers.
While we won't initially do processing for other farms at this time, our project benefits other farmers since it frees up 500 to 1,000 processing slots a year helping to relieve the regional meat processing bottleneck. Another benefit for other farmers is we are paving the way for how small farms can build very small, even nano-scale, inspected processing facilities through sharing information of how we permitted, build and operate our facility including the floor layouts and other details. Other farms have already started their own facility following our lead in this grand adventure. The Sugar Mountain Farm butcher shop has been chosen for the Open Source Ecology project which will help spread the information to more people. See the butcher shop articles on this blog as well as those about marketing and meat labeling.
Build-Your-Own Butcher Shop
It is quite feasible for a handy farmer to build their own butcher shop. The USDA is quite helpful and encouraging in providing documents on their web site about the rules and regulations. The various national codes for construction, electric, plumbing all are excellent guidelines to start understanding such a project. As a nation, and a world, we need more small butcher shops so I heartily encourage you to Do-It-Yourself. But, please note that I do not do consulting on setting up a butcher shop. My reason for not doing consulting is I don't want the responsibility and I'm too busy doing interesting projects. It's that simple. You're free to read the posts here about how we did things and borrow ideas. Ask questions in the comments of various posts on my blog – I read all comments and answer questions here on my blog so other people can benefit from the dialog. If you're looking to open your own meat processing facility start with your state department of agriculture meat inspection and the FSIS USDA Very Small Plant Outreach web site. You may wish to get this book: Your self-study guide to understanding how to develop a HACCP plan. Also visit the Niche Meat Processing Organization. Humane handling resources can be found at Temple Grandin's site. You may also be interested in this list of USDA meat processing plants to find ones in your area. The Vermont Agency of Agriculture has a useful chart about processing that applies similarly in other states.
Tours, Seminars, classes, workshops, etc:
We're not setup to do farm tours, seminars or agritourism. However, head on over to our Farm page and watch the eight minute video tour of our farm and from when we were building the butcher shop. You'll get to virtually sit in the field and have a pig snuffle your nose.
Watch Walter Cut Your Pig:
If you want to watch your pig being butchered that can be arranged but bumps our insurance up for six months so the cost is $1,000 on top of the cost of the pig and processing. This can be up to four observers and takes about two to three hours. Note that space is very tight – we have a very tiny space efficient cutting room. I typically do on a Saturday under retail exempt or custom so the meat is for you but can not be resold. Unfortunately the insurance company will not cover you helping so you'll have to just watch which means no hands-on.