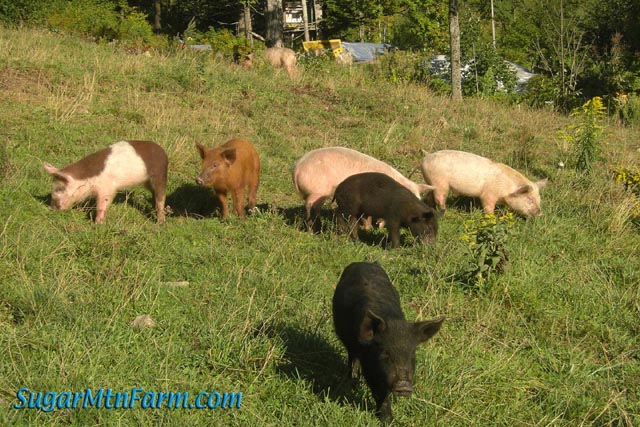 Fall Piglets Available
I have caught up with 2021 weaner piglet orders that had been reserved and can now offer piglets for fall and winter. If you've wanted to get into raising a pig for meat now is a great time. They do great over the winter especially with the good start of fall on pasture. Pricing for boar piglets is $300
+
each for fall and winter while supply lasts. See the
Piglet Page
for full details.
These fall piglets are two to three months old and should be ready for butcher in three to four months depending on the size you want to raise them too. This works ideally with butchers as the fall is their busy season.
If you want to reserve piglets for next spring please be sure to get your deposit in soon. I already have orders for piglets out through May for 2022. For spring and summer pigs send a $15/piglet with of note of what you would like. Pricing is $350+ each for spring and summer piglets. See the Piglet Page for full details.
Email: WalterJ@SugarMtnFarm.com
Sugar Mountain Farm, LLC
252 Riddle Pond Road
West Topsham, VT 05086
Outdoors: 49°F/58°F Partially Sunny
Tiny Cottage: 63°F/65°F
Daily Spark: I have a photogenic memory – I remember beautiful things. The other things I put away in a box, carefully label and throw away the key.