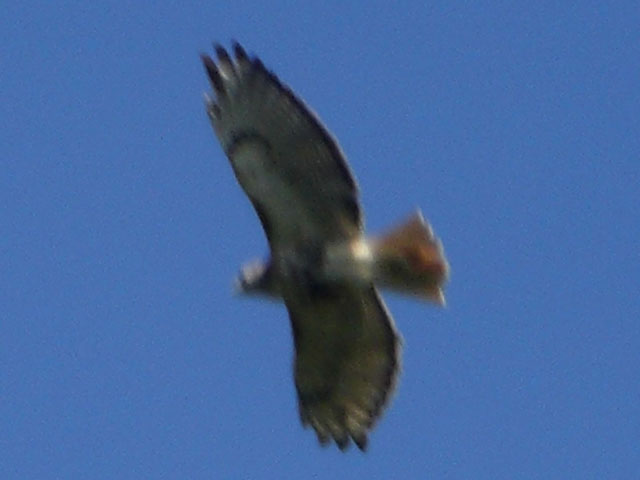 Lili-Hawk in Flight
Click Image for Larger View
Today
Lilihawk
greeted me at the cottage door with her screams of come-come. It is good to see her returning again from her migration to the valley here by Sugar Mountain.
Lili Hawk has summered here for six years now. I first knew her as a young hawk who circled me calling out as I worked in the fields in the summer of 2014. She landed on me once, a bit of a scary moment, which leads me to think that she was once someone's pet hawk.
She is named for Lili Wolf who died the year before Lili Hawk appeared. Some suggested that the hawk was the reincarnated spirt of the wolf and so it seems a fitting name. I have seen her drive off other predators so that makes it appropriate, although perhaps she is just protecting her territory. She has never harmed any of our poultry or pigs.
I don't actually know if she is female or male. "She" does have a mate and they've raised several broods. Occasionally both her and her mate come by but he stays far away from me when she comes in to greet me. He is not so tame and I'm not his human.
Outdoors: 30°F/6°F Bright and Cloudy, 1/4″ Snow
Tiny Cottage: 69°F/56°F
Daily Spark: Chuck Yeager the Air Force pilot that first broke the sound barrier just died at age 97. Well, that kills the old saying about:
There are bold pilots and
There are old pilots but
There are no old bold pilots!
Bold is often mistaken for taking risk without understanding where in reality the "risk taker" is deeply skilled and very informed.