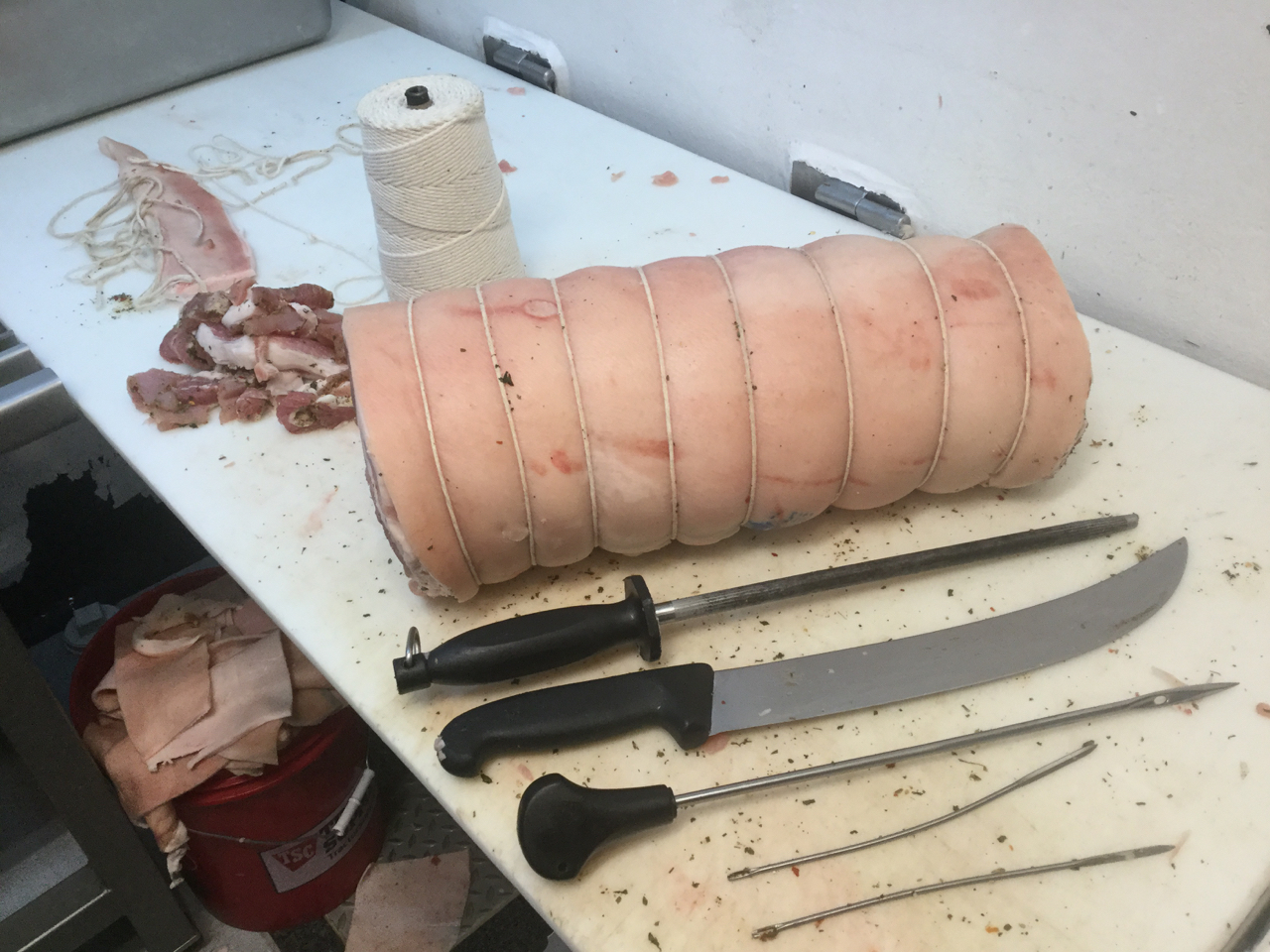 Porchetta Rolled Roast
Click for Big Picture
Coronavirus, COVID-19 and Social Distancing has halted restaurants and many small businesses. It has also meant a total drop in roaster pig and porchetta roast sales for us as people are not having large gathering dinners, weddings, graduations and other in-person parties.
Alternatively, you could buy one roaster pig for each guest and then each of them can cook theirs in at home and you all can use FaceTime, Skype or Zoom to have a remote party…
Lots of left overs!
That is about as much of an April Fools joke as I am going to do this year…
It is with great irony that the upside of the pandemic may be a reduction of man's contribution to global climate change. Turns out it was not agriculture but rather cars and airplanes that were causing the problem. The air is now cleaner over the Americas, Asia and Europe than in living memory. I've always wished that people would focus on the real problem: pollution. The temperature is just a distraction that leads to arguments.
As a side note on staying healthy for those who must go out, some of you who saw me delivering this winter may have noticed I was the masked pork guy… I've been wearing a fitted N99 since December when I first started hearing news out of Wuhan. I use it any time I have to go indoors to deliver. The arguments not to wear masks or gloves were totally political and had nothing to do with science. Notice how they're reversing themselves now. Everyone should be wearing reusable cotton gloves and fitted masks and then heat sterilizing them. It's easy. Heat kills the virus and lets me reuse my masks and gloves. The gloves I just throw in the hot wash. Have multiple pairs of the gloves. They're cheap and something I've been using around the farm for decades. Additionally, learn to have a clean hand and a dirty hand. Task division. Reduce your touching. Reduces change of gloves. I do this because I'm prone to pneumonia but I might save someone else's life too by not spreading. Flatten the curve.
Outdoors: 33°F/14°F Sunny, 3″ snow a couple days ago and 10″ before that mostly melted now.
Tiny Cottage: 67°F/65°F
Daily Spark: In these difficult times I want you all to remember one word: Bacon