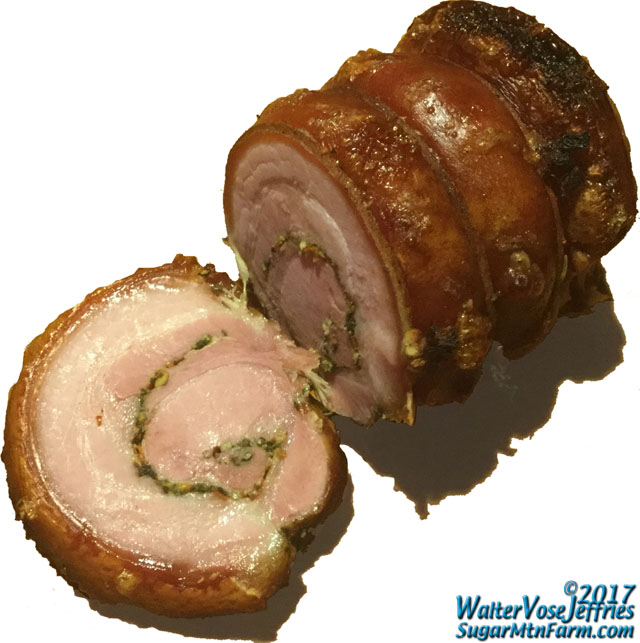 Pork, Roasters & Porchettas Available
Porchetta Roasts available, spiced, cured, rolled, tied and ready to slow cook in your oven or over a spit. All sizes. Flat roasts, rolled roasts and whole pig roasts. Traditional Italian style porchetta spicing or specialty blends, dry rub maple, kielbasa, bratwurst, farmhouse salt & pepper & more. Pricing starts as low as $25 for a small flat or round porchetta roast and as low as $6/lb for Easy-Carve partially deboned large whole pig porchettas. Let us know what you would like.

CSA Pork Boxes starting at $80 per 20 lb box with discounts for subscriptions with weekly or monthly options. Farmers Basket, High-on-the-Hog, Pick-of-the-Pig and Oddments selections available.
Roasters Pigs of all sizes $4 to $6/lb + $65 USDA processing ready to cook.
Available in sizes from small oven to large spit roasts.
Butterfly option available $25.
Shippable up to about 45 lbs.
Whole, Half & Quarter Pigs cut to your specifications $4 to $6/lb + $65 USDA slaughter & $165 butchery includes some sausage and smoking. Wide sausage selection available along with corn pork, salt pork and dry rub maple bacon. Easily shippable in ~40 lb boxes.
For full pricing and details see the Ordering Page.
Paypal & checks accepted.
Available year round direct from the farm and at local stores & restaurants in Vermont and New Hampshire.
Delivery on our weekly route (+$15), pickup at the farm and shipping nationwide available – email me your zip code and what you would like to order to ask for quote. Depending on distance shipping is about $50 to $150 per 45 to 50 lb box plus about $25 each for the special insulated boxes which are reusable.