Berda's at the Fair
Each week we supply
Berda's Restaurant
(on
Facebook
) in Essex Center, Vermont with our famous uncured dry rub maple bacon which we make with real Vermont maple syrup and Berda's features in many of their delicious dishes. Very tasty!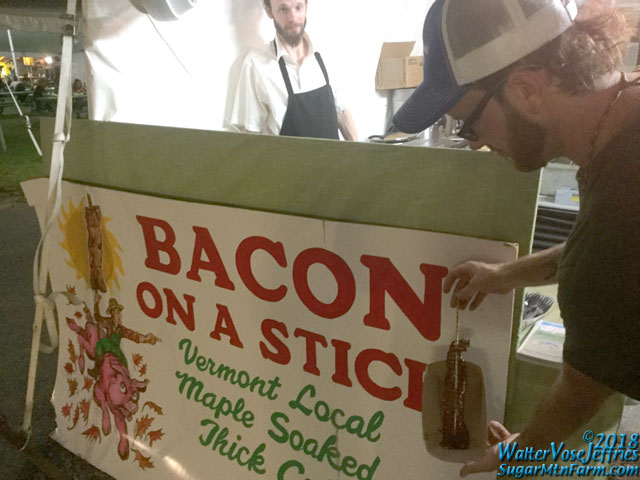 Sugar Mountain Farm Bacon on a Berda's Stick at the Fair
This year Berda's has secured the
"Bacon-on-a-Stick" vendor
spot at the
Champlain Valley Fair
using 450 lbs of our delicious bacon which they bake, fry and then dip in a glaze of more maple syrup.
Berda's Jedi Apprentice Cooking Bacon-on-a-Stick
If you're in, or near, Vermont be sure to go to the fair which runs August 24th through September 2nd and sample our delicious bacon per Berda's!
Bacon Ready to Deliver to Berda's at the Fair
Four hundred and fifty pounds of bacon is a
lot
of bacon! It is enough to fill three 120 quart coolers. We delivered to the Berda's Restaurant in Essex Center and completely filled their refrigerator.

Banner with Quick Response Code (QR Code) blurred out†
While you're at the fair enjoying the exhibits, rides and bacon-on-a-stick, use your phone to scan the Quick-Response-Code on the banner above Berda's booth to get to our web site survey where you can have a chance to win one of ten of our delicious sampler boxes of pork!
†
You've got to actually go to the fair and visit the Berda's booth (no purchase necessary) to do this game! If you don't have a camera phone or iPodTouch that can do QRCodes then write down the URL above the QRCode and go to it with your browser to enter for a chance to win.
On a side note related to pigs, in the livestock tent there was a very overweight sow with three piglets. She seriously needs to lose weight. Hay would be good. Fresh greens would do her well as she's getting too many calories. A good way to lower her weight is to feed her something high in fiber to produce gut fill, a sense of fullness. Hay or pasture is ideal fed prior to feeding her hog feed as the latter is high in calories, which she does not need. Research has shown that gut filling helps improve sow performance. She also needs a toy, or two. Someone, please, tell them she's bored.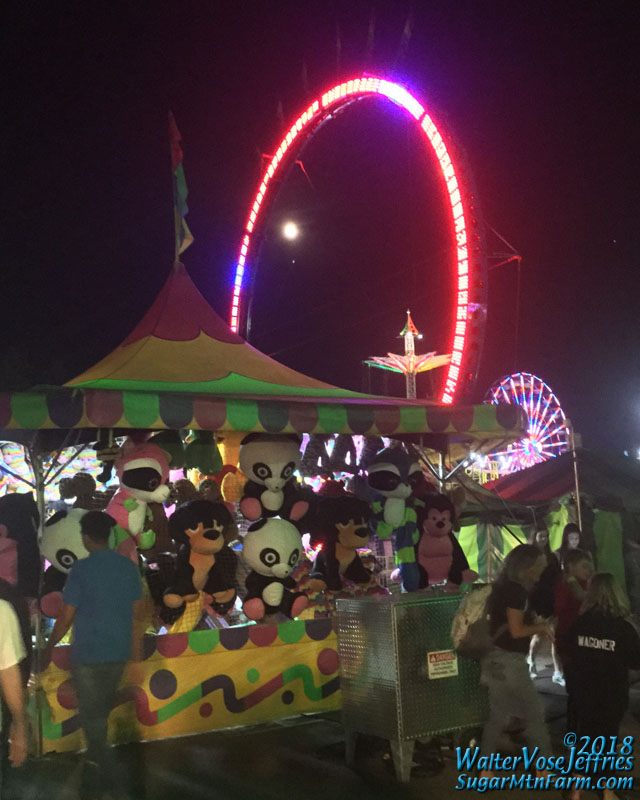 Champlain Valley Fair at Night
Outdoors: 49°F/72°F Sunny
Tiny Cottage: 63°F/69°F
Daily Spark: I've noticed that the passenger seat travels faster than the drivers seat…