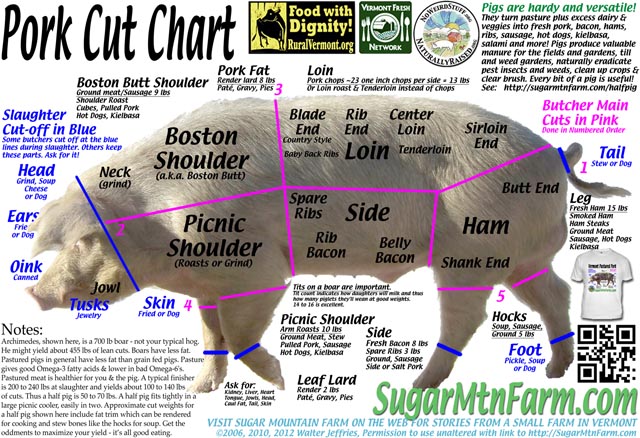 Pork Cut Chart
Click to Zoom
Week we have a slot available in our pig butchery schedule for doing a whole or half pig. If you are interested in filling your freezer with delicious pork butchered right here on our farm drop me an email at
WalterJ@SugarMtnFarm.com
for details. You can find a copy of the
cut sheet online
. You can also order online using PayPal or a credit card on the
Quick Order Page
.
Pickup is available at the farm or on our weekly delivery route around Vermont up and down I-89 & I-91.


New USDA label for our on-farm Butcher Shop
Now that we are
USDA inspection
and
USDA labels
we can ship outside of Vermont. Shipping a whole pig takes four to five boxes at about $50 to $150 per box send FedEx 2nd Day plus about $25 each for the special insulated boxes so figure about $500 or so for shipping on top of the cost of the pig. If you would like shipping,
email me
your zip code and I can give you a more precise quote.
Outdoors: 64°F/57°F Sunny, Breezy
Tiny Cottage: 62°F/59°F
Daily Spark: A part-time band leader is a semi-conductor.