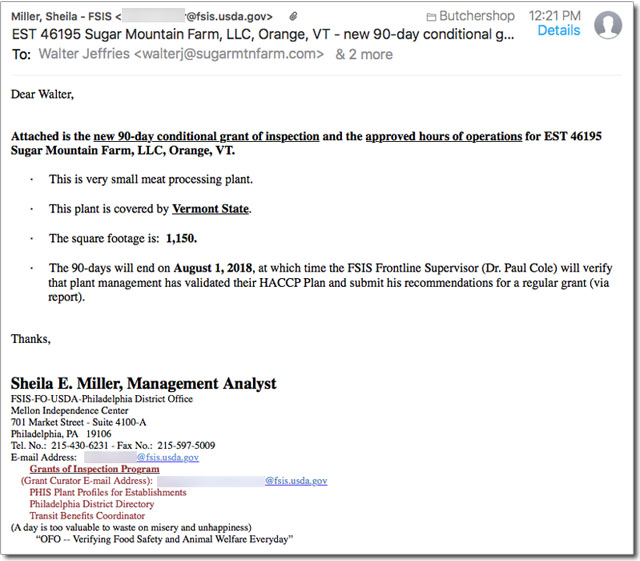 Letter of Grant of Inspection
We did it! Today I received the official email from the USDA granting our inspection status as a USDA meat processing plant, a.k.a. the
Butcher Shop
at Sugar Mountain Farm.
This means that now we are able to cut meat under USDA inspection which in turn means we can start delivering out of state such as to the hundreds of Kickstarter backers and CSA Pre-Buyers who helped with funding the construction of the butcher shop.
Initially we'll be under what is called "Dual Jurisdiction" which is both USDA and Vermont state inspected. The reason for this is that it takes time to get approval for all of our labels and recipes for sausage, corn pork, dry rub bacon, salt pork and such. These items will remain under Vermont state inspection (and thus not shippable outside Vermont) probably for another one to three months as we go through the approval process for each product. What we can do under USDA inspection, and is thus shippable, is the plain cuts like pork chops, Boston Butts, ribs, etc and the plain non-spiced ground pork.
We have already delivered many CSA Pre-Buys and Kickstarter Rewards Packages to backers over the past three years starting with those who live in Vermont and then those who were able to meet us along our delivery route from surrounding states. We'll now begin contacting those of you who are further afield. There will be extra bonus samples in everyone's boxes as a big thank you for all your patience and support!
One more step along the path completed in our Big Project!
Outdoors: 54°F/29°F Sunny
Tiny Cottage: 66°F/62°F
Daily Spark: [Rushed crash programs] fail because they are based on the theory that, with nine women pregnant, you can get a baby a month. -Wernher von Braun
PS. Note that Grant of Inspection does not mean the USDA funded our butcher shop but rather it is a license for us to start operating. Some people confuse the Grant of Inspection with a Grant that gives a project money – our butcher shop was completely funded by ourselves, loans from small private individuals like you, CSA Pre-Buyers, Kickstarter Backers, family and the cash flow of our farm. No banks nor government grants or loans went into the creation of our Big Project.