On this past Thursday morning, March 15th 2018, Dr. C, the regional head of meat inspection from the USDA came to view our on-farm butcher shop here at Sugar Mountain Farm. This was the big inspection we've been waiting for.
We've been operating our butcher shop for about two and a half years under state inspection and almost ten years since we first started discussing building the butcher shop. Both the USDA and state recommend starting operations at the state level for several years and then upgrading to USDA once any kinks have been smoothed out in operations.
Part of their reasoning is that the Vermont state inspection offices are just down the road from us in Montpelier so we can more easily get help from the local officials as we start up our own nano-scale meat processing facility. In fact, two of the state inspectors live just a few miles from us here in Orange town which on a per capita basis is a hot bed of avant guard small scale foodie industry tucked away in the mountains and woods.
Last August, several months before our two year mark, the local inspectors encouraged us to fill out the paperwork for upgrading from Vermont state inspected to USDA inspected. Once that was done it was a matter of waiting until the stars and snow storms aligned for us to get a chance to go the next step.
This month, prior to the USDA's region head coming to our plant, I had emailed him our HACCP (Hazard Analysis and Critical Control Points a.k.a. food safety) plans, forms, label master and other documents and he had emailed me several megabytes of forms to fill out and additional material to read.
This week Dr. C visited our Big Project, right after the third major snow storm of the year. We weren't sure if he would be able to make it up the mountain. We had only gotten about two feet of snow but hadn't gotten plowed out as our mountain road is a lower priority than the major roads. Just in time the plows aligned and our road was clear for the visit on a lovely winter day.
We met for several hours along with the Vermont head of inspection and our regular in operations inspector – a big crowd in our tiny little butcher shop! I gave them the grand tour – he was very interested and impressed with the design and construction of the building. In addition to looking at the finished portion where we do meat processing I also showed him some of the unfinished building where we'll later build out the slaughter floor, walk-in coolers, brine room, cave for salami, prosciutto and the likes. Together we went over operations, our HACCP plan, labels, paperwork and other details. Lots of questions and he approved of all of our innovative methods.
And the big question on your mind…
We passed!
After writing this post and then going dancing tonight I realized that not only did we pass, on the first try, but we passed with a score of 100%! I had assumed there would be things the head inspector would find that we would need to fix before we would get our final okay. Cool!
Dr. C said that he will recommend to the USDA national head office that we be approved for the upgrade from Vermont state inspection to federal (USDA) inspection. We now have our establishment number (46195) which will go on our labels and in about two weeks we'll get the official approval. The next issue is getting all of our labels and formulations approved by FSIS at the USDA. Sometime in April we'll officially begin operation as a USDA inspect meat processing facility, a.k.a. a butcher shop, and be able to start shipping our products out-of-state.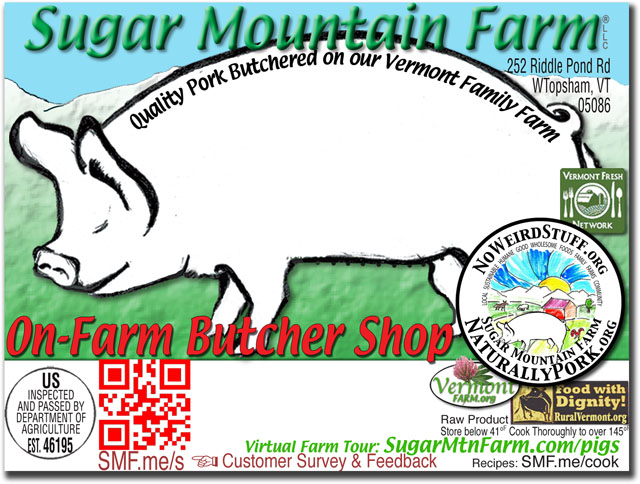 Sugar Mountain Farm Master Label with USDA Inspection Mark
It's been a long haul. We've done it, step-by-step, with the help of a lot of people including Kickstarter backers, CSA Pre-Buyers, friends, family, an Angel and government officials who all made it possible for us to build our own on-farm USDA inspected butcher shop here at Sugar Mountain Farm. The butcher shop was financed without any bank loans, without government funs, without grants. It was the support of people like you who made it happen along with the bootstrap cash from our farm and our savings. All that hard work has paid off and we're now processing here at Sugar Mountain Farm. Vertical integration that helps keep a bit more of the green stuff from our fields in our pockets.
Thank you everyone for all of your help!
Cheers,
Walter Jeffries
PS. Once we have the final labels and formulations approved we will be able to start shipping across state lines. At that point we'll be contact CSA Pre-Buy and Kickstarter backers to get your final orders. We have a lot of new products like our corned pork, dry rub maple bacon and many varieties of sausages for you to choose from and we'll be including extra meat in your packages as our thank you for all of your support and patience!
Outdoors: 24°F/4°F Sunny, Windy
Tiny Cottage: 59°F/62°F
Daily Spark: "In my opinion, if 100% of the people were farming it would be ideal. If each person were given one quarter-acre, that is 1 1/4 acres to a family of five, that would be more than enough land to support the family for the whole year. If natural farming were practiced, a farmer would also have plenty of time for leisure and social activities within the village community. I think this is the most direct path toward making this country a happy, pleasant land." ―Masanobu Fukuoka, The One-Straw Revolution