Our
Free Meat offering
was a great success! At mid-day on the state house lawn in Montpelier, Vermont the Agency of Agriculture had a festival featuring local agriculture. With just a week to weave it all together Ben and I registered and prepped a booth featuring Free Meat! The price was right and the meat was delicious so we were were sold out in the first hour.
Since most vendors were vending, that is to say selling, their wares many people were a little surprised and taken aback that we were giving away free meat. Some said with skepticism, "
What's the deal here, nothing's really free!
" But I assured them that yes, indeed, it was truly free meat from our family's on-farm butcher shop and handed them insulated envelopes containing packages of our pork. Not just free as in speech but
free as in beer
. One woman, who had expressed such skepticism, later told me that I had restored her faith in humanity and the Universe. That's a tall order but I'm glad to be of service!
So, yes, we were giving out truly free meat. Frozen packages of our raw pork for people to take home, cook up and enjoy. Of course, my goal is to spread the word about our farm and our pork products. To my right hung a 4'x3′ poster listing the many stores and restaurants that carry our products in Vermont.
To my left hung a poster that explained how to buy directly from our farm. On the table there were order forms and brochures to educate people about our farm. I also made up a Quick Online Order Form for the event so we wouldn't have to be handling cash while carving pork. We gave out over 600 lbs of free meat, that's four pigs worth of cuts including tenderloin, sirloin, pork chops, Boston butt, roasts, ribs, bacon, corn pork, ground and all eight types of sausage we make.
In email I've now received numerous photos and stories from people who picked up the free samples and went home to cook up delicious dishes. It's fun being generous, in giving away so much, in making so many people happy.
Hats off to Ben!
Credit goes to Ben who stuff all those insulated foil envelopes full of meat and our brochures the night before – That was a big job! And then he kept the table supplied at the fair until we ran out of free samples at the one hour mark. That kept him hopping!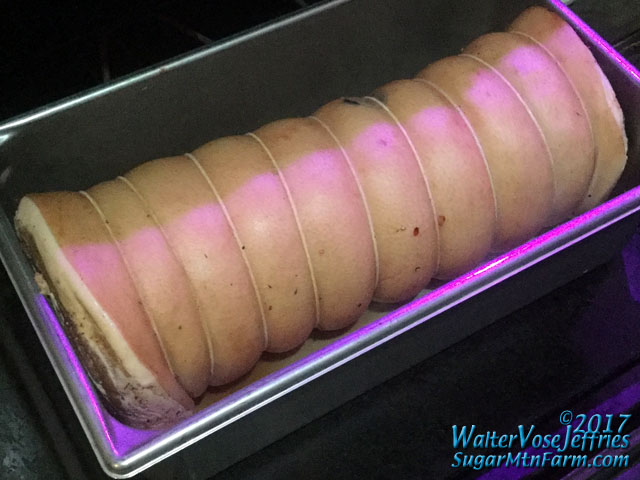 28 lb Porchetta Going into the Oven
But that was only half of it… In addition to giving out over 600 lbs of free raw samples (six big coolers plus two small coolers) of our meat I also made up 60 lbs of
porchetta
which I served – free meat people could eat right then for lunch!
While the packaged samples were raw, the porchetta was cooked. I had made it up the week before and then slow cooked it through last night for today's event. I've been experimenting with making easy carve pigs and a variety of porchetta over the last several months. These were my tenth batch of porchetta. My family has been suffering greatly, having to taste test porchetta after porchetta while I tweak my recipes. Being loyal and hardy they have vowed to continue suffering through more porchetta until I perfect it…
The Easy-Carve-Pig is my solution to the problem of carving pigs at weddings, family reunions and other events. This summer I made a roast pig for some friends when they got married – it was our wedding gift to them. I carved and served the pig as well. I've grown up carving and am rather familiar with knives so I forget how hard it is to do for most people. While I was serving at the wedding many people told me about this issue and how intimidated they felt about all the bones.
28 lb Easy-Carve Maple Bacon Pig
So… Being the engineer problem solving sort of person that I am I made a boneless pig for the next event I did. Actually, semi-boneless as I left in the front trotters and skull bones for presentation. This was hugely successful. Guests were able to easily carve their own portions. The knife just slices right through the pig since there are no troublesome bones.
But there is more to it than just being easy to carve, cooking matters too, especially at home with small ovens. To solve that problem I fold the pigs into themselves so their butt ends up in their throat and then sew them closed and tie them. The resulting package of pork in its own skin makes for a beautiful presentation, compresses into shape as it cooks, tastes delicious and fits in a standard home oven. Easy carving and easy cooking.
32 lb Easy-Carve Porchetta Pig with Handy Handle
This summer the Easy-Carve-Pig evolved into porchetta, both as the whole pig versions and the roll version. I've been experimenting with variations in cooking methods, times, temperatures, spices, etc. My first Easy-Carve roaster pig I did using my
maple bacon
dry rub – imagine an entire pig of bacon… Since then I've done other variations primarily focused around the traditional Italian Porchetta recipes.
3 lb Porchetta Roll Cooked and Ready-to-Serve
I figure that I served our porchetta to well over 500 people today. Just about everyone at the event. For three hours I carved and served porchetta non-stop to a crowd that was typically four to five people deep around our booth. I answered lots of questions while I flashing my knife, carving meat and pointing out details on the posters to either side of me. I never got a chance to see the other booths as a result but Ben told me our booth was by far the most crowded. A banner advertising "Free Meat!" and the wafting smell of porchetta will do that. At the closing bell it was all gone, even the fat and the rinds, the crispy skin, devoured by the hordes of happy folk.
Last year I perfected wiener schnitzel which is basically the same as veal parmasan – one of my favorite dishes but I make it using pork sirloin cutlets.
In the winter I introduced our corn pork to the market for St Patty's Day after making it for my family for years. Another big hit.
Next was my uncured dry rub bacon late this spring which I had started working on in June of 2016 – that sells out every week.
Last winter I also introduced Farmhouse sausage which is a simple salt and pepper sausage in response to customers who wanted something without hot spices and others who wanted something without sugars – it's become our biggest selling sausage by a factor of two!
This month is porchetta and I already have three orders for the Easy-Carve Porchetta Pigs. It's off to a great start for the holiday season! Currently we're just delivering in Vermont but once we have our USDA Inspection we'll be able to ship to other states as well.
It's been a busy two years since we opened our butcher shop. I love having our own on-farm meat processing facility. In addition to the standards like pork chops and ground, I can now do interesting specialty products and different types of sausage. It lets me transform the pig from breeding all the way to a host of value-added products and share my love for all of this plenty!
Outdoors: 61°F/74°F Sunny
Tiny Cottage: 66°F/70°F
Daily Spark: Today I met the doppleganger of a close cousin of mine. It was freaky weird. I've known this cousin for five decades. We're close and always glad to see each other. Then I meet someone who looks exactly like my cousin, has the same voice, same mannerisms, same sort of interests, dresses the same, carries the same sort of handbag, wears the same sort of hat, is the same age but is not my cousin. She's known about me for over a decade because she's been buying my pork at the local store that entire time. It's a very, very strange feeling to look into a strangers eyes and see someone you know so well but isn't there. Instead it's someone new, someone unique. The world is wilder than we can imagine. 20171004 Montpelier