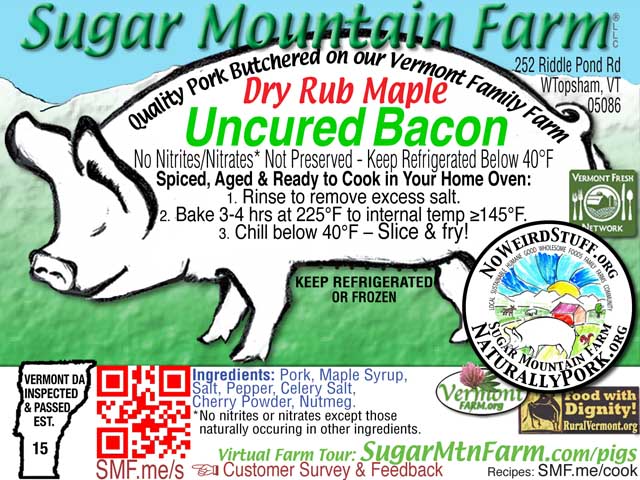 Make Your Own Homemade Bacon!
As I discussed back in
July
I've been doing a
lot
of bacon making this past year. In fact, 64 different test batches of bacon as I adjusted ingredients, aging time, cook times, cutting and more to produce the perfect bacon. After testing with friends and family, then store managers and a few chefs I introduced our new dry rub maple bacon to a small number of retail stores in July. It's been a great success. But, the one thing that wasn't working was the label.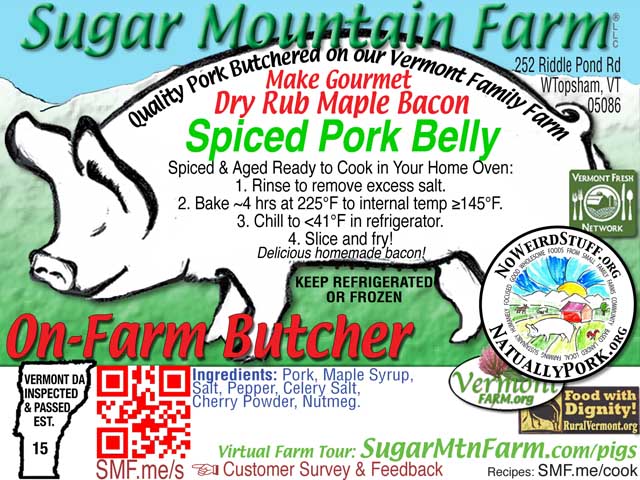 The USDA's labeling branch has a lot of very specific regulations around the use of the term bacon on labels. To avoid with this complexity I had initially called the bacon "Spiced Pork Belly". Unfortunately, prospective customers found that confusing. Once they tried it they loved it and bought lots but the name on the label was a stumbling block.
In late August, with guidance from one of our inspectors and the head of the meat inspection program, I wound my way through the regulatory maze to get the term 'Bacon' prominently in the product name as shown in the new label at the top of this article. To you and me this may seem simple, bacon is bacon, but the regulations around the word bacon are most interestingly complex…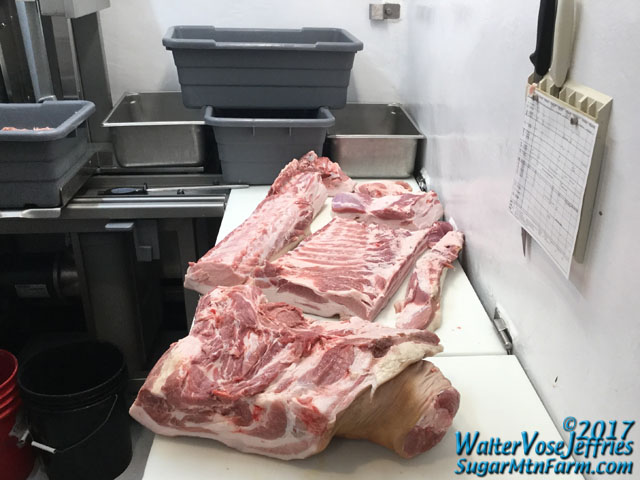 Pork Side Broken
Bacon is defined by the USDA as the cured belly of swine. Alternatives can come from other species if the species is specified, e.g., "Turkey Bacon" which is about as fake as you get without going the vegan soybean route.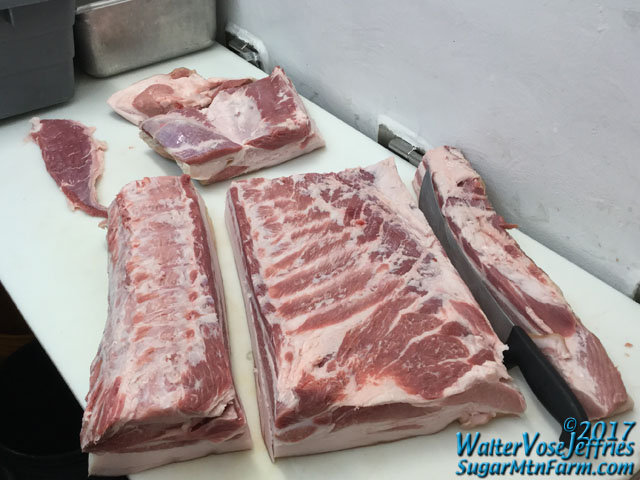 Belly and Loin, Broken and Trimmed
To make it a little more complicated the USDA recognizes that cured products can also be made without cure, but that requires special wording on the labels. They are quite specific about what is a cure and what is not. Pink salted is cured. Celery salted is not cured, by the USDA definition. This highly regulated definition is gradually changing as the new information gets published about the science of curing. According to someone I spoke with a lot of this has to do with politics, lobbying and money.
Because we don't use the synthetic sodium nitrate and sodium nitrite – notice the change of one letter in the chemical name – we must have the word "Uncured" in same size type appearing before the word "Bacon". It is still cured, but not with the pink salt synthetic sodium ni/na.

Just below the product description we must also have the phrase
"No Nitrates or Nitrites Not Preserved – Keep Refrigerated Below 40°F"
in a type size no less than
1
/
2
the size of the product name.
Somewhere on the label it also needs to say
"No nitrites or nitrates except those naturally occurring in other ingredients."
e.g., celery is the source of the natural nitrates/nitrites in this case combined with cherry to help them do their work. It is the same chemistry as sodium nitrate and sodium nitrite but from a natural source. Other examples of sources of nitrates/nitrites are spinach, kale, broccoli, turnips and your saliva. This is allowed to be referenced with an asterisk (*) so that the primary front panel space on the label is less busy – a problem I tend to have with my labels. So much to say and so little space to say it in…
Belly Squares Skin-on – Note that our Uncured Bacon is Skin-off
The whole question of nitrates and nitrites in products is quite complex. Back in the late 1970's some researchers massively over fed high nitrate/nitrite diets to lab rats showing that these compounds can hurt you, if you're a lab rat and you eat
HUGE
amounts of these chemicals. But, there is more nitrate and nitrite in vegetables like spinach, celery or broccoli than there is in a week's worth hot dogs or bacon. More over, if you fry your spinach it gets worse as the natural or synthetic nitrates change to nitrosamines. All of this is very fascinating to the chemists in the crowd, like me, but not so interesting perhaps to most people. The take home lesson to me is don't be a lab rat – Everything in moderation. See
NoWeirdStuff.org
for more reading on this topic and a list of scientific and lay articles.
†††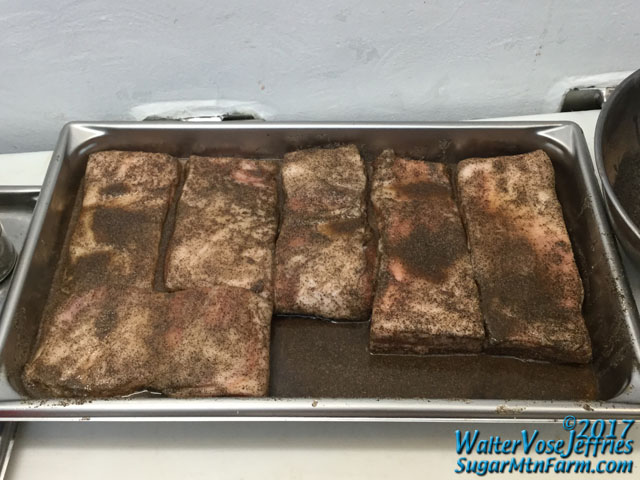 Skin-off Belly squares in maple syrup rub which releases water concentrating flavor
The fact of the matter is the nitrates and nitrites help preserve food (curing), prevent disease, brighten the red color of meat after cooking and enhance the flavor of preserved meats like bacon, hot dogs, etc. Our ancestors have been using it for thousands of years. In the small quantity found in modern meats I'm not personally worried about the risk. In fact, a lot of research shows there are benefits to having some in your diet.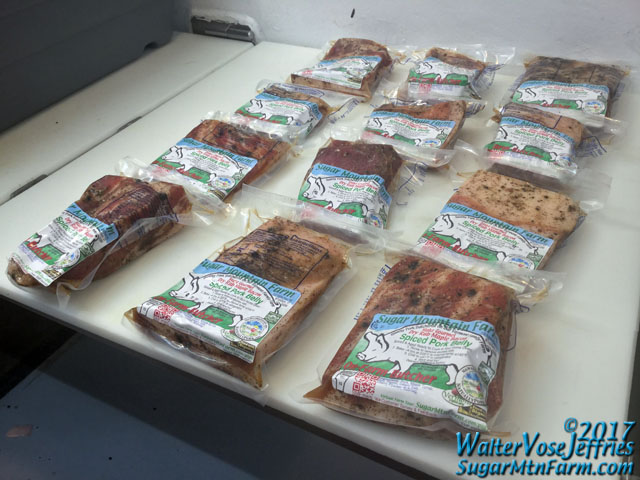 Packaged Uncured Bacon – Note pre-change label
In my experiments with bacon recipes last year I first tried batches not using the synthetic sodium nitrate/nitrite to see if I could just avoid this whole issue. The results were less tasty than 'real' bacon and grey colored. In the fall I experimented with using the traditional
pink salt
(synthetic na/ni) and got excellent results. However, some of the stores we sell at won't carry products with the synthetic nitrates/nitrites such as that found in the pink salt. They do carry bacon and other products that use 'natural' versions like celery salt. Thus it became a marketing issue.
Raw slab of 'uncured' bacon ready to cook
The problem with most of the celery salts is they're rather random in their metrics, having more or less nitrite/nitrate in each batch. This makes it hard to produce a consistent product and can cause too much or too little in the finished bacon. Just using celery or celery seed didn't work either – I tried that. In one of the online discussion groups I follow I found mention of a vendor, Florida Food Products, who makes a precisely metered version of celery salt that they paired with cherry powder which acts as a natural version of the
sodium erythorbate
that is normally used to activate the chemistry be it synthetic or natural forms of ni/na.
Cooked Bacon Sliced
So, primarily for marketing reasons I use celery salt rather than pink salt. It works and is more label friendly. And it is delicious! My family is now spoiled. It's hard to go back to any other bacon after eating our own home cooked bacon. This has nothing to do with the nitrates/nitrites which are really just a side issue. Now you can benefit from all my research, my journey to the perfect bacon with our delicious uncured bacon that is aged and ready to cook. I do the hard part, the raising the pig, the butchery, the spicing, the curing, the aging so that you can bake it fresh in your home oven for your family in three easy steps. Yes, it really is that easy to do:
1. Rinse to remove excess surface salt.
2. Cook it in your home oven at 225°F for four hours to about 145°F.
3. Chill – just stick it in the fridge over night.
The final chilling step firms up the bacon so it is easy to cut. Slice it to your favorite thickness and use it in salads, Fettaccine Carbonara or fry it up to garnish your morning eggs and other delicious dishes!
Two different friends who are smokers of fine bacon have now sampled our uncured unsmoked bacon and said, completely independently, "This is fantastic! Who's doing you're smoking?" It is amazing how well it has turned out without yet doing the smoking step. My son and I are looking forward to learning to smoke – it's on our agenda for next year.
Three easy steps to the best bacon I have ever eaten…!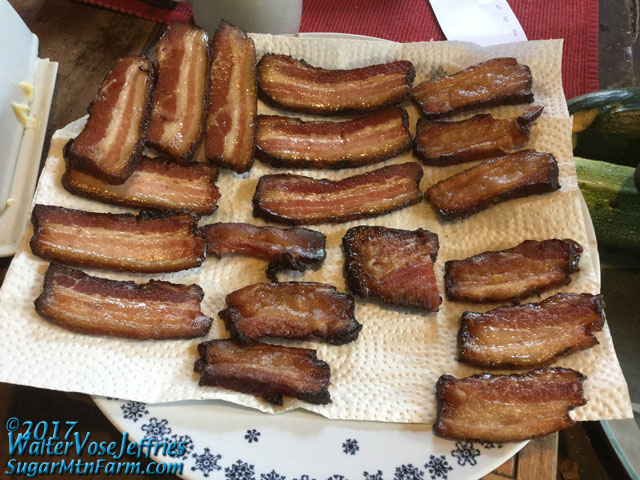 Fried and ready for breakfast!
Currently we're only selling in Vermont. In the not too distant future our new bacon will also be available for shipping as we upgrade our
butcher shop
from
Vermont State Inspected
to
USDA Inspected
!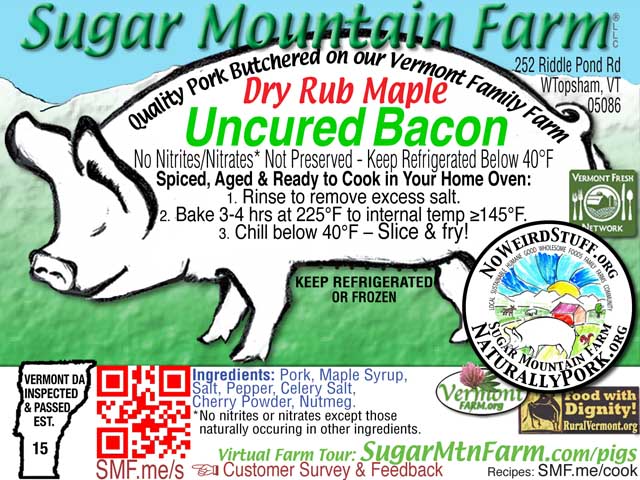 Look for our bacon is on shelves at these fine stores here in Vermont:
If you don't see it on the shelf, ask the meat manager for Sugar Mountain Farm dry rub maple uncured bacon. Note that we also sell a pre-sliced smoked bacon as well – the label looks quite different.
Sneak peek at another related project – Total Bacon Pigs
Another project in my research time is an easy carve roaster pig. I've done two of these now. Because I remove all the bones except the front trotters and skull it is easy to slice the roasted pig. I grew up carving turkey and large joints of meat but this is something that many people find carving around the bones daunting. While I was at it, I seasoned the pig as if I were doing our 'uncured' bacon turning the entire roaster pig into bacon. A huge hit at parties and fantastic leftovers. I hope to have this ready by the holiday season so stay tuned!
Outdoors: 41°F/72°F Sunny
Tiny Cottage: 64°F/70°F
Daily Spark: It is crazy to even wonder what you'll do with the rest of your life if you live to 1,000 years. It's like asking, "What do you want to do after you get sick and die?" and "When will you go to the bathroom next Sunday?" Just focus on getting there and enjoy the process. ~Aubrey de Grey
†††Do you use Nitrates and Nitrites? (From NoWeirdStuff.org)
I would rather not use either in our meats.[1] Much of that is a marketing decision. I grew up in the era when nitrates and nitrites were labeled as cancer causing. Research shows that many vegetables like spinach, celery and such have far higher levels of nitrates than were ever used in meats.[2, 3] Recent studies show that some levels are actually good for us and prevent stomach cancer and possibly other cancers.[4] I expect that we'll learn more in the coming years about the relationships between these things. For thousands of years we have used nitrates/nitrites to prevent botulism and other food poisoning. Note that even the supposed "nitrate/nitrite-free but celery included" type cures actually have nitrates/nitrites.[Rhulman] In my mind the jury is still out but leaning towards aquittal – that is to say minimal nitrates/nitrites as used in bacon and hams are not a problem. I prefer not having them in my food or to at least minimize them. Interestingly, our own saliva[5] is a source of nitrates/nitrites as are many leafy green vegetables like spinach and celergy.[6] See this article about How to Brine a Ham for how we brine at home without nitrates or nitrites. See this page for more interesting discussion on this topic. With our hot dogs, kielbasa and other sausages we have no nitrates or nitrites. The smokehouse who does our bacon and hams does use a minimal amount of sodium nitrate in them. There is also a 'natural' celery juice cure that some smokehouses use which I have started using and like but that is in truth nitrates so don't be fooled by labels that claim no nitrates but then list celery powder or celery juice the USDA. Oddly enough, it is the USDA which requires the labeling as "No Nitrates or Nitrites" when you use celery salt and such (See: Uncured Bacon, Celery Salt & Labeling) and the USDA also requires the word "Uncured" to be in the product description even though the meat is still being cured with natural forms of nitrates/nitrites. In our butcher shop I use celery salt in minimal amounts for color and flavor in our dry rubbed bacon and corn pork. I'm testing it in our porchetta. As always, read the labels, know what you eat and moderation in everything!