New loading dock's first use
This spring Ben and I built a new granite unloading dock for the farm. It allows a tractor trailer truck to backup to a stone slab wall out by the gate. Then I can easily unload pallets from the truck bed using the forks on our tractor. This makes a huge difference because when the forks are up high they have a reduced capacity. By raising the tractor up to the bed level of the trailer our tractor can lift over a ton.
Walter unloading peanut butter from truck
This truck was delivering peanut butter and the reason we built the new loading dock. It was an opportunity not to be missed. While I've raised four batches of pigs purely on pasture, usually we have other good things to feed the pigs as well. The result is that over the course of our pigs's life their diet is typically about 80% pasture as measured by Percent Dry Matter Intake (%DMI – a standard way of measuring diet). For the past decade or more we have also gotten about 7%DMI dairy (mostly whey) from a local dairy, 2%DMI spent barley from a local brew pub, 1%DMI eggs from our pastured chickens, 1%DMI bread (mostly a training treat and very appetitive). The rest is pumpkins, sunflowers, beets, turnips, radishes, apples, pears, occasional peanut butter[
1
,
2
], cottage cheese & regular cheese[
1
,
2
] and other good pre-consumer materials that froze or otherwise got rejected. Pigs, and chickens, are wonderful in that they can recycle these types of excellent food products keeping them out of the waste stream.
In the immortal words of Karl Hammer, "Waste is a verb."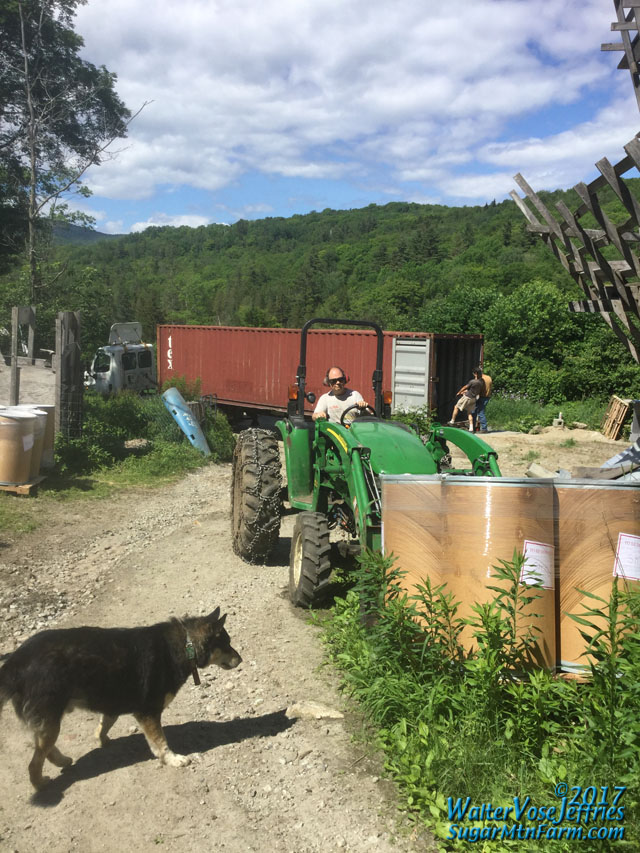 Hanno inspecting unloading process
Previously we've only gotten small amounts of peanut butter, a ton at a time. This partial truck load of peanut butter is enough that it will likely last a year or more. Based on past experience I'll keep the feeding level down to about 2%DMI to a max of about 7%DMI in the winter.
Peanut butter is one of those foods that doesn't go bad, like butter, molasses and honey, all of which we've gotten on occasion. In our cold climate peanut butter stores very well so it will keep, even in the summer as it rarely gets to 80°F and 86°F is our record in the last 30 years here on Sugar Mountain. Last winter we lucked into a partial load of cut barley that had become too dated to make flour and some barrels of molasses that had passed their use-by-date. Molasses is another thing that never goes bad and is very good for livestock having both sugars (something very low in pasture & spent barley) plus minerals and iron.
While I've raised four groups of pigs solely on pasture, I use the resources I have. Grain isn't evil, just expensive, which is why I don't buy commercial hog feed. But nearly free resources like this are not something any pig should turn their nose up at and it makes for delicious pork.
For more details about how we feed and graze our pigs see the Pig Page and follow the links from there to additional articles about managed rotational grazing and supplementing livestock diets.
Kudos to the first person who can figure out the funny photo fact… Leave answers in comments. No fair peeking before you leave your answer!
Outdoors: 59°F/77°F Sunny
Tiny Cottage: 66°F/72°F
Daily Spark: Katya isn't particularly phased by thunder and lightning but when a storm comes she looks up at me and says "Boom-boom-boom" – her word for thunder immitating it's rolling sound in her gravelly dog accent.