USDA Application for Federal Grant† of Inspection Web Page
A few minutes ago I submitted the application for USDA inspection for our on-farm
butcher shop
. This is a milestone moment nine years in the making.
In the spring of 2008 the butcher we were working with at the time told us that he was going to retire. He offered to sell us his butcher shop. It was too far away to be manageable and frankly it was a disaster of a dinosaur left over from the last century before modern sanitation. We said no thank you. That moment was the beginning of our journey to on-farm butchering.


Acknowledgement Reply from the USDA
I had known since 2004 that we would eventually want to build our own USDA meat processing facility because butchery eats up 30% to 60% of what we earn on each pig depending on what is done (cut, sausage, smoke, etc) making it our single largest expense hired out. I figure that the cost of bringing pork-to-fork is about 30% piglet, 30% feed and 30%
processing cost
with about 10% for overhead and infrastructure. The rest is pure profit – you do the math. As you can see, taking on these three big costs is how we earn our income.
Having our own breeding herds reduces our cost of the piglets as well as giving us control over the genetics.
Pasture forage, eggs from our pastured chickens, surplus such as the whey from a nearby creamery and such all help to minimizes our costs of feed vs conventional grain fed pigs.
That left the last leg of the triangle: processing.
While I have long planned to eventually take on the processing it was not scheduled to come to the top of our list until 2014. When the butcher told us he was closing that sent us scrambling to find a solution both for the immediate and pushed us to make the jump to on-farm processing sooner rather than later. To solve the immediate issue we switched to processing at Adams Farm Slaughterhouse in Athol, Mass. They're a six hour drive each week but very good and well worth it. If they were next door I might never have built our own butcher shop.
The first step in this journey was I met with the USDA regional director Dr. Azam and then with the head of the Vermont Agency of Agriculture Mr. Quenneville and Mr. Mitchel who are responsible for meat inspection. The recommendation from all of them was to build to USDA specifications but plan to open under Vermont State inspection first so that we could get everything smoothed out before making the leap to federal inspection. They each gave me a box of regulations and documents about HACCP, SSOPs and other topics to read.
Over the rest of 2008 and the winter of 2009 I dug deeply into the topic, studying meat processing, the history, how the regulations had evolved, the technology behind it, efficient operations methods, learning about sanitation, failure modes and determining what made a bad facility vs a good facility. During this time I also worked on the permitting process and designed our facility.
Tearing down the old shed
By June of 2009 we had all of our permits and began the process of taking down the old storage shed attached to our farmhouse. By using an existing building's foundation we greatly reduced regulatory and permitting issues.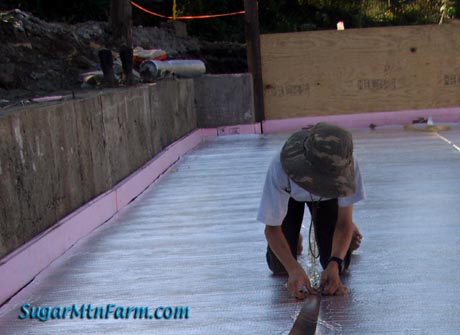 Ben applying sub-foundation insulation and reflective foil
In the fall I announced our
Big Project
here on my blog as we reinforced and poured a capping
foundation
in time for winter.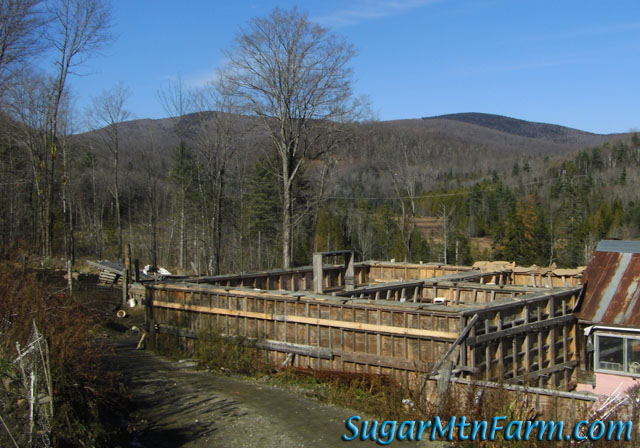 Lower Walls Poured
In
2010
we got the lower walls formed up and mostly poured. To build the butcher shop we created a giant jello mold, essentially building the facility twice, one outside wooden wall and one inside wooden wall with insulation and a void gap between the walls. These were bound together with threaded steel rods and
whalers
. Then we poured concrete to create six integral concentric shells. The disadvantage was this process is slower than conventional construction. The advantage is it produces a building that is stronger, far more energy efficient and requires much less maintenance – it's all about long term costs. I had seen too many butcher shops, even new ones, that were falling apart and a nightmare to clean & maintain. I wanted something different, something better, something that will last and keep our long term operating costs down. Ironically, the
cost
is far less for this better building, in part because we supply all the labor – a big part of any construction job.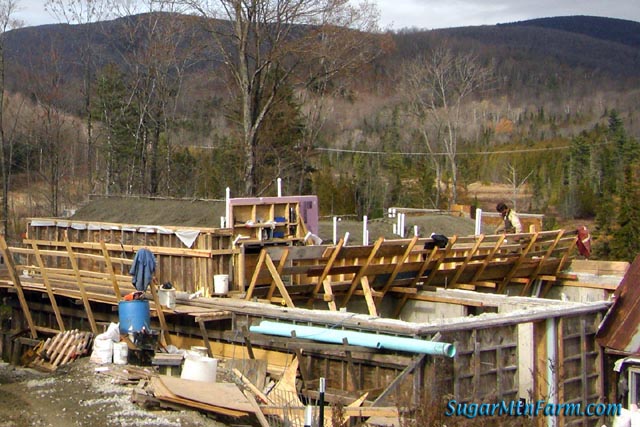 Inner Walls and Ceilings Poured
By the end of
2011
we finished pouring each of the six internal building that make up the concentric high thermal mass design of the butchershop which makes it so energy efficient using natural thermal cycles.[
1
,
2
,
3
] This matters since after labor energy usage, especially for refrigeration, is the number one cost of processing. It saves dollars and is green – good for the environment.
Roof Poured
2012
saw us cap the super-insulated concrete roof of the butcher shop closing in the building just as winter hit hard. Now that we were working indoors we were able to make progress year round. Normally in our cold climate construction stops for about half the year while we wait out winter.
Indoor Plumbing!
At the end of
2013
we had finished large amounts of the internal construction including hanging the toilet in the bathroom. As we neared completion we worked on finer and finer details in an almost fractal manner. While Ben and I did plumbing and parging, Will worked on the stainless steel doors, shelves and tables.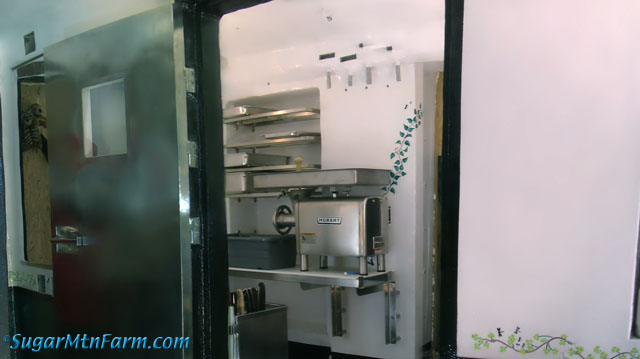 Interior Finish
December of
2014
saw the completion of sealing the concrete in the initial portion of the finished butcher shop – iCutter, Hall, Bathroom & Inspector's Office – so that it would be easy to clean and sanitary to modern laboratory standards using seven coats of Zero VOC poly ureas.
Plumbing Finished and Hatches Sealed
Ben and I spent the first half of 2015 finishing up the interior electric and plumbing. Over the summer I designed our Hazard Analysis and Critical Control Points for Pathogen Reduction (HACCP/PR sanitation plan), SSOPs, SOPs and GMPs as well as applying for our state level licenses and inspection. By
October 15th, 2015
we were cutting meat under Vermont State Inspection.
Sausage Making
In late 2015 we added sausage to our product mix – this is a whole different product than just pork cuts from the point of view of food sanitation and HACCP because it is ground, spiced and linked. We now make eight different types of
sausage
:
Sweet Italian
,
Hot Italian
,
Chorizo
, Bratwurst,
Kielbasa
, Farmhouse,
Sage Breakfast
and Maple Breakfast. In a big surprise, the Farmhouse has become our #1 seller. The only sausage we're not making yet here in our butcher shop is our famous smoked
hot dogs
as we do not yet have smoking up and going – we're looking forward to starting to smoke next year.
What is your favorite sausage? Be sure to take our Sausage Survey to let us know what you like!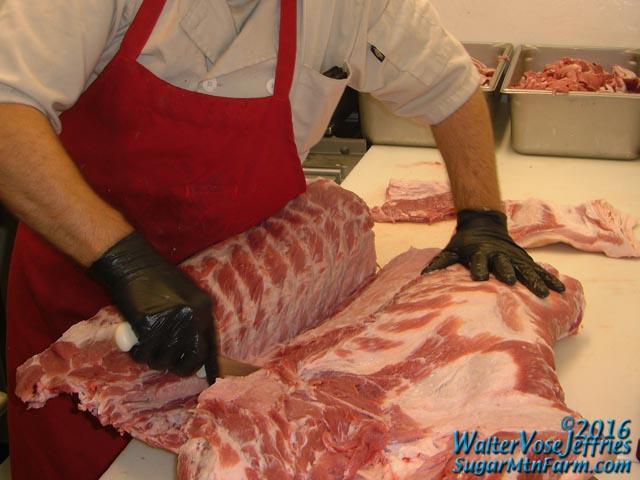 Cutting Under Inspection
In 2016 we under went our 90-day Validation, Food Safety Assessment and other milestones for the licensing process, adjusting our HACCP plan and getting all the kink's worked out so that we had a smoothly functioning process.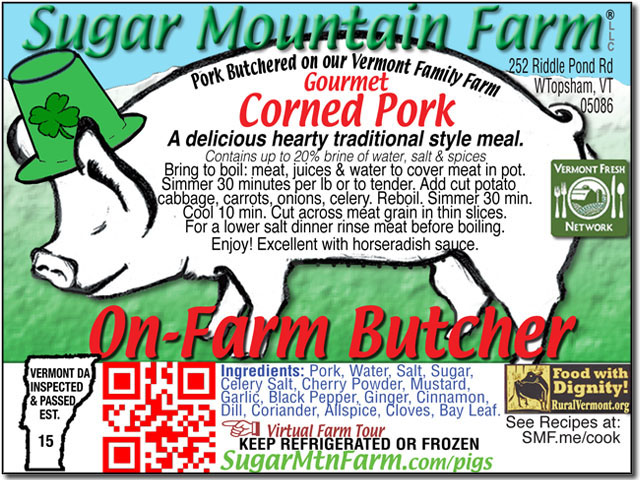 Corn Pork Label for St. Patty
In early March of 2017 we released our
corned pork
for St. Patrick's Day, our first spiced whole muscle product adding one more layer of complexity to our processing and a delicious dinner that hones to the original Irish recipe. It was a great success totally selling out.
Butcher Shop in Winter Cloak
March 31st, 2017
we had our first USDA inspection. Actually, the USDA inspector weren't so much inspecting us as inspecting the head of inspection as she inspected the director who inspected the supervisor who inspected the inspector who inspected me monitor Ben pack meat. A very Seussian situation! But, I made the most of the opportunity, gathering all the intel I could about how the inspector's inspector's inspector's inspector's inspector saw our facility so that I could make further improvements to perfect our processing prior to applying for USDA inspection.
In this past year we also have delivered to many CSA Pre-Buy backers, to virtually all Kickstarter backers from Vermont as well as many in greater New England who came to the farm or met us along our weekly delivery route. It has been wonderful meeting so many supportive folks who put their money where their mouth was with their support for our adventure.
It's been a long journey and very worthwhile. We've done a lot of very interesting work in building the butcher shop. It has given us more control over our product, allowed more vertical integration for our farm, improved our yield, saved us money and let us do new products we never could have done without on-farm butchery.
Adding USDA inspection means five things for us:
Being able to ship across state lines such as to Kickstarter backers;
Being able to work with the hot dog smokehouse again;
Being able to take bellies and hams to the other smokehouse we work with;
Being able to deliver to stores and restaurants outside Vermont – mostly in NH; and
Being able to supply other processors who want our meat but need USDA inspection.
Our local state inspectors say we're ready so now is the time to make the jump to USDA level inspection. The application has been sent in, the confirmation was returned. We await the USDA's visit in this next chapter of our Big Project.
Outdoors: 62°F/78°F Rain
Tiny Cottage: 69°F/73°F
Daily Spark: Don't split hairs on a bald pig.
†The federal level inspection through the USDA is called a Grant of Inspection but it does not mean we got a grant, that is to say money. That is simply the name the USDA uses for the license. We received no bank loans and no grants for our project. Sugar Mountain Farm's butcher shop was completely and totally privately funded by our savings, farm cash flow, customers (Kickstarter & CSA Pre-Buyers) and loans from individuals who believed in our dream. The butcher shop is a truly community supported agricultural project.