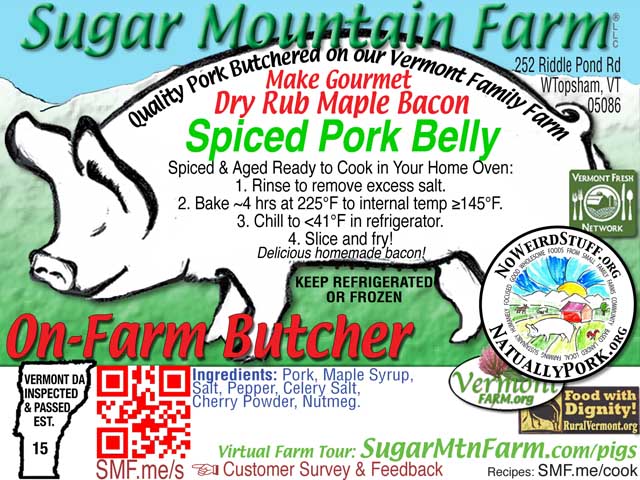 Make Your Own Homemade Bacon!
For the past year I've been subjecting my family to the trials and tribulations of having to eat lots of bacon. Not quite tons but 64 different batches of bacon as I tested ingredients, cook times, cutting and more to produce the perfect bacon.
Now you can benefit from all that research with our delicious Pre-Spiced Pork Belly that is aged and ready to cook. Cook it in your oven at 225°F for four hours and chill. Then slice to your favorite thickness and use it in salads,
Fettaccine Carbonara
, fry it up to garnish your morning eggs and other delicious dishes! Four easy steps to the best bacon I have ever eaten…!
Best of all I make our bacon with real Vermont maple syrup and no synthetic nitrites/nitrites.
Our bacon is on shelves at the following fine stores here in Vermont:
City Market Coop in Burlington, VT
Dan & Whit's General Store in Norwich, VT
Hunger Mountain Coop in Montpelier, VT
Next week we'll also be delivering the new bacon to:
Plainfield Food Coop in Plainfield, VT
Buffalo Food Coop in Hardwick, VT
In the not too distant future our new bacon will also be available for shipping as we upgrade our butcher shop from Vermont State Inspected to USDA Inspected – I'm submitting the paperwork this week!
Outdoors: 74°F/64°F Sunny
Tiny Cottage: 73°F/69°F
Daily Spark: Base 8 is just like base 10, if you are missing two fingers. -Poet, Pianist, Mathematician, Singer, Songwriter and Comic Tom Lehrer