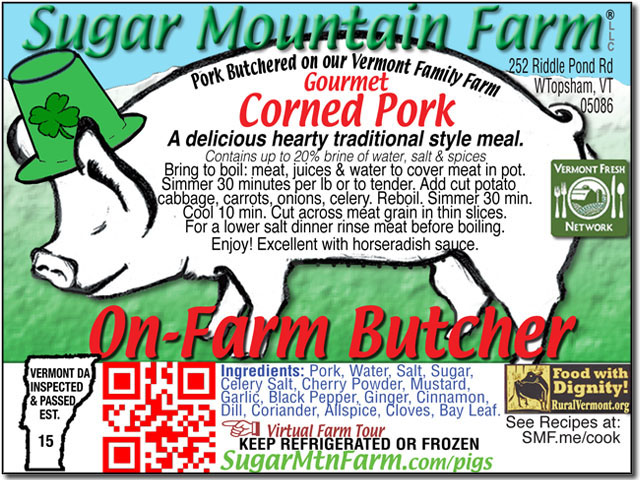 Sugar Mountain Farm Corned Pork Label
Before there was corned beef for St. Patrick's day there was corned pork – an interesting bit of history I recently learned while researching the regulations for our new product label.
Hope and Walter Making Corned Pork Long Ago
I was raised on Corned Beef as a traditional special meal although we didn't limit it to the holiday. Over a decade ago I inadvertently resurrected the traditional pork version of the Irish dish. According to the
USDA web site
:
"Corned beef has been around for centuries and has been a staple in many cultures, including most of Europe and the Middle East. It gets its name from the "corns" or large grains of salt used to cure the meat. Ireland became known for exporting corned beef in the 17th century after British land owners brought cattle into Ireland. But the Irish people couldn't afford to eat it themselves. Their traditional dishes used corned pork instead, and they relied heavily on nutrient-dense potatoes to survive."
I made corned pork instead of corned beef for the same reason that the Irish people did: cost and it was the meat I had on hand. I quickly learned I could make a very good mock-"corned beef" a.k.a. corned pork our own pigs.
Pork in the Brine
Over the decades I've tinkered with my recipe, refining it to get it closer and closer to the taste of the corned beef I remember from childhood. Last year I made a goal of bringing it to market in time for St. Patty's Day – and succeeded. Now that we have our own
on-farm butcher shop
I'm able to do these sorts of things.
Ready to Age Under a Glass Plate and Lid
This past year my family got to enjoy frequent corned pork meals as well as the occasional store bought corned beef as I refined my by-the-eye recipe to a formulation I could pass through the rigors of USDA/State inspection and labeling regulations.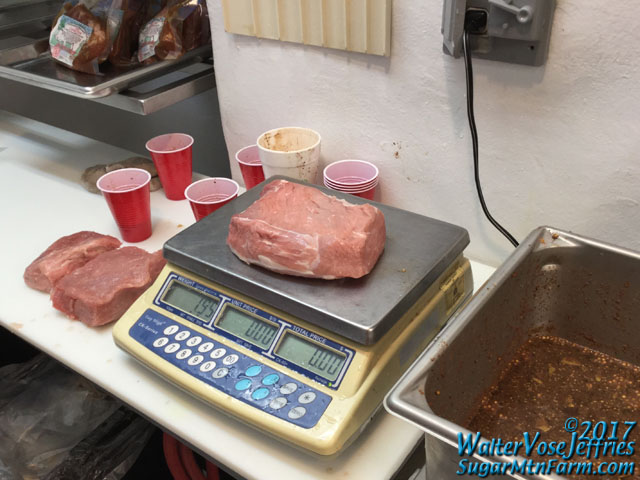 Weighing Out Pork and Spices
My corned pork for years has been grey colored like a pork roast since I didn't typically use the curing salt (
nitrates/nitrites
) but several taste testers suggested considering it for the added a flavor as well as pinker color to the cooked meat which many people like for presentation. I tried the Prague Cure #1 and then explored the natural celery salt alternative for curing that gives both the color and flavor. I found a version of celery salt that was calibrated. This solved the one complain many have with the natural curing agents. It is interesting to note that spinach, celery and many other vegetables have naturally high levels of these curing agents, far higher than you'll find in bacon, hams or corned meat. I also used cherry powder, not for color as one might initially guess – it's a white powder, but because it reacts with the celery powder to aid in the curing process. This addition was the final clincher that made the corned pork taste so much like the corned beef I had at family dinners as a child.
Ready to Age and Eat
Early this year I sampled out portions to local store meat managers and chefs at restaurants on our weekly delivery route and with their feedback I made final refinements. This past week we made our first official inspected batch of 45 corned porks which were delivered to stores and restaurants today just in time for the holiday.
Buy Sugar Mountain Farm Corned Pork at:
Hunger Mountain Coop in Montpelier,
City Market in Burlington,
Springfield Coop in Springfield, (Very Limited Supply 3/17)
Shelburne Supermarket in Shelburne (Very Limited Supply)
Plainfield Food Coop in Plainfield (Available 3/22)
Corned Pork – it's far better than green eggs and ham for the holiday!
Outdoors: 18°F/4°F Sunny
Tiny Cottage: 62°F/56°F
Daily Spark: My glass is full because I just refilled it.