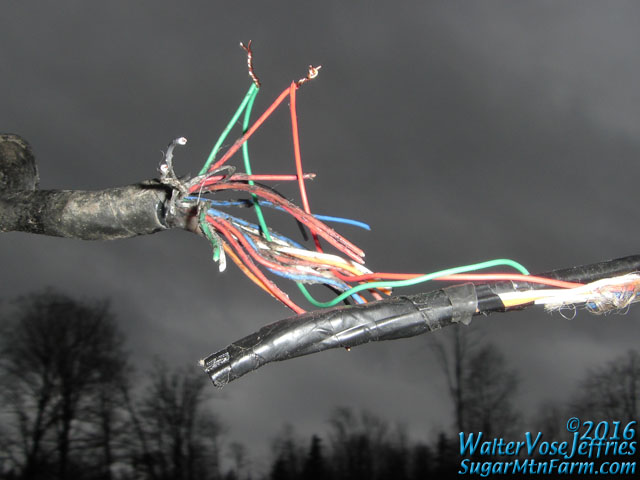 Phone Cable Splicing
As you may well be aware, hackers have been interrupting the UK and USA internet a fair bit over the past month causing massive outages. Well, as I was out in the fields hauling newly delivered winter hay up to the south plateau we hand another attack on our national information and communications infrastructure…
The effects of this attack were probably more limited than the previously two big DDOS attacks you may have read about in the newspapers. You do read newspapers, right?! In this case probably only a few users in the United States and the United Kingdom will have noticed the outage.
I quickly found the source of the break in communications, the pigs had torn a cable that runs from our farm down the mountain for about a mile and a half to the local phone company. Turns out old fashion POTS type copper connections don't work well if they're ripped in half.
A quick splicing job and we were back online, ready once again to commune with the rest of the world.
Outdoors: 43°F/34°F Overcast, light rain
Tiny Cottage: 59°F/52°F
Daily Spark: I'm not an isolationish or selfishsiciency nut but I'm also not one of those "it takes a villiage idiot" nuts either. I just wish I had more nuts to choose from.