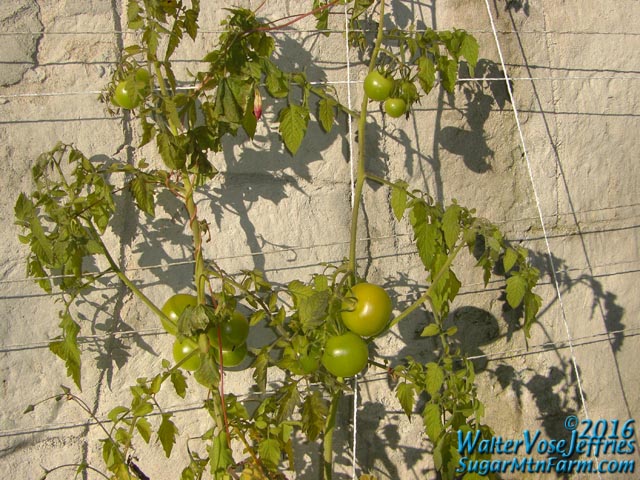 First Frost on Tomatoes
Kesley asked on the Farm Page: I was wondering if the age of a pig will affect how good the meat tastes? I am also wondering if it makes a difference whether the pig has had piglets before or not?
Sows, female pigs who have had piglets, taste just as good as gilts, female pigs who have not had piglets yet. My favorite cut of pork is the Boston Butt off of big sows because it is so well marbled and flavorful.

Older boars taste like beef – note that ours don't have taint so that isn't an issue but it can be an issue in some boars.
As a pig gets to about six months it starts putting on marbling. Marbling is the fat in the muscles. Fat is where the flavor comes from. Flavor is determined by diet. The one issue with older animals is the connective tissue becomes stronger so it needs trimming out or appropriate cooking to soften.
Flavor is stored in fat.
Feed determines flavor.
Age, Sex, Feed & Breed determine fat.
All pigs are good to eat.
In modern times the typical pig is slaughtered around 250 lbs to 300 lbs live weight yielding a carcass of about 180 lbs to 220 lb hanging weight. The reason for this is that the rate of gain of muscle for feed input changes at about this age making it less economical to raise pigs larger.
Grain isn't evil, just expensive.
That is to say it cost more to produce a pound of meat on a year old pig than it does on a five or six month old pig. This has produced the commercially acceptable pork chop size that consumers have come to expect creating a feedback loop in the market. Personally I like them a little bigger and tend to raise them to a larger size since we're on pasture rather than the standard commercial corn soy hog feeds.
Outdoors: 51°F/30°F Sunny, First hard frost
Tiny Cottage: 55°F/60°F
Daily Spark: