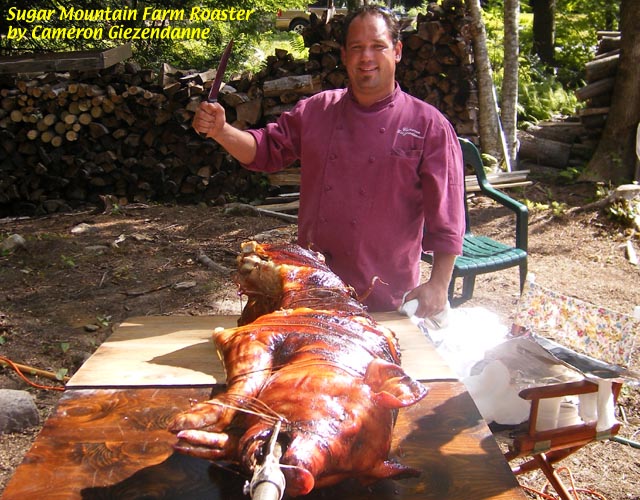 Sugar Mountain Farm Pig Roast
We have a roaster pig in the cooler that is available for immediate events this holiday week. Roasters can vary from the intimate ~10 pounders for a few friends to larger spit roasters up to 200 lbs to feed a village.
Available now:
74 lb @ $4/lb = $296 + $65 processing = $361
Other sizes are available with about three weeks to a month's notice to get into the butcher's schedule. See the Roasters Page for more details.

Pigs can be butterflied or split for a $25 fee.
You can pickup here at the farm or get delivery in Vermont.
Delivery is available on our route in Vermont for $15.
We deliver weekly to towns along the route:
Tuesdays up I-89 from Barre to Burlington at City Market on Tuesdays;
Alternate Tuesdays we also loop up to Plainfield, Hardwick and Stowe;
Wednesdays we deliver down I-91 from Bradford to Brattleboro.
Contact us with your roaster pig needs. See the Roaster Page for details.
Delivery is available around Vermont on our weekly route or pickup here at the farm and see the pigs out in the pastures and our new butcher shop.
Outdoors: 55°F/63°F Sunny, 1/2″ Rain
Tiny Cottage: 63°F/38°F
Daily Spark: "Quote quote quote quote quote quote quote" -Quotee and source (Actual error in the Valley News of Lebanon, NH)