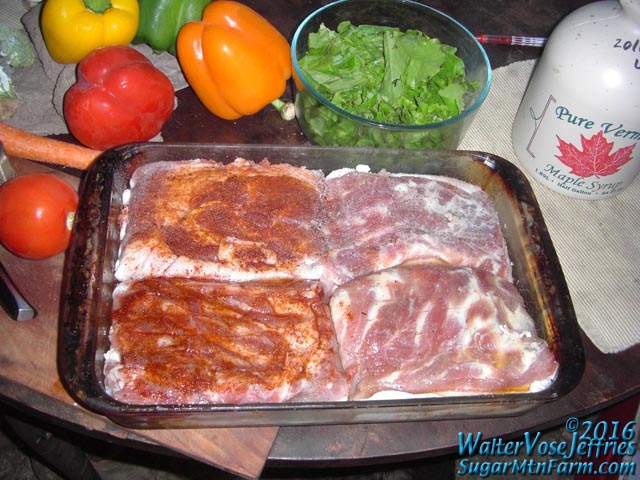 Test Bacon Batch
This summer I've been making a lot of bacon as well as doing a number of other
pork belly recipes
. I'm up to my 14th batch. Eating in the name of science and marketing you might say.
The above photo shows a test matrix of four spicing combinations. The rows are maple syrup vs no maple syrup and the columns are smoked paprika vs no smoked paprika. I made these for our extended family reunion potluck. They were a huge hit. We brought home an empty dish. Eight pounds of bacon gone in a few hours.
My personal favorite was the smoked paprika, maple syrup combination. All of them also had salt, black pepper and pink salt for the cure. I then baked them at 225°F in the oven until they got to 160°F inside at which point I switched the oven to broil for fifteen minutes. Then I packed the dish on ice for the trip to the family reunion. I served them thick sliced on crackers.
The vegetables have nothing to do with the bacon although they do make a pretty picture. I simply happened to also be making a salad at the time I took the photo. Remember to eat an omnivore diet.
Outdoors: 79°F/60°F Sunny
Tiny Cottage: 68°F/70°F
Daily Spark: There are few reasons to die as good as bacon.