This year and part of last year since we opened the butcher shop at Sugar Mountain Farm I've been filling the CSA Pre-Buys and Kickstarter pre-orders that help with funding the construction of the butcher shop. I have now finished contacting all of the Kickstarter backers here in Vermont. If you are a CSA Pre-Buyer or a Kickstarter backer in Vermont and haven't gotten an email from me about your meat and goodies then please contact me via email at walterj@sugarmtnfarm.com so we can get you your delicious meat and goodies.

Once the Vermont Kickstarter packages are all fulfilled I'll begin contacting people in surrounding states to see who can meet us on our in-state Vermont delivery route. Currently we are just Vermont inspected so that means delivery only within Vermont. I am working on upgrading to the USDA level of inspection which is our next big step in the butcher shop project so we can then deliver and ship out-of-state.
As you get your meat packages you'll notice there is extra meat – a big thank you for everyone's support and patience. There's an extra, extra bonus of meat for those who are able to meet us along our weekly delivery route or pickup here at the farm as that saves the cost of shipping.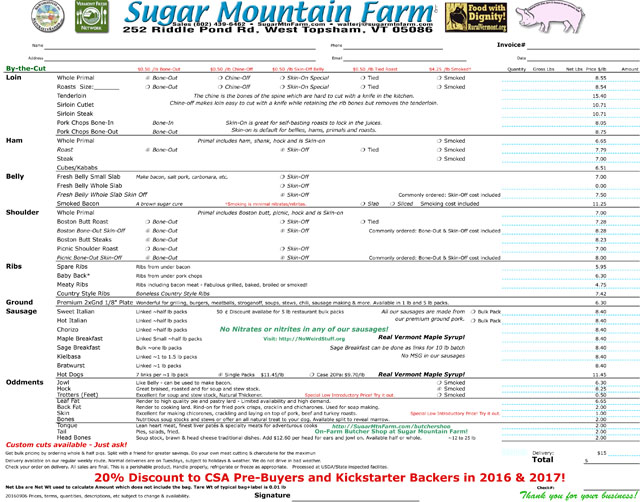 20% Discount Pork by-the-cut for CSA Pre-Buyers and Kickstarter Backers
With you're meat there are also brochures that I hope you'll pass out to friends and family as well as a 20% discount order form for CSA Pre-Buyers and Kickstarter backers for a future order. A big thank you for all your support! You can click through to a printable version of that
special order form
. The discount also extends to roasters and whole pigs for CSA Pre-Buyers and Kickstarter backers for 2017.
The current construction project inside the butcher shop is we're installing the whole room water cooled refrigeration system for the initial cutting room. This is one of the things I need done for moving up to the USDA level of inspection. This heat pump system will dump heat into our water pre-heaters and into the floor of the bathroom and inspector's office while cooling the cutting room.
Thank you everyone for all of your support in this huge and long project!
Outdoors: 54°F/75°F Sunny
Tiny Cottage: 63°F/70°F
Daily Spark: Late bloomer Peter F. Hamilton is a British author who has sold over two million copies worldwide. He was born in Rutland, England on 2 March 1960. He didn't attend university. He said in an interview, "I did science at school up to age eighteen, I stopped doing English, English literature, writing at sixteen, I just wasn't interested in those days." –Wiki