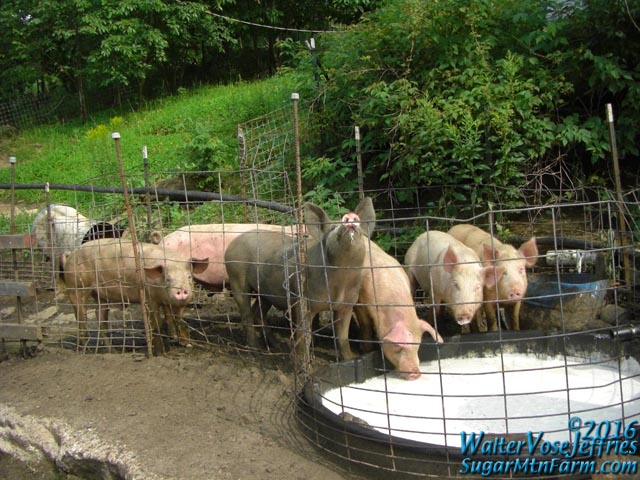 Pigs Using Automatic Hoof Trimmer
Well, actually I would call it an automatic nail trimmer instead of hoof trimmer but the idea is the same. I don't want to be trimming 32,000 pig nails a year. It is just not a good use of my time. Some things can be
automated
saving labor and time.
Long, long ago on a mountain here in Vermont there was a farmer (yours truly) who had to trim his sheep feet. While trimming said hooves he through to himself, there has got to be a better way. Perhaps the sheep could be doing this job themselves.
Later the farmer got pigs. Pigs multiply a lot faster than sheep and before you could say kumquat the farmer had a lot of hooves to be a trimming.
Being the observant sort he noticed that he didn't need to trim hooves in the warm season, just in the cold of winter. Did lower temperatures cause hooves to grow faster? Perhaps like hair? Hmm…
But no, after a bit of study the clever farmer figured out that in the winter the livestock are walking up high on the snow pack where there aren't any rocks and during the summer months the livestock tread on the rough granite of Vermont's mountains. In the process of rock hopping they were wearing down their hooves! The same effect can be seen on wolf claws and the studs of vehicle tires which also get longer in the winter.
So, said farmer put rocks around the winter waterers and whey troughs. Presto! The animals trimmed their own hooves year round! This saved the farmer a lot of time allowing him to get into all sorts of trouble tilting government national animal ID systems and building an on-farm butcher shop.
And the moral of this story is not to let technology free up labor too much because as we all know, idle hands are the devil's workshop.
But, it all turned out okay in the end as the USDA backed down, twice, and then the butcher shop built up too. Meanwhile the pigs and sheep trimmed their own hooves using the handy rocks and ignored the whole political scene. Baa…
Outdoors: 71°F/59°F Sunny
Tiny Cottage: 74°F/68°F
Daily Spark: The all new brand X product is less expensive and cheaper too!