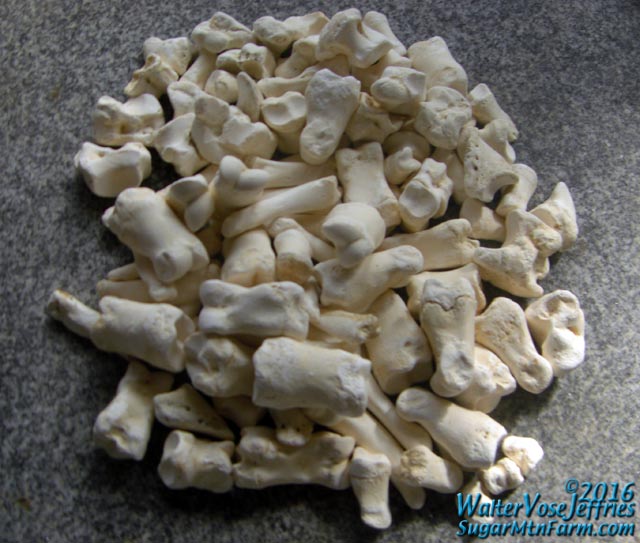 Pile of Knuckle Bone Dice
The pile of knuckle bone dice above were shipped to a TV studio for use in an upcoming series that will feature a failed magician turned fortune teller. These bones from pastured pigs who lived on Sugar Mountain Farm will be seen all over the world. Kind of neat!
I must give credit to Katya, one of our dogs who broke through the sign language barrier and also is a bit into numbers. But more relevant to this she was playing with the knuckle bones after I had made soup, picking them up and tossing them. It looked like she was casting fortunes or gambling. I took her photo which turned into a
blog post
.
That then resulted in demand for knuckle bone dice from gamers and people interested in the Middle Ages. With enough sales I created the Knuckle Bone page.
That feedback loop resulted in more sales to schools and camps of large numbers of knuckle bone dice for teaching about history and math. Subsequently the TV studio found out about our offshoot product and placed another large order for the bones for their fortune teller to use when casting.
Sometimes life is a wiggly, squiggly path indeed.
Outdoors: 74°F/47°F Sunny
Tiny Cottage: 73°F/68°F
Daily Spark: All of the problems we face today can be traced to an unenlightened immigration policy on the part of the American Indians. -Pat Paulsen