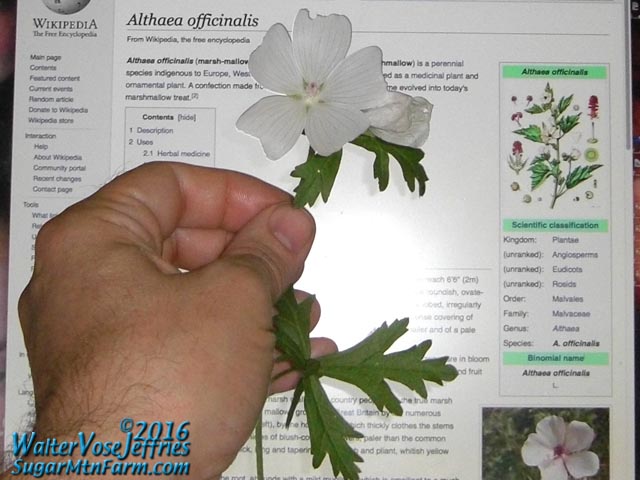 White Marshmallow Flower (Althaea officinalis)
You may not realize it but those little sugary confectionaries that you roast on a stick start out as flowers like this which grow in our pastures. Some are pink and some are white. The white ones, if unpicked, can grow quite large, up to 1,600 lbs although rarely over 1,000 lbs. The pigs are quite fond of them.
For home consumption it is best to pick the marshmallows when they're
small and sugary
in the warm season before they get so large. Once they get over 4′ in diameter the sugar content goes down dramatically and they taste more like
hay
. Still, they're good for the livestock. These marshmallows make up about 80% of our pigs's
diet
over the winter months.
Outdoors: 64°F/54°F Sunny
Tiny Cottage: 66°F/62°F
Daily Spark: In statistic they teach kids about two types of chance: marble draws vs coin flips. In marble draws the set is finite and diminishing. In coin flips the set is finite, fixed and non-diminishing. However, the math for both is the same with the calculus N approaching infinity. Unification achieved.