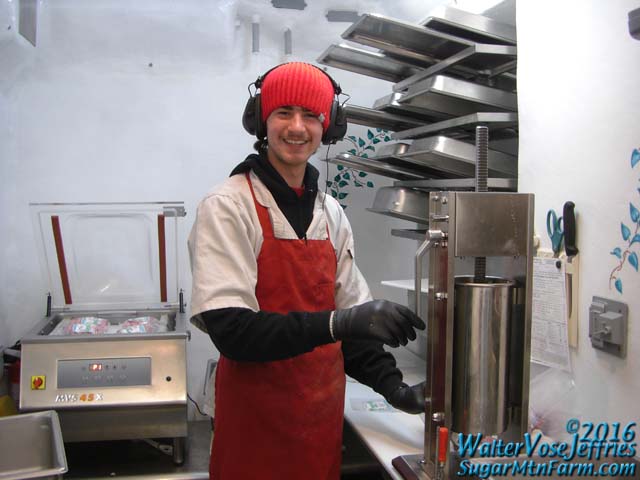 Ben Stuffing Ground Pork
There is a cool trick to packing the ground meat into bags. At the suggestion of one of the inspectors who also has his own meat cutting business we use our vertical sausage stuffer. The stuffer neatly puts the ground at the bottom of the bag keeping the seal area on the bag clean. This goes about twice as fast as making balls and placing them inside or otherwise hand stuffing the bags.
Precision Packing
As an added benefit, the packing is far more precise. Ben figured out that if he turns the handle the right amount of rotation each time it gives him precisely one pound packages. How precise you ask? The above is 12 one pound packages of ground. Ben got them within 0.003 lbs margin of error per package. That's three one thousands of a pound. That's precision packing.
Outdoors: 74°F/54°F Sunny, Light Rain
Tiny Cottage: 66°F/62°F
Daily Spark: An infidel is someone who never believed what you believe; an infidel is a stranger, and so there's not much point in investing emotions in him. But a heretic is someone you know well, someone who once believed what you believe, but now has a different faith — that's much more threatening. You often fight wars against infidels, and in those wars you seek to defeat, even destroy, the enemy. But with heretics, even tougher measures are needed, because the threat of heresy is so much more insidious, threatening to eat away the true faith. So you launch inquisitions against heretics, to eliminate even the thought of heresy. The proper anti-heretical strategy is to torture 'em, make 'em confess, make 'em repent — and then kill 'em.
–James Pinkerton, 20060811