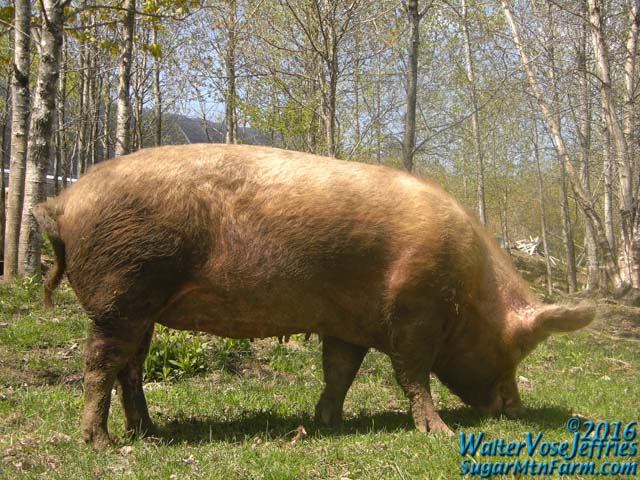 Sow on Spring Pasture
This sow is grazing in the lower south field just below an aspen grove. The pigs mow the grass, clovers and other forages to a almost lawn like consistency. They do very little
rooting
. The rooting they do is almost exclusively to make a nest so they can get good skin to soil contact to cool themselves. They like the savanna style pastures because places like this small grove of aspen provide shade from the mid-day sun. The trees are space enough that ground cover forages grow under them quite well.
The south herd is almost ready to be moved from the lower south field to another pasture. I just walked the far south field which is up to almost a foot of forage growth. We're far behind the fields in the valley below us partially due to our altitude which lends us to late snows. The other component is most of our farm faces east rathe than west. We get the early morning sun but less total solar gain.
In the distance past the aspen trees you can see the Ark where the pigs sleep in the winter. It is an open covered area of 38'x96′, a greenhouse frame with a tarp roof. With a deep bedding pack of composting wood chips and hay it produces both heat and food all winter long keeping the pigs fed and warm during our cold months. Rather than being locked in, the pigs freely go in and out.
During the summer the Ark is mostly empty. The bedding composts reducing in volume and the last bit gets used to enrich our poor mountain soil, a boon for our gardens and future orchard areas.
Outdoors: 81°F/60°F Sunny
Tiny Cottage: 72°F/66°F
Daily Spark: On the topic of the high cost of good food: If you think pork is dear, try venison.