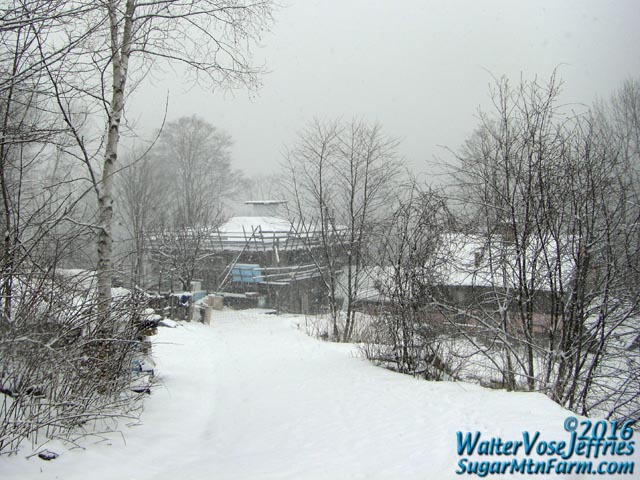 Late April Snow Storm
We got six inches of snow on April 26th. This isn't the latest snowfall we've ever had and we can't really count on gardening weather with no chance of frost until… maybe August. But I am a risk taker so I usually start planting the beginning of May and keep doing it each week with the goal of hitting that early warm weather. No, actually, it's not quite that bad although there was the snowstorm in July one year. This late April storm was unusual but not so far out of the norm that Chicken Little should start crying out that the sky is falling. Usually by mid-May we're pretty safe if we keep an eye out and sheets handy.
Chicken Coop at Mid-Level by Driveway
We had just moved all the chickens off of the south field so I could seed. The chickens don't collect all the seed but if they're out in the spring they do a very good job of eradicating all the sprouts both from seed and root within a several hundred foot radius of their nesting coop. I want to contain them while the pastures get a head start. Once the pastures are going strongly the chickens will be back out and about.
The blue thing on the right is the Chicken-In-Orator. Chickens go in but don't come out. This makes it very easy to put in the occasional stray. Ben caught most of them in the evening when they're night blind and roosting but for a week or so we find the occasional bird who sleeps elsewhere.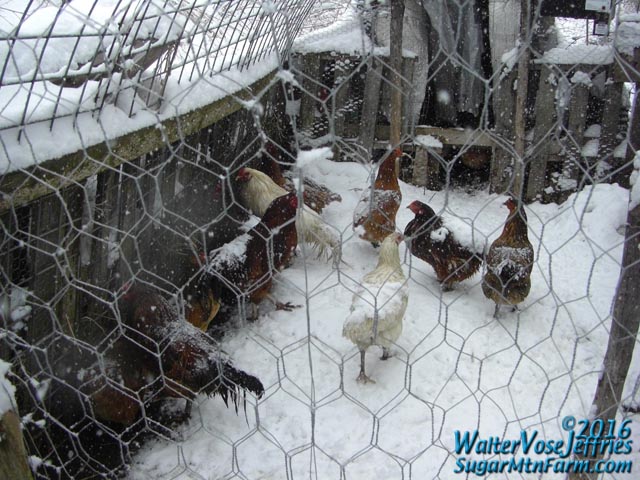 Chickens in Snow
The chickens are not particularly fond of snow. They deal with it but prefer the warmer season. In the past I've put a plastic cover over the hoop which gives them a sunroom. It is important to leave it open for ventilation. This year they didn't use this coop and we were not expecting this storm. Mother gave us a surprise.
Pigs in North Home Field Spring Paddock
The pigs don't mind the snow nearly as much as the chickens. As long as they have a bit of wind block and a deep bedding pack composting under them they're pretty happy. Our pigs are quite hairy and they have split ends which gives them a microclimate of warmer air by their skin.
Just before the snow storm we had moved the south herd over to the north home field paddock to use it as a sacrificial spring paddock. During winter and spring I don't want the livestock out on the primary grazing fields. This issue is especially acute in the fall and spring mud seasons. By using a sacrificial paddock we protect the root systems and soils of the better pastures. Then I'll seed this area, with mob, storm or frost, and it will come right back up in short order.
Butcher Shop in Snow
This is the back side of our on-farm
butcher shop
where we cut our pork – vertical integration. Building our own USDA/State inspectable butcher shop has been a huge project that some doubters said was impossible for a small farm. Fortunately many people believed and we succeeded. I designed, engineered and permitted the entire thing myself. Ben and Will did most of the help on construction, building the forms we used as a mold to pour the high thermal mass monolithic structure which saves most of the energy requirements for heating and cooling by using passive energy storage, carrying winter through summer to a very large degree. No heating and very little cooling.
The building is actually mostly granite, bound in concrete with a small amount of cement. This makes it of very local construction. What you're seeing on the exterior are the wooden forms we used to create the mold and the scaffolding Ben built to make it safe to work up high as we gradually climbed heavenward. Eventually we'll take off the scaffolding and forms to use for other projects. Some of the front scaffolding wood already came off last year to build the Ark in the south field. Some of the forms were used to build the up hill wall and foundation of our cottage and the south field shed. Reuse, repurpose, recycle.
Last year we opened under Vermont State inspection and began processing pork on farm. This winter I added sausage to our repertoire. I just completed our FSA audit that gives us the finalized license of inspection at the state level. Next I'll be applying for our USDA license which is about a three to six month process.
The fencing going across the driveway is there so the pigs could easily migrate north from the south winter paddocks to their new spring home. By simply setting up a fence line and opening the gates I can let them do it in a low stress manner over a couple of days. I like easy.
Cottage in Snow
Last but not least, our
tiny cottage
in the big woods. It's snug and warm through cold, blustery, snowy days. We heat with only about 0.75 cord of wood a year. Yes, that's less than one cord per winter. Low heating loads makes it easy to just use dead fall and such. The cottage was a prototype for building our energy efficient butcher shop. Many of the ideas got tested here. I didn't build the cottage as part of the tiny house fad, in fact I hadn't even heard of that at the time. The small size was simply what we could close-in during the two months of late fall before snow flew hard. The biggest thing the cottage lacks is a library. We have a lot of books. I would remedy that in the tower I ultimately would like to build behind the cottage. We might also add wings off of that creating a court yard and linked spaces for extended family. It is small but designed to be expandable.
Outdoors: 27°F/30°F 6″ Snow
Tiny Cottage: 62°F/64°F
Daily Spark: You might ask if I believe in God or gods but that is like asking if I believe in one or zero. If God is real then God believes in God and that is good enough. If God is not real then no amount of belief by me will make God real. Rather it is for us to look for the truth in what is real between one and zero to find where and how we might create God. This is not Agnostism nor Atheism, just Realism. It is an all encompassing number theory.