Widow Maker No More
Some things are dangerous enough that they are best not messed with, even by professionals. This tree had died and I started to cut it down last year. But, it proved to not want to come down easily. Given it's significant potential as a widow maker with large dead branches high up I decided that the discretion was the better part of valor and left the job to the wind. No need to be part of the death scene – I'm a patient man.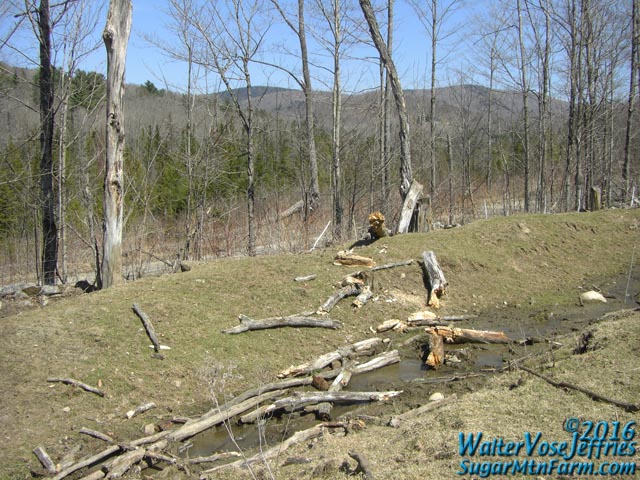 A Long View of Death
She blew in this winter and cleared out the dead wood without making me part of that project. I appreciate all the help that Mother Nature will lend me if all I do is wait.
You might worry about something like this being out there but the woods are filled with widow makers. The time the tree is most likely to come down is during a storm when everyone's hunkered down far away in this case. There are exceptions. Once I was walking on one of our logging trails up below the waterline road to the sap house when I heard a loud crack. A tall thick tree had snapped off about 30′ up. No apparent reason. It was a little windy but not bad. I watched it slowly drop downward, gathering speed and momentum until the sheared off stalk stabbed into the ground, planting itself. This was particularly amazing as the tree didn't appear to be dead and still had a full crown that was about 80′ tall, before it snapped off. The result was a 30′ tall stump and a 50′ "short" tree. The crown branches were tangled enough and the based deeply planted so it stayed upright. A tree that big weighs a couple of tons. I'm glad I was about 100′ away when that one dropped. I seem to have a good streak of luck going…
So this raises the question, Punk, is it better to be good or to be lucky…?
Outdoors: 31°F/55°F Sunny
Tiny Cottage: 61°F/64°F
Daily Spark: God like powers are vastly over rated.