North Home Field in Greener Days of Summer
(Click image for large view)
Apparently my blog recently passed the five million mark, without my noticing. I just saw that the visitor count at the bottom of the page is now to 5,167,551 with 8,282,252 web pages served. Makes me feel like MacDonald's…
There are currently 2,410 articles plus 40 static pages published on my blog with a queue of 2,102 more articles that I have written but not yet released into the wild. I prefer not to publish more than one article a day so the backlog continues to grow – I write for my pleasure and relaxation more than anything else and there are only so many days in the year.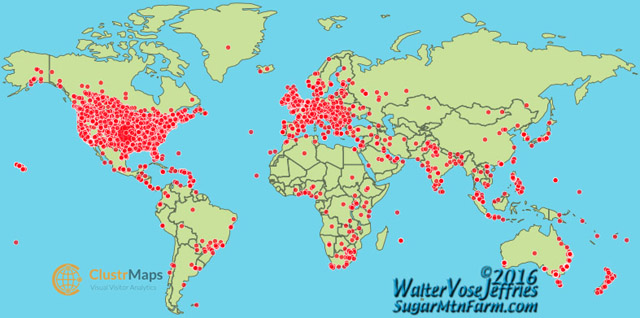 Visitors come from all around the world – One Month of Dots
Comments are up to 19,701. If you look in the lower section of the right side bar you can see who are the most frequent commenters. The top ten currently belong to:
Farmerbob1: 317
pablo: 289
Nance: 284
David Lloyd Sutton: 196
karl: 181
Donna OShaughnessy: 176
Mellifera: 143
Peter: 119
PV: 112
Susan Lea: 105
Long ago Farmerbob1 said he had a goal of eventually becoming a top commenter and he has indeed achieved that rarified rank. I wonder who will leave that 20,000th comment? Seems like we should have a prize…
That count of comments does not include the millions of spam comments which are filter out by the WordPress plugin Akismet. Yours truly catches the few that get through the robo-secretary. I greatly appreciate not having to deal with 99.86% of the spam so kudos to the team at Akismet.
Another interesting statistic is my blog has passed the million word mark with 1,047,965 total words in the the articles I've written. This does not include what is in comments and answers. That is the equivelant of over 2,000 pages if it were in a typical bound book without all the photos which makes my blog with just text without comments be the equivelant of eight volumes of text so far. With material from answers I have given in comments and photos plus formatting I would estimate that is about 20 volumes of information. I've been approached by three publishers so far who want to turn it into books but that is not a happening thing, yet, as I've been busy farming, building, butchering and other things. Maybe someday.
Those are pretty amazing numbers for a personal blog. They've crept up slowly and cumulatively over the past almost eleven years of writing about our experiences here at Sugar Mountain Farm in Vermont.
Outdoors: 41°F/24°F Sunny, 1/4″ Snow
Tiny Cottage: 58°F/67°F
Daily Spark: I vote with gravity. It never fails.