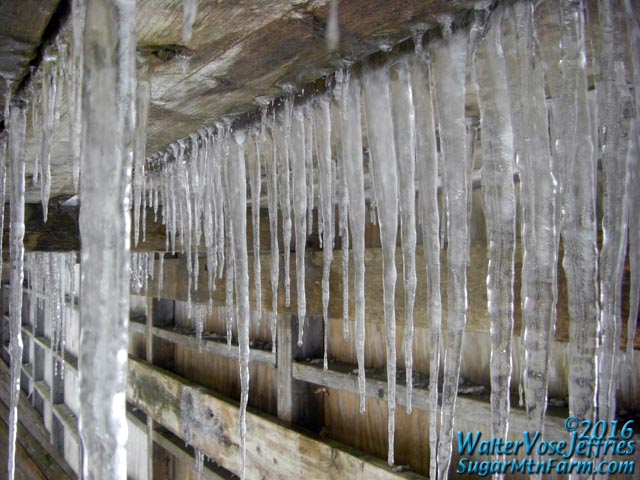 Icicles Under Butcher Shop Scaffolding
Once I taught him the basic pattern Ben built almost all of the
scaffolding
that kept us safe as we worked to build our
butcher shop
ever higher. Some of the scaffolding is still in place which gives the dogs a high vantage point to check out the road. The butcher shop is built back into the hill so scaffolding that is high up in the front is closer to the ground in the back where they can easily reach it and then run around to the front of the building.
These icicles formed below the scaffolding along the shaded and wind swept northern face of the butcher shop. The scaffolding is made up of 2x boards spaced a little bit apart so they drain. Behind the icicles you can see the
wooden forms
we used to make the mold we poured the concrete into to form the butcher shop in five concentric super insulated shells.
Outdoors: 25°F/49°F Sunny
Tiny Cottage: 57°F/64°F
Daily Spark:
A wood saw is for cutting wood.
A metal saw is for cutting metal.
A bone saw is for cutting bone.
So what is a radial arm saw for? Clocks?
What about a table saw?
A see saw?