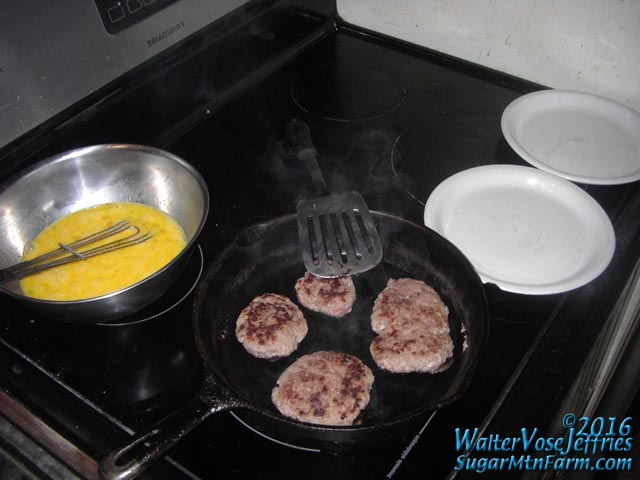 Breakfast Sage and Maple Breakfast Sausage
With land one is secure with the basic necessities of life. An advantage of small diversified farming is we produce food, shelter, water and energy – both solar gain and our firewood. Food is good. Good food is better. It doesn't get any better or more local than what we grow. From fruit to eggs to veggies to meat to maple syrup, the land produces a bounty so we never go hungry.
Now that we're doing sausage making in our own on-farm
butcher shop
we, of course, must taste test each batch of sausage to make sure it is right. Thus our lunch of breakfast sage and maple breakfast sausages frying up in the photo above along with the confused eggs, mixed up that is to say, who will soon be scrambled. Scientific taste testing is an important part of the process. Delicious!
I can't wait until we start smoking. We'll need to do a lot of taste testing of bacon…
Outdoors: 24°F/4°F Sunny
Tiny Cottage: 57°F/66°F
Daily Spark: I always thought pies were round but pi are squared. -Doreen MacLachian