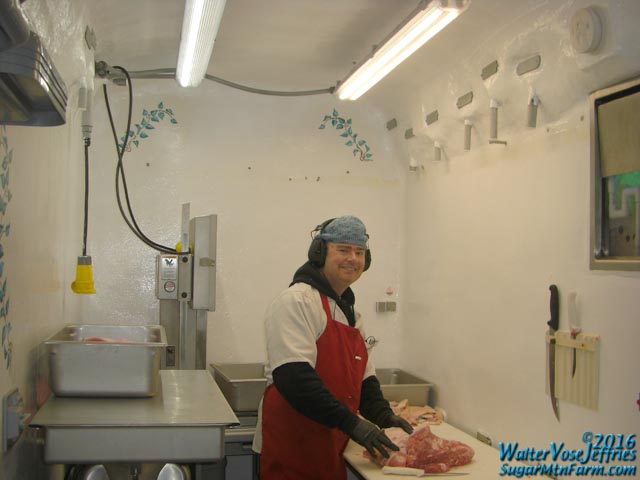 Walter in Butcher Shop Breaking Shoulders
One of the great things about what we do is our days are filled with a many types of tasks. Doing one thing all day long, day in and day out gets dreary, at least for me. I like the variety that farming offers. Work that we do in a week include:
Caring for animals including feeding, training, herding, sorting and more;
Working with our livestock working and guarding dogs;
Breeding herd genetics tracking and selection;
Transporting livestock to slaughter;
Butchering meat;
Making sausage;
Delivering meat to customers throughout Vermont;
Designing labels and marketing materials;
Tracking & analyzing sales and yield data;
Building, maintaining and repairing equipment;
Seeding and harvesting;
Planting apple, pear and other perennials for the future;
Planning & building new paddocks, roads, fencing and other infrastructure;
Tractor driving; (big toys!)
Regulations and paperwork;
Business issues;
Marketing;
Bookkeeping & Taxes;
Architecture;
Engineering;
Metal fabrication;
Plumbing;
Electrical work;
Refrigeration systems;
Carpentry;
Brick laying;
Stone work;
Concrete;
Programming;
Web design;
Cutting & splitting firewood for our cottage;
Doctoring animals as needed;
Learning new skills; and
Enjoying the bounty of the land and the good life.
It is never dull, never boring, generally very rewarding and interesting here on the farm. That isn't to say there aren't hard days or weeks but as a rule they are vastly outweighed by the good times. We get through the difficult times reminding ourselves that this too shall pass.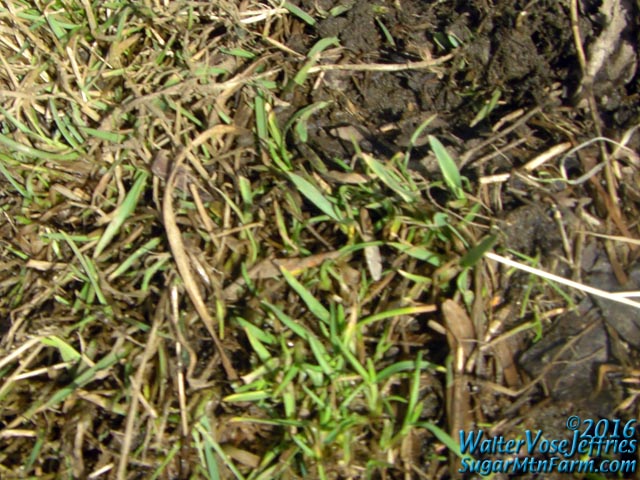 Greener Pastures Sprouting Despite Late Snow
As we roll into spring we are entering what I consider our easy season. Winter is our hard season here in the north country – a time when water freezes, fresh pasture is replaced by stored winter hay, the winds can be
biting cold
and survival is some days the issue more than thriving. Now as the season warms the pastures are starting to push up green forages. Grazing becomes easy. Water is fluid. The sun is warm. The land provides almost all that the animals need. These are the golden months of the year late into fall.
There is an old saying about how without the tough times we don't appreciate the good times. I look forward to the good as the seasons turn another year.
Outdoors: 25°F/48°F Sunny, 1/2″ Snow
Tiny Cottage: 59°F/64°F
Daily Spark: If Morticia Addams opens a beauty saloon she could call it "Brush with Death."