Yogurt Making Made Easy
I've mentioned
yogurt many times
. It is easy to make both for our own table and for feeding the livestock. We've been doing this for decades. The pork industry is starting to take notice of probiotics and get on the yogurt bandwagon with a lot of research now showing the benefits we've known all along. The difference is they spend big money to buy it in when it is pretty easy stuff to make. So easy that anyone can do it on a home or small farm level just as well, or maybe better, than the big boys.
Bacterial Culture
The point of yogurt for livestock is the bacteria cultures. By feeding yogurt to our animals, and ourselves, we're inoculating our guts with good bacteria that help us digest foods and help fight off 'bad bacterial' that could make us sick.
You can use any live culture yogurt but they're not all created equal. Some have just one type of bacteria while others, like the Stonyfield yogurt above, have six different cultures. Sometimes when money's tight I've used the cheaper yogurt starter culture, and it works, but I prefer the good stuff. This one has:
S. Thermophilus
L. Bulgaricus
L. Acidophilus
Bifidobacterium animalis (Bifidus)
L. Casei
L. Rhamnosus
Wiki links for your enjoyment and edification.
There is a secondary point, tightly related to the first point, and that is that yogurt makes the dairy more digestible and makes it keep longer without spoiling. Yogurt bacteria fight off other bacteria in a territorial war and they stop many molds which could otherwise produce mycotoxins that are bad for smaller pigs and fetuses in particular.
I strongly suspect and there is now research that show that the fact that our pigs eat yogurt makes it so they are better at digesting high fiber feeds like pasture and hay which makes up almost all of what they eat. This is one of those little tricks to making pastured pigs work.
To make the yogurt I start with some store bought live culture yogurt and several gallons of milk. I take a little bit out of each milk jug to make room for the yogurt and have an air pocket for shaking to mix. Some of that milk goes into a jar along with half a jar of yogurt. Shake to mix and then pour some back into each jug to culture the milk. Then shake the jugs. I tend to use whole milk because if I'm making some directly for piglets that gives them extra calories.
It's a good idea to have reasonably sterile conditions since you're culturing bacteria and you want your team to win. Hot water is what I use to achieve cleanliness. Our tap water is 150°F as I run my water heater hot – that kills most everything. It's a time vs temperature curve. At 180°F, what we have down in the butcher shop, the hot water kills on contact. This could be an issue in a household with small children or the elderly so you may instead want to boil some water on the stove instead.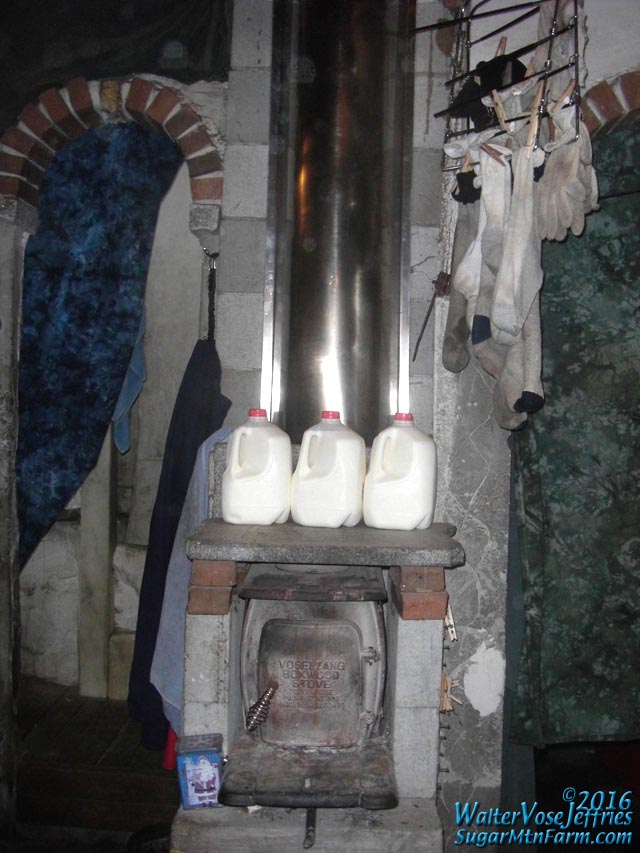 Growing Culture
In the winter I tend to set the gallon jugs or five gallon pails on the stone shelf above my wood stove so that it warms and the yogurt producing bacteria can thrive. The kitchen sink's hot water after finishing dishes is another easy way to do it if the wood stove isn't going such as in the fall and spring. In the summer the interior of a closed car gets to a very good temperature for yogurt making. Nothing fancy, just use what you have for heat.
Common Question: "Does this work with pasteurized milk?"

Yes, you can use raw or pasteurized milk. There is no particular advantage to raw. Both work fine.
After a few days I'll dump these into our 1,000 gallon whey tanks as we receive a load of dairy. Because of the warmth the yogurt will flow out of the jugs easily – it won't have gelled like if it were refrigerated. The bacteria that has multiplied in the milk will then culture the dairy in the tanks. Not all of the dairy exits the tanks but rather some culture is left behind with each cycle so that continues to culture subsequent loads until I inject more culture.
Making yogurt is easy, tasty and healthful for man and beast.
Outdoors: 34°F/26°F 4″ Snow
Tiny Cottage: 55°F/60°F
Daily Spark: The Good Shepherd believes in Dogs.