Deboning a Pig
Usually one quarters the pig and then makes up the cuts from there. But my cut sheet called for boneless shoulder, boneless chops and boneless sirloin so I did it a little bit differently last week on one of the pigs. I simply removed the bones first making it much easier and efficient to do the cuts. This also resulted in more high-on-the-hog cut weight per pig increasing the income from each pig.
This article originally appeared back in early January 2016 but was lost by my web hosting company when their servers crashed, burned and took the backup RAID disks with it. I'm working to recreate the lost articles.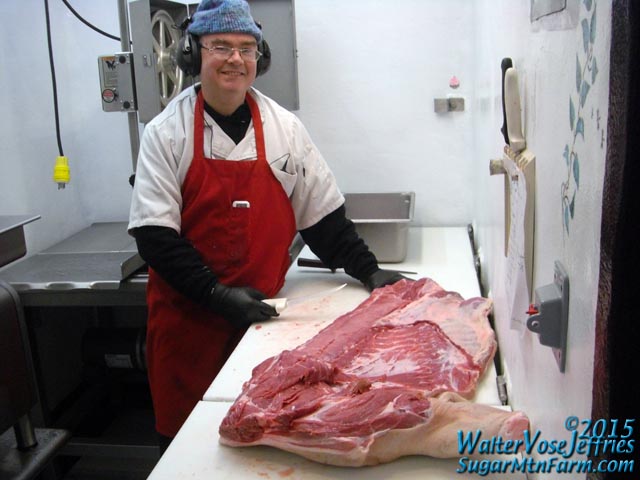 Pig without Spine, Pelvis or Ribs
Ta-da! The results. There actually are a couple of bones left in this pig when the photo was taken – the front leg bones. I removed those next.
It was very fast and an interesting technique. With practice I could see this improving my speed as well as yield. This method left me with most of the bones still together making for a larger rack of ribs. If I was working without a bandsaw this would definitely be the way to go. Years ago I did this with sheep for our home table as I had no saw. Once fully deboned the whole pig could be also stuffed and rolled up for a very nice roast.
You may notice the headphones. Big and bulky they are. They protect my ears from the sound of the bandsaw – I like my hearing – and let me listen to music as I work. December was, quite appropriately, playing as I did this pig in the last week of the year.
Outdoors: 19°F/-11°F Sunny
Tiny Cottage: 52°F/61°F
Daily Spark: Does a bear shit in the woods? Not if the EPA can help it!