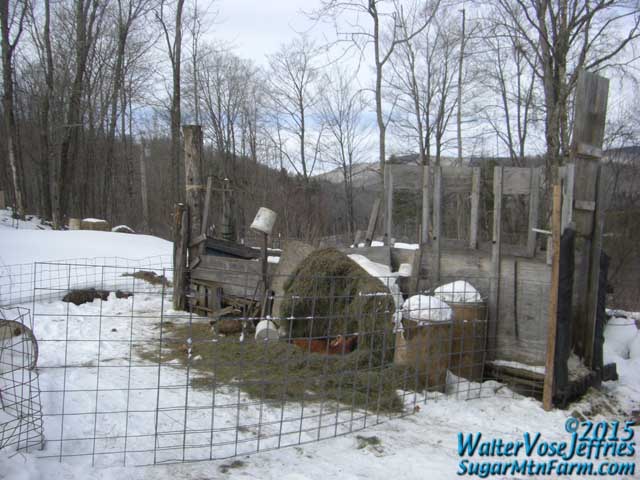 Private Room with a View
This gilt sow wanted a private room. She was willing to go to extremes to get it. Three times she broke out of the south Ark gestating paddock in search of a place of her own. The third time Ben found her walking north along the road by the Sugar Shack. We brought her back and rather than continuing to fight her nature we simply fenced her in by this hay bale at the loading dock. She likes it there and immediately built a nest.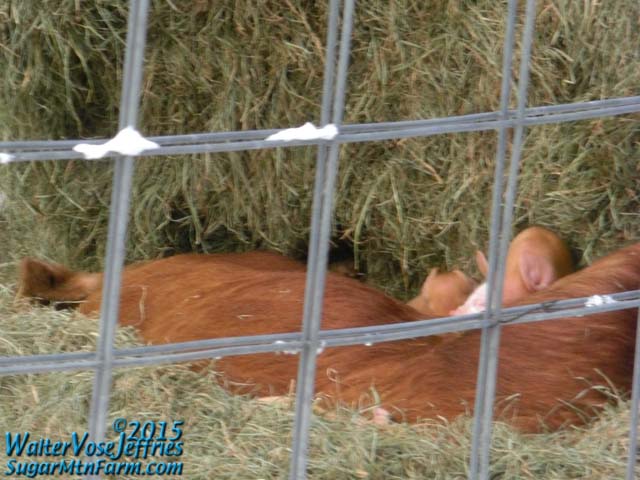 Piglets Nursing
These piglets were born just before the
extreme cold snap
where it got down to -34°F, without the windchill. With windchill it was about -90°F over that weekend. They not only survived they thrived. They all get points for being winter born pigs, her for farrowing well in the winter and for surviving an extreme. Points are good because I score our pigs on about three dozen criteria. 95% of the gilts go to meat. 99.5% of the boars go to meat. Only the best of the best will pass their genes on to the next generation.
A sow that seeks out and defends a private nesting spot is a good sow. This is a good mothering behavior. Sows that do this and produce good litters are on their way to being keepers. Each time they up their odds of beating the cull in the next round and getting another chance to prove their stuff. I cull weekly.
Parity is the number of litters a sow has produced. P1 means she's had one litter.
She was a gilt until she farrowed and earned the title of sow.
Over the early winter I cull extra hard. That is a time when new P1 sows have had up to two chances over the summer to prove themselves. As fall snows turn into winter pack I look the sows over and cull the least of them, those with the lowest scores. This reduces the carrying count as we switch from fresh pasture to dry hay over the snowy seasons. A gilt sow, a.k.a. a P1, proving herself in the winter gets extra points as it is a much hard season.
So what does a sow want in a farrowing spot?
Privacy is a big concern for sows. They need a place they can farrow without having other pigs lay down next to them. Good sows don't crush their own piglets. But other sows and pigs who are out of hormonal sync may do so. In the warm season months the sows go off to the margins of the pastures and pick a spot, generally under brush or tree cover, where they can defend it from other pigs and from predators.
Wind block is another issue – the sow wants somewhere that has good fresh air but not a lot of heat stealing wind in the colder months. Our entire year is cold months compared with some places as even in the summer it is normally only in the 70's during the day and 50's at night. Our record summer high is 86°F which Texans would scoff at. We get a lot of wind so for the sows it is important to find a spot where the landscape, trees, a bale or something blocks that wind from hitting their nest.
Bedding is important. In the hottest months a sow will build an earthen nest of dirt and stones but for most of the year she wants sticks and straw or hay. Yes, the story of the three little pigs's homes has a basis in reality! During the warm months a sow gathers branches, leaves and grasses from an area as large as about 100′ in diameter around her chosen site to build a nest. During the winter we provide deep bedding packs typically of wood chips topped with hay. This composts producing heat and food.
Fresh air is critical. Disease is more common in closed in spaces due to the build up of bacteria, viruses and foul air. A good flow of fresh air is critical to healthy livestock and healthy farmers. Don't close them in. An open shed is superior to a heated or insulated barn. Dug in dens, open sheds, simple hoop houses of panels, a hut, the Ark, and such are great. It doesn't have to be fancy.
It is important to let the sow build the nest herself. You should not add loose fiber bedding to the nest but rather set it off at a distance for her to gather. You simply lack the right instincts, strong jaws for chopping, massive weight and sharp pointy hooves for properly packing the bowl of the nest. Nest that humans build tend to be too loose so piglets are more likely to get caught in the material. Besides, she enjoys the process and it gives her something to do.
A roof is a nice extra for keeping the precipitation off the nest but not absolutely necessary as this sow is showing. We've had more than a foot of snow. When it is cold she fluffs up some around her and disappears with her piglets. Then the next day she moves things around and rebuilds her nest neat and tidy as needed.
All of this is instinctual behavior. These are maternal behaviors that help pigs thrive in the wild and pasture situations without the need for crating or human intervention. These same behaviors in a confinement operation are a problem because the gathering turns into bar biting and other destructive behaviors. The defense of nesting site produces agitated aggressive sows because they're packed in too close to each other. For this reason these maternal instincts have been bred out of many confinement lines of pigs. An instinctual behavior that is vital for survival in one situation, like our pasture farrowing, is problematic in another situation.
With good sow genetics and a good pasture situation there is little in the way of interventions. You don't need to dry off the piglets – they'll do that themselves on the bedding. You don't need to clip their umbilical cords, teeth or any other body parts either. No iodine or other chemical baths are needed. You don't need to move them to their mother's teats – they'll walk around her and find the milk bar on their own. We're here for emergencies in many cases but most piglets are born without any interventions and often without our presence. If I ever have to intervene to help a piglet, for any reason, then I mark that piglet as a feeder, never to be a breeder. Even if it is just a matter of luck – breed for lucky pigs.
Remember:
Breed the best of the best
and
eat the rest.
That's how to improve your herd genetics. This is the lesson Mother Nature teaches us: Evolution works.
Outdoors: 20°F/-3°F Sunny
Tiny Cottage: 52°F/61°F
Daily Spark: The average gun owner has almost two arms. -From Walter's little black book of correct but meaningless statistics.