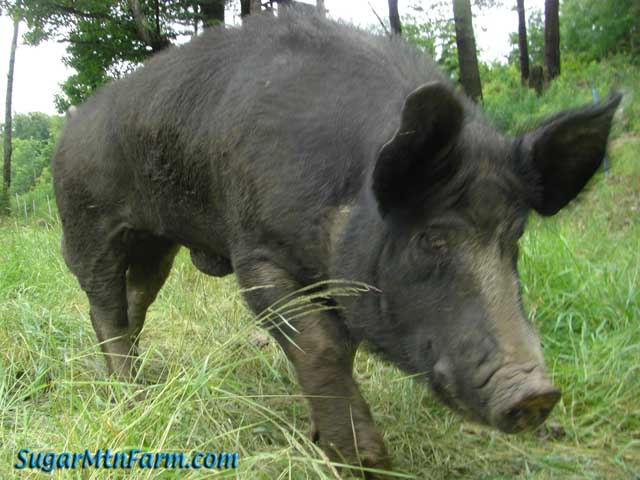 A Young Spitz
As I've
mentioned
the blog posts for part of December and most of January went missing in action due to our web hosting company having one of their server's RAID controllers literally burn up frying the backup drive in the process. This led to a panoply of other successive failures such that my web site was intermittently down for weeks. That seems to have settled out. Now I'll work on reposting some of the lost articles.
One such even that was lost was a death on the farm. Death is a familiar visitor to farms. If you have livestock you're going to have deadstock. That's the way of the world. In human society death is carefully swept away, hidden in body bags, makeup and caskets. On the farm it's a bit more in your face.

On January 20th we had such an event which was the worst thing to happen all month: Spitz died. Spitz was our big Berkshire boar who has been the lead boar for years now. He lorded over the northern boar territory on the eastern slope of Sugar Mountain. He was a gentle giant, good with piglets, growing pigs, with his co-boars and with the ladies There is no clear cause of death and at only about five years old I had not expected this. He appears to have passed peacefully in his sleep.
The photo above is from when Spitz was a gangly youngster of only a few hundred pounds. The photo doesn't do him justice when he was at his prime where he had massive shoulders, huge equipment out back and enormous hams. Spitz stood just about chest height to me. Based on the tape measure method Spitz was about 1,499 lbs at death. Call him an even three quarters of ton – larger than many cars and perhaps more powerful. This does not make him the largest boar on our farm, that title goes to Spot who was over 1,700 lbs. But Spitz was right up there in size and had more massive shoulders compared with Spot's extreme length.
Spitz is succeeded by Q'Sox in the northern territory as well as Spitz's son Spitzon in the south. Other head boars currently on our farm include Whitey, Tamtoo and an as yet unnamed black boar as well as several up and coming contenders.
Death happens and life goes on.
Outdoors: 31°F/24°F Partially Sunny
Tiny Cottage: 57°F/63°F
Daily Spark: Fear not immortality for death will find you.