2016 Calendar Front Cover
Pigs on Pasture at Sugar Mountain Farm
It's a new year and a new calendar time! The image above is the front cover of our latest creation. Calendars are a wonderful pictorial tour of life in all the seasons on Sugar Mountain Farm. Each year I take some of our top photos from the previous year to build the new year's calendar. It is a virtual tour from our life and land.
The cover photo above was the banner at our booth of the Onion River / City Market
Harvest Festival
. It shows pigs on pasture in all the seasons of the farm. The large upper panorama is from our north field with Sugar Mountain in the background. The large lower panorama is from the south field in the aspen grove. The other two smaller pans are also in the south field and the south field plateau.

January
On-Farm Butcher Shop at Sugar Mountain Farm
Prominently feature on the cover is our new label for our on-farm
butcher shop
which we opened in
October of 2015
. Bringing the butchery and sausage making on-farm has been a long journey that we accomplished with the help of many people. It is wonderful to finally be at the stage of cutting meat here in our own butcher shop each week.
The photo above for January shows the outside of the butcher shop. It is still clad in the wooden forms which we poured the concrete into to for the building. Our butcher shop is entirely cast in place concrete, marble and granite setup as six shells and super insulated. Someday we'll take the forms off to use for other projects and clad the exterior in stone work. But that is a pretty project not a functional project so for the moment the exterior will be wooden as that serves to protect the insulation behind it. Functionality first, aesthetics later.

February
Winter Garden Piglets Enjoying the Sun
We farrow year round. The majority of farrowings are in the golden months from April or May to October. During the warm weather months the sows seek out private spaces in the brush on the margins of the pastures. There they build nests and defend their farrowing space. Typically about four to six days after the piglets are born they move to a new nest. The piglets above were born in the winter. We provide farrowing paddocks which have the protection of an open shed, the Ark or other shelter plus a
bedding bedding packs
that composts to provide heat and food. It's not as good as the warm months on fresh pasture but gets them through the winter. Fortunately we live in a climate that is cold enough to have dry winters and a lot of sunny days during the snow months rather than muddy winters. That is something good to be said about the cold Vermont weather.

March
The Pack at Sugar Mountain Farm
Meet the Pack! I never seem to capture all of them in one spot and this is no exception but it was a photo opportunity not to be missed with them silhouetted against the bright blue sky. From the left you can see Hanno, Sirius, Kavi, Remus and Romula. Their distant great-great-grand-sire Coy simply showed up on our doorstep decades ago and said he was looking for work. I said
"No."
He said
"Great, I'll start today."
After three days of this negotiating he got himself hired. Today his and his mate's descendants still guard our farm and herd our livestock. Their pay is about 30 pigs
†
a year plus legal protection and a medical benefits package. This is how wolves have been forging partnerships with humans for tens of thousands of years. A match of talents between two not dissimilar cultures.

April
Sow Nursing Piglets
Yes, a white sow can produce black piglets. Color genetics is complex involving more than one gene pair. The white gene is the dominant color which can mask black (the second dominant), red, brown, mahogany and yellow. Crosses often produce spotted piglets. Additional genes control markings such as the crown and nose marks that pass down lines. In this case the mother is white because she carries at least one white gene. Based on her piglets you can tell that she carries a hidden black gene. When she was crossed with a Blackie line boar his black genes matched up with her black gene in some of the piglets producing black offspring. Other piglets are white but since the boar was black I know they are carriers for other colors, notably black.

May
Piglets on Pasture
Pigs grazing in the north field on the slope of Sugar Mountain. We run our herds as boar centric territories in mixed sex and mixed age groups. These pigs are in the northern territory with
Spitz
, our Berkshire boar and his lieutenant
Q'Sox
.

June
Piglets Sunning by Stone Wall
These newborn piglets are enjoying the sun and warmth along a south facing stone wall in the north home field near the nest where they were born. Piglets are amazingly mobile at birth. The sow does nothing to aid their birthing which is a big contrast from dogs, cats and humans.

July
Sow Ready to Farrow
This sow is in the north home field paddock system which we used as a gestation rotation this summer. Her bag is fully developed as she approaches her farrowing date. In the background you can see the new fencing Will and Ben put in this year.

August
Chicory Flowers
Chicory is a flowering plant that grows well in our pastures. Behind this one you can see sunflowers in the lower part of the north home field along the new north road Will built this spring. There are blue, pink, violet and white flowering chicory plants. With some the flowers change color over their life cycle. Research has shown that feeding chicory helps to reduce
boar taint
. It is a plant that is both functional and beautiful. One of the great things about chicory is that it has such a long season, growing late into the fall. This provides food for the pigs and for bees.

September
Our Family with Fall Colors over the Marsh Field
Meet the farmers and butchers at Sugar Mountain Farm. We're the people who provide a good life for our pigs on pasture and high quality meats to you, your family, local stores and restaurants throughout Vermont.

October
Will, Ben and Hope in Halloween Costumes
Halloween is a big event that inspires a great deal of creativity and planning each year. Will, Ben and Hope sewed and sculpted these costumes – a process that takes up most of October after planning all year. Halloween is a mix of art, theater and magic out on the the streets.

November
Grower Pigs in Aspen Grove Paddock
These grower pigs are enjoying some hay that we put out as the pastures wane and the cold season comes on. Our pastures are a mix of trees, brush and open areas with soft grasses, legumes, brassicas, millets, amaranth, chicory and other forages. These mixed habitats have greater biodiversity of plants, wildlife and livestock than one would find in a monoculture lawn like pasture.

December
Winter Pasture
In the winter the livestock pull in closer to our center fields which become winter paddocks. We have a variety of open sheds like the south field shed, the house end shed, the garden shed, the Ark which you can see in the distance and various huts. The common theme is a wind block and a deep bedding pack of wood chips and hay which composts to produce heat and food through the winter. We feed our pigs hay through the winter. While hay is not as good as fresh pasture it, like canned veggies for our table, gets our livestock through the cold snowy months until pastures bloom the next spring.
Also check out the calendars from other years each with their own little tour of our farm here on Sugar Mountain.
Happy New Year!
---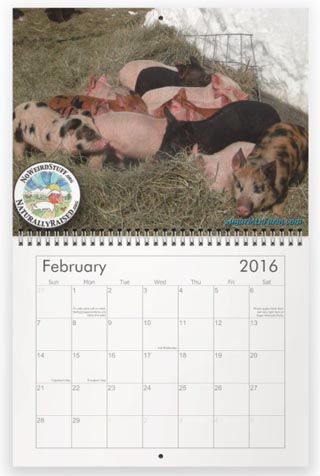 If you order a whole pig in 2016 you can get a free calendar while supplies last. Calendars are also available for $10 per calendar plus $4 for shipping in the United States or $7 for shipping internationally.
Order via PayPal:
or send a check to:
2016 SMF Calendar
Sugar Mountain Farm
252 Riddle Pond Road
West Topsham, VT 05086
The normal price is $16 but when I order a large number at the end of the year I get a quantity discount. The $10 price is good while supplies last from this order.