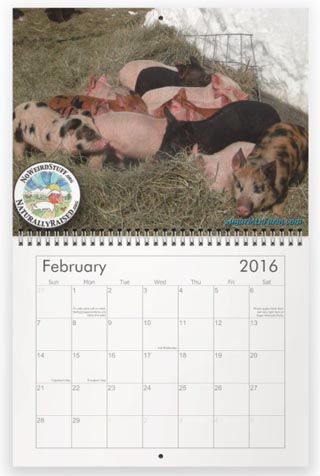 We just got in our 2016 Sugar Mountain Farm calendars! I make these each year with photos from our farm and distribute them to stores, restaurants and individual customers. Twelve months of photos in wall calendar format (~8.5″x11″) gives you a peek into life here.
Most of the calendars are already taken but I ordered an extra dozen. Those who orders a whole pig in 2016 can get a free calendar while supplies last. I'm currently scheduling pigs in April so order soon!
This offer also applies to Christmas Pigs which are pay now and schedule in the summer for an extra discount.

---
2016 Calendars are also available to order while supplies last. Send $10 per calendar plus $4 for shipping in the United States or $7 for shipping internationally per package (e.g., one or more calendars).
or send a check to:
2016 SMF Calendar
Sugar Mountain Farm
252 Riddle Pond Road
West Topsham, VT 05086
The normal price is $16 but when I order a large number at the end of the year I get a quantity discount. The $10 price is good while supplies last from this order.
Outdoors: 54°F/31°F Partially Sunny
Tiny Cottage: 68°F/58°F
Daily Spark: The little pig went wee-wee-wee all the way home to changer her pants.