The Christmas Present Pigs special has ended but you can still order whole pigs and half pigs on the Pork Page.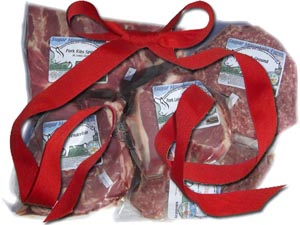 Is there someone on your gift list who you would like to share the bounty of a pastured pig with? Order a Christmas pig now for delivery in the summer and we'll give you a coupon for additional pastured pork for yourself – or you can give the gift certificate to friends or loved ones. Order now before New Years Eve at 12 mid-night and get in on these great deals on Sugar Mountain Farm's pastured pork…


A whole pig is divided up into four approximately equivelant boxes which you can give to one person, four people, have one for yourself or any combination you want. Plus you get a bonus gift certificate to give away or keep for yourself. Similarly a half pig is divided into two boxes and a quarter pig is one box. Free local pickup and delivery ($15 normally) is available along our weekly delivery route.
We'll mail you the numbered Christmas Pig certificates, one for each box, after you order. If you would like we can mail the certificates directly to the recipients – just drop me an email after you order. We'll also email you a confirmation when we receive your order and send you your gift certificate.
How to Order:
If you prefer to use a check or money order you can do that too. Just mail your order postmarked by New Years Eve 2015 to:
Sugar Mountain Farm
252 Riddle Pond Road
West Topsham, VT 05086
You can order online with the PayPal buttons below that allow you to use a credit card:
What's in a box?
Pork Chops
Tenderloin
Sirloin
Roast
Ribs
Fresh Belly
Cubes
Ground
Oddments (hock, trotter, back fat, leaf fat, bones, skin, etc)
Bacon
Sausage
Oven Roasters: Recipients can substitute an oven roaster pig of 20 to 35 lbs for any box in Whole, Half or Quarter Pigs. The oven roaster party package includes a pound of bacon, two pounds of ground and two pounds of sausages too. A wonderful dish for the holidays and special events!
What's in the sampler?
Pork Chops
Roast
Ribs
Ground
Bacon
Sausage
Sausage comes in about half pound packages for links and one pound packs for bulk. Recipients can choose multiple types when scheduling in the summer.
What are the sausage choices?
Hot Italian Links
Sweet Italian Links
Chorizo Links
Maple Breakfast Links
Breakfast Sage Bulk
Plain Ground Bulk
Order by: New Years Eve 2015
Delivery: Summer 2016 when pigs are grown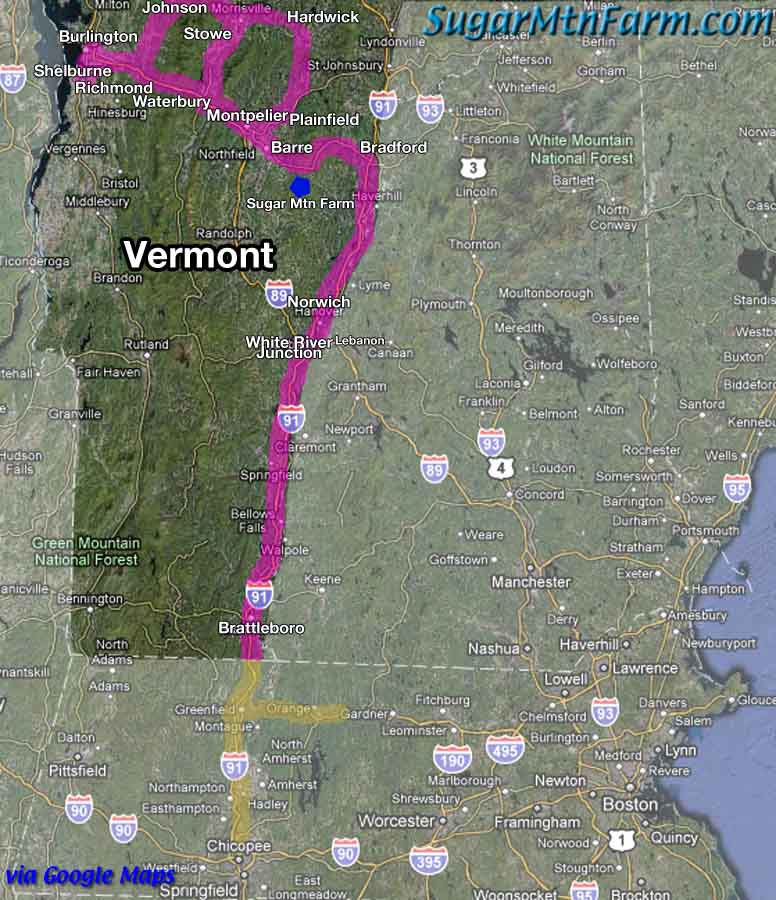 Weekly Delivery Route in Pink – Every Other Week in Green
(Click For Big Picture)
Boxes can be delivered all at once starting in the summer or over time to save home freezer space.
Pickup is available here at our farm or get free delivery along our regular weekly route here in Vermont that goes from Brattleboro up I-91 and from Barre-Montpelier up I-89 to Burlington. We also deliver to Hardwick, Plainfield and a number of other towns. If you're outside Vermont you can conviently meet us along our route such as at Exit-1 on I-91 in Brattleboro, in White River Junction, in Burlington, etc to save shipping costs.
Feeding the Hungry:
In the spirit of giving, if you would like to make a donation of one or more boxes of pork to a local food shelf or homeless shelter along our route we can also do that for you. We'll match your generosity with an extra 25% of pork. A great way to give to those in need.
If you have any questions, drop me an email.
Prices will be going up on January 1st, 2016 so order now to lock in the 2015 prices for next year!
Outdoors: 54°F/34°F Sunny
Tiny Cottage: 72°F/58°F
Daily Spark: The world is a stranger place than we can imagine.