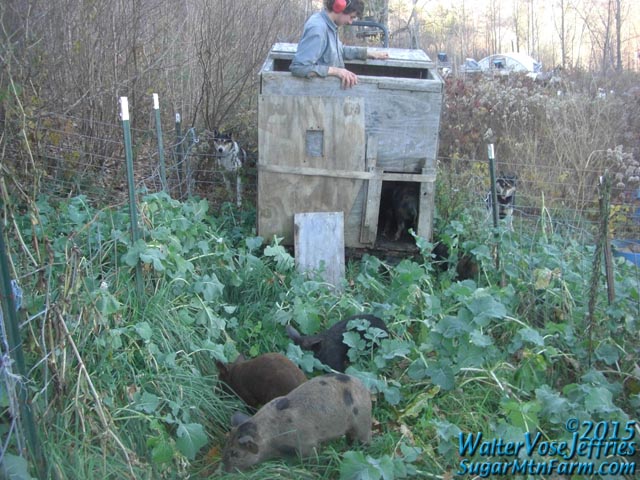 Remus, Ben & Hanno Delivering Weaners
We recently weaned 102 piglets. This is something we do in cohorts at about six weeks of age +/-2 weeks. These fall piglets have been going through the
south weaner paddock
rotational grazing system where they learned about all the different types of fencing we have after getting
vaccinated
, inspected, selected and tracked as roasters, feeders, select pigs and primes.
In the photo above Ben is delivering a group to the start of the
rotational grazing
system. This consists of ten paddocks on a quarter acre (100'x100′)that start out hard fenced and then get progressively larger and more loosely fenced until the weaner pigs graduate as growers into the south field to join the rest of that herd. This mini grazing system that anyone can setup even in a small space to do rotational grazing with a couple of pigs, sheep, goats, etc.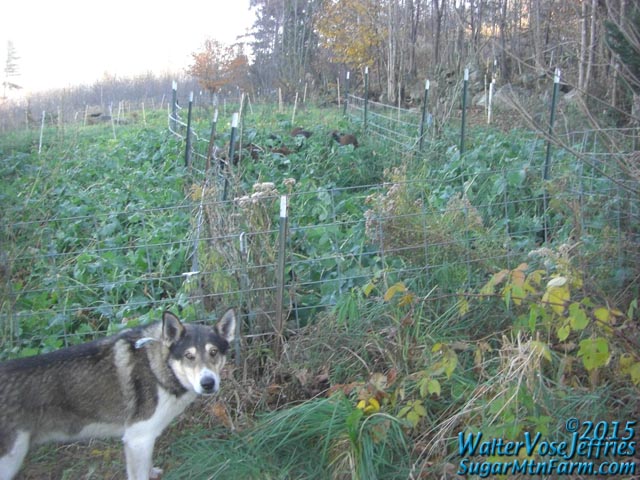 Remus and the same paddock from the other side.
This is a prime opportunity for us to
tame
the piglets, for them to get used to the dogs, being herded, coming to us for food and getting to know the various types of fencing we use. They spend about one to three days in each of the paddocks, moving on as they graze down the mix of soft grasses, legumes, brassicas, millets, amaranth, chicory and other forages.
Weaners in Paddock Ten
Each paddock has a waterer set into the ground. These are just shallow half barrels that are piped from one to the other. During the winter this water system gets shut off since it's not in use. With all that shallow exposed area it is more prone to freezing up than our deeper water barrels that use earth heat to warm the water.
Closeup of Paddocks Ten (left) and Nine (right)
I like to size the paddocks so that the pigs eat down most of the forages. Thus the paddocks start small and get larger. When they're done with a paddock They start
rooting
– a sign to rotate. I find that even if only 20% of the root mass is left the paddock still springs back strongly. In the photo above over 80% of the root mass is still there along with some surface forages – strands of grass. Ben seeded paddock nine the day before moving the pigs to ten. This is called mob seeding. The pigs small pointy feet pack the seed into good contact with the soil. It is now late in the fall so these seeds will over winter and germinate in the spring. The seeding is often with annuals such as the broccoli, rape, kale, radishes, amaranth and such along with some grasses and legumes like clover, alfalfa and vetch which pull nitrogen from the air to naturally fertilize the soil.
Outdoors: 41°F/23°F Sunny
Tiny Cottage: 63°F/56°F
Daily Spark: When someone is being bullied and you tell them to ignore the bully that is like saying: "Ignore your problems and they'll go away." It doesn't work.