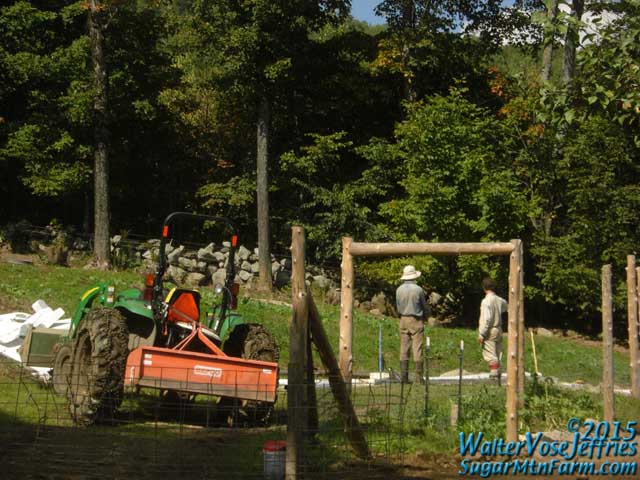 Will and Ben Working on North Home Field Greenhouse Site
This year's big outdoor construction projects have been fencing in a few fields with a
new improved method
, building a road from our farm driveway north to the north field and north home field and also building a road south to the south field. These will provide better access to those areas, especially in the winter. The other big project is another greenhouse although much smaller than the
south field Ark
. The primary purpose of this new greenhouse is to provide our big Berkshire boar Spitz and his lieutenant Q'Sox with a winter palace. A few ladies will keep them company in their new digs.
We run our herds based on boar territories. Spitz is the north field master boar and he has sub-boars below him. There is no contest between them. If you ever met Q'Sox you would say that he is a big boar. And then you would see Spitz who is far bigger at around 1,300 lbs. The great difference in size keeps the peace – nobody challenges the mountain. Realize that is 1,300 muscular pounds – he spares very little fat since he is on a
low calorie pasture based diet
. He seems to have stopped growing and since he'll never get fat I don't think he will be a record holder.[
1
,
2
]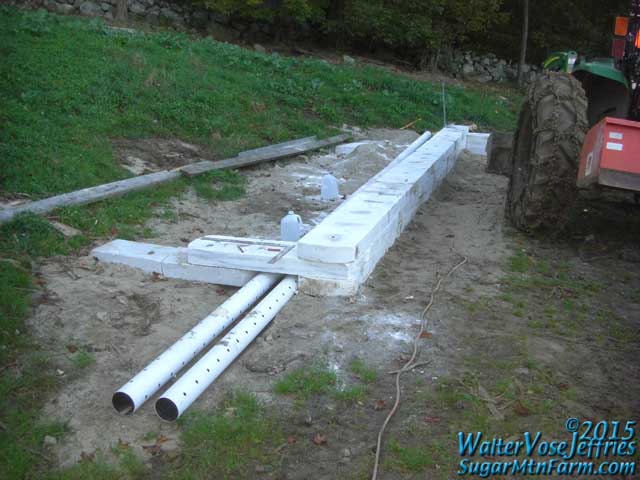 Greenhouse Gravestone Foundation
The foundation for the new greenhouse is made of dry stacked marble headstones that were rejects from the local stone carving shed in Barre, Vermont. To paraphrase Mary Poppins, "
Not everyone's perfect."
The rejects from tomb stone carving go into the rubble pile and we buy them for the cost of the truck load. The waste stone makes a great base for roads, foundations, bank stabilization and such. Over the years some of the waste granite and marble has gone into our cottage and the butcher shop as well for window sills and doorways among other things.
The marble rectangles are pegged together – the circles you can see in each stone. Since it is dry stacked we can move it and repurpose it if we ever want to do so. Will put in a line of perforated pipe wrapped in fabric in coarse sand behind the stones for drainage so that the frost action won't spread the foundation.
Will's and Ben's focus on the infrastructure is much appreciated as I spent the summer finishing up details on the butcher shop and then writing our HACCP plans in preparation for opening for Vermont state inspected meat cutting. Each of these projects improves things and makes everything a little better, day-by-day, month-by-month, year-by-year.
Outdoors: 46°F/34°F Freezing Rain
Tiny Cottage: 63°F/56°F
Daily Spark: Where there's a will, I want to be in it. -Anon