Apple Jack Rippers a.k.a. Individualized Apple Crisp
Apple crips is a family favorite. This has been a very good year for apples so we've gotten to have a lot of apple crisp. Usually we make it in a flat glass dish following the recipe below. A variation is to make Apple Jack Rippers as shown in the pictures.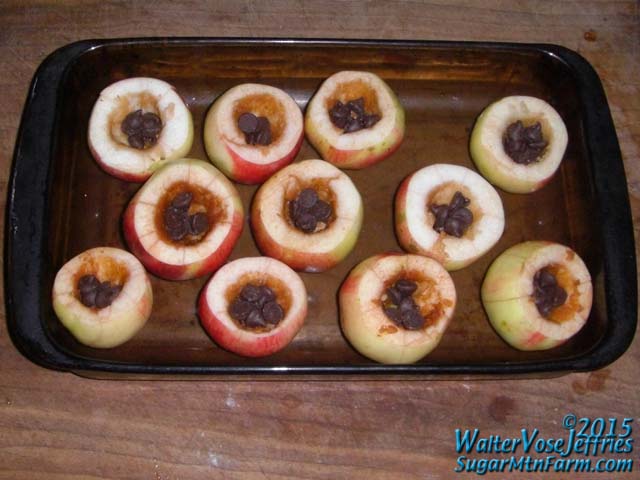 Apple Crisp
4-6 large apples or twice as many small apples:
Slice apples as for a pie and place in baking dish for traditional apple crips.
Alternatively for Apple Jack Rippers individual portions cut the apple tops off, hollow them out to remove the cores and slit the sides to improve cooking.
Cut and Stuffed – Ready to Cook
Topping:
1 cup flour
1 cup sugar (I use 3/4 cups white & 1/4 cup brown)
1 tsp. cinnamon
1 stick butter, softened
Add up to 1/4 cup water, depending on how juicy the apples are.
(Too much water will make the crumble gooey).
Served with Vanilla Ice Cream
Mix together and spread over apples in the traditional dish or stuff the apples for the rippers.
For the rippers I also put chocolate chips or chunks in side the apples under the topping.
Bake at 350º until brown (about 1/2 hour)
Outdoors: 57°F/24°F Sunny
Tiny Cottage: 63°F/59°F
Daily Spark: All breeds of pigs are rare until cooked.