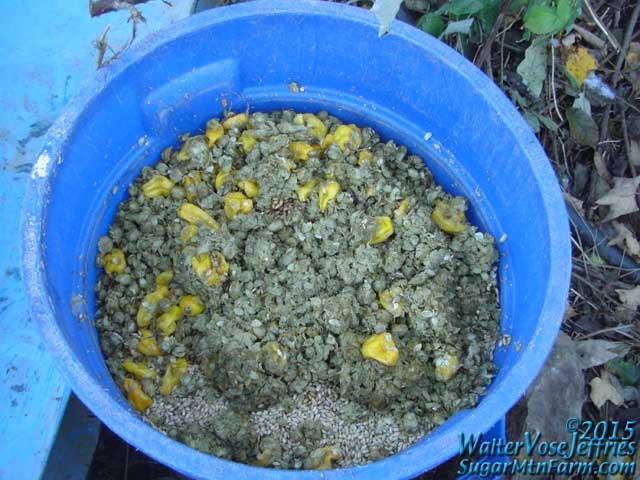 Hot Pepper Hops
We get a little bit of spent barley from a local brew pub. It makes a nice supplement to pasture and they are right on our delivery route so it is efficient to pick it up making it worth the time. Generally they make some fairly standard types of beer but every once in a while we see a surprise like chocolate beer or this example of hot peppers in the hops.
The spent barley is ultra-low in calories since the brewer has cooked and drained off all the sugars to feed the yeasty beasties who make the alcohol in the beer. It does have some protein, minerals and a lot of fiber. The protein is what makes it of interest to the pigs as that complements what they are getting on pasture.
Our pig's diet consists of 80% or more pasture, up to 7% dairy mostly in the form of whey, a couple of percentages of the spent barley (I would love to get more) and seasonally a lot of apples, pears, pumpkins, sunflowers, sunchokes, turnips, beets and such that we grow in our summer gardens which are winter paddocks for the pigs. To read more about what our pigs eat see the Pig Page.
Outdoors: 49°F/22°F Partially Sunny
Tiny Cottage: 64°F/59°F
Daily Spark:
Symetry is Beauty.
Randomness is Illusion.
Mathematics is Art.