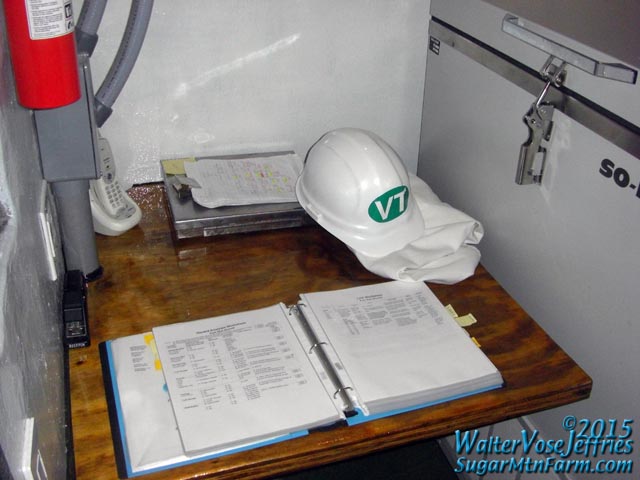 Vermont State Inspector†
Today we had our first day of meat processing in our new
butcher shop
under Vermont state inspection! This means that we can now start doing our own butchering.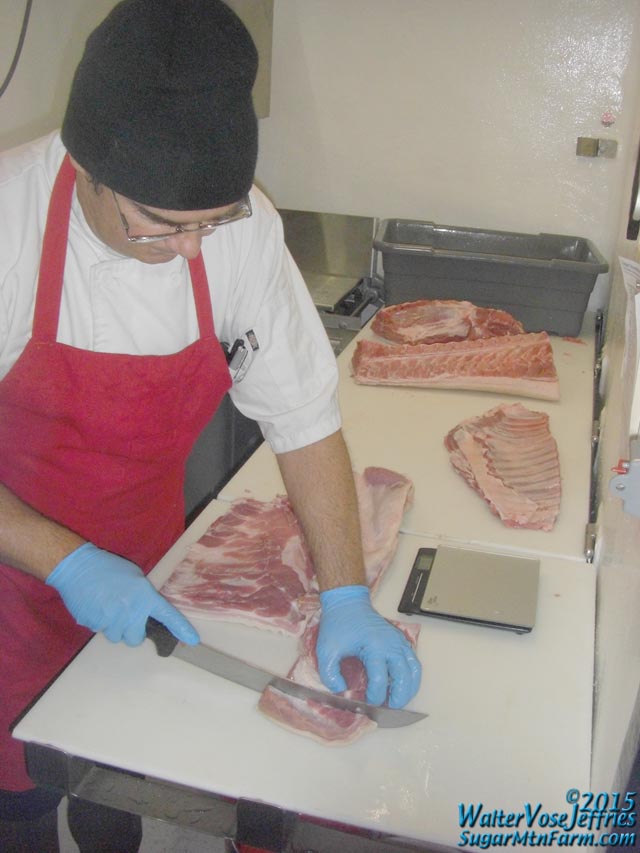 Walter Cutting Fresh Pork Belly
We're soft starting, just doing one of this weeks pigs. The rest were cut down at the
butcher
we've been working with since 2009. Next week we'll do one or two pigs and gradually increase. This way we can get down the patterns and make sure we're doing everything right before we take on too much.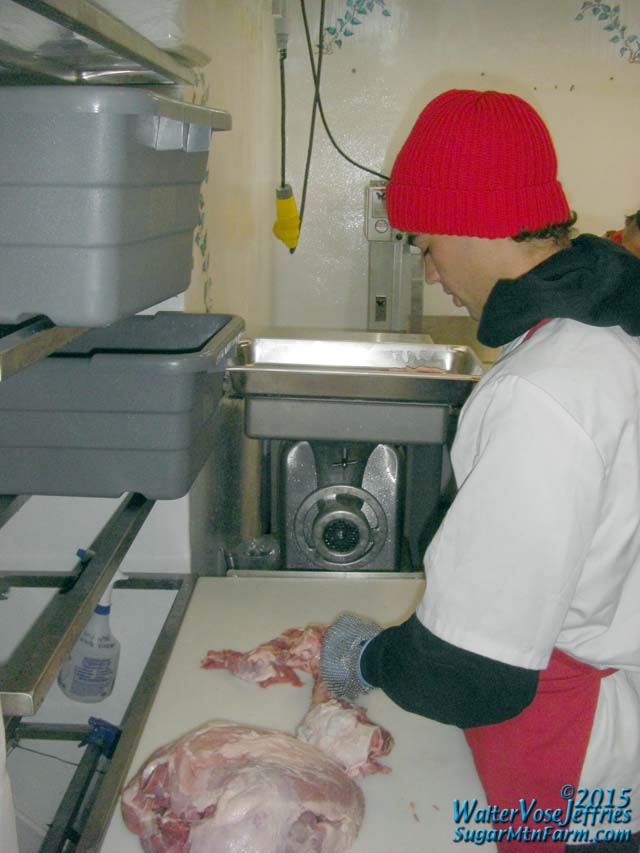 Will Deboning and Cutting
While I do have the HACCP[
1
,
2
,
3
] and labels done to make sausage this week I decided we would start simple and just do the cuts and basic ground pork. Baby-steps.
A Lovely Loin
Now that we're cutting we can start doing the
CSA Pre-Buys
and
Kickstarter
packages for all those wonderful people who helped to fund the butcher shop. The butcher shop was a family project for the design and construction but very much a community project for the
funding
. Many hundreds of people supported our project with their pre-purchases as well as many small and large loans from individuals.
Tough Bags
Last night I had
vacuum packaged
these knives, screwdriver, pencils and wrenches. Silly me! But wait, there is a method to my madness. We have a problem. Bone-out cuts are easy to package with the standard 3 mil vacuum bags but the bone-in cuts have too high a failure rate because the sharp edges of the bone punch through the thin plastic pouches. A traditional solution is what is called a bone shield but these don't look very good, are difficult to place, especially on ribs, and even then they sometimes fail. So I've been trying thicker bags at 4 mil, 5 mil and 6 mil. The 5 mil bags, shown above, seem to hit the sweet spot of solving the problem and being cost effective. The only problem is I have not found a source for the bags in the sizes I need with the pre-printed safe handling instructions. It is possible to get that custom printed but it's expensive and requires large orders to justify the cost of the printing.
So you might say, "use paper!" However, it isn't that simple. Did you know that butcher's paper is actually a composite of plastic and paper? So this makes it bad to burn, unrecyclable and fodder for the landfills. The vacuum bags also are simply less material so less waste than the butcher's "paper" composited with plastic. Additionally, paper shortens the storage life and lowers the quality of the meat. Not only that, but at least one insurance company won't provide coverage if you use paper wrapping – strange but true given the prevalence of the opaque white butcher's paper. Ironically it is not even cheaper although it does not require the startup cost of the vacuum packing machine so it has that point in its favor. Lastly, and perhaps a key factor, is that since about 88% of our meat is sold at retail (think stores) we need the professional pretty display that the vacuum pouches allow so that consumers can see the quality of the product they're buying. In the end, vacuum packaged plastic pouches win out for environmental reasons, sanitation, food safety, insurance and marketing reasons. In the end it is the consumer who decides and they want to see what they're buying.
Our first day of cutting under inspection was a resounding success. All of these years of planning, construction, preparation, training and work have paid off. We now have our own on-farm inspected butcher shop at Sugar Mountain Farm!
Outdoors: 52°F/42°F Mostly Sunny
Tiny Cottage: 65°F/60°F
Daily Spark: The often overlooked key to good luck is persistence.
†That isn't actually a photo of the inspector but rather the hat and coat she wore. Other interesting things in that photo are our HACCP Plan front and center,[1, 2, 3] our stainless steel road desk made by our son Will and the SoLow flash freezer[1, 2] that quickly sucks the heat out of meat to a crazy -121°F! Yes, that's one freaking hundred and twenty one degrees below zero as in colder than dry ice.